Ever had that "Why cannot I draw like this" feeling when you saw someone draw a perfect portrait? You can master that art too, all you have to do is learn the techniques and do a lot of practice. Here in this tutorial, we will learn How to Draw Closed Eyes, which is something like a beginner's guide, as all the steps are mentioned in details.
If you are more interested in learning about the techniques of drawing open eyes, or cartoon eyes, you can refer to our How to Draw Eyes post.
How To Draw Closed Eye
What you will need?
>>> HB,  2B Pencils
>>> Mechanical pencils with 4B lead
>> Eraser
>> Sketch Paper
Let us take a look at the most basic Closed Eyes Drawing, step by step ~
Step #1 Determine the eye size of your portrait and draw guidelines according to that. Make points and lines where you must place your eyes at. Using this guideline, draw two circles, which would be base of your eyes.
Step #2 Think about the angle that you want to give your portrait's eyes and start shaping the eyes accordingly. Remember that the inner corner of each eye must be deeper and darker compared to the outer corner of the eyes.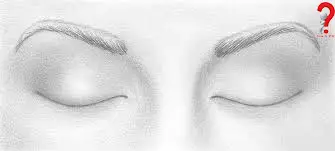 Step #3 Draw the eyebrows just above the circles, you do not need to shade them right now, you just have to make an outline of how the eyebrows should look like.
Step #4 Shading Time ~ before shading, make sure that the guidelines that we made in steps 1 to 3 are not visible much, if they do, use the eraser to erase any extra lines. For shading, start with shading the lid and crease of the eyelid, shade in such a way that a light highlight is visible in the center of the lid. After that go to the under eye area and bridge of the nose. Do a light shading for the bridge of the nose.
Once you are done, carefully erase any guideline that is still visible.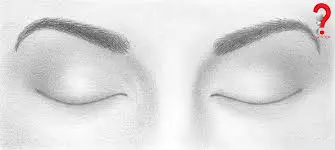 Step #5 Shade the rest of the area according to the age of your character, for example, if the character in the portrait is about 50 years old, then you may add some wrinkles and dark circles around the eye area.
Step #6 Shade the eyebrows and them draw eyelashes. Make sure that your eyelashes are drawn in downward strokes as they are drawn for closed eyes. Fill in the spaces in between the eyelashes, to make them look dense.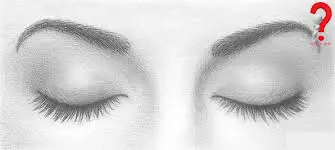 This was a simple tutorial on How to make an eye scetch easily with pencil and eraser. The shading part could be done using a mechanical pencil or a simple HB pencil, whichever suits you the best. If you are looking for more such easy yet brilliant tutorials, you can find them in the panel on your right side of the screen.
Your feedback will be appreciated, as it would help us to grow as a whole and will allow us to know our mistakes and our good qualities. You can also share this post with your friends through the links provided here for you.