Here is a real quick lesson on how to Draw A Ghost in easy simple steps. This tutorial is best for those who are at the beginner level in art, are kids or are looking for a simple ghost drawing to add to their Halloween cards. To draw a ghost is a really easy task, you just need some wobbly lines and a long white bedsheet, you will get your ghost.
Fact: Do you know that not even a single ghost has been captured till now? They sure are sneaky!
How To Draw A Ghost
First of all, draw an oval shape on an angle, it must be slightly longer and must look fat, this is the general shape of the body.
On this body shape, add a larger oval to be the head, this is how to draw a ghost face. Draw a line through the center of the oval shape to be the gridline.
Draw some lines around the oval shapes to look like a ghost figure, make the bottom of the ghost look like a cropped cloth
Outline with a Sharpie, draw two black ovals in the upper part to look like eyes and a scary face. Add two hands on the sides, and shade the whole drawing with a white and grey crayon.
Erase any extra lines to make it look clean and sharp.
How To Draw A Ghost For Kids
Start with the face of the ghost. Draw a medium-sized circle and add the gridlines. start the line from the center of the circle to the very bottom and extend it a little more.
Make the top half a little thick so that the ghost looks fat and large.
Draw lines around the circle to make it look like it is covered in a white sheet, crop the bottom part of the sheet.
Color the outline with a Sharpie and add two circles for eyes and a scary looking smile. You can color the background of the image to make it look scary.
Here is an example of ghost drawing image for you to practice.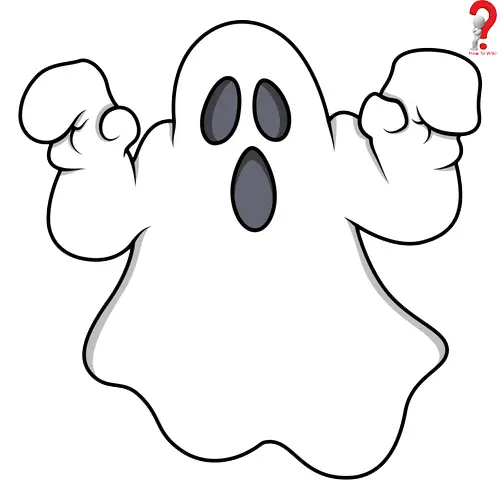 Here is your finished drawing of a ghost. You can watch the video below to learn how to make a cute ghost figure. IF you want to know more or have requests for us, comment down and don't forget to share the post with your friends.
Learn More