Craving for an egg? There are many ways that eggs can be consumed. You can boil them, fry them, make cakes, and many more. One of these dishes includes Frittatas. These are the yummy version of eggs made with cheese, vegetables, and milk. There are many ways to cook Frittatas, using skillets, oven, and a simple frying pan. Want to know How To Make Frittatas? Stay tuned to learn the various way to cook Frittatas at home.
Frittata is an Italian delicacy and is an egg-based brunch dish. Many confuse this dish with an omelet, but it is not. The process of cooking Frittatas is different from your ordinary omelet recipe. Cooking frittatas is a two-step process, which begins with an iron pan and ends in the oven. You can also differentiate the two by the way the fillings are supposed to be put in the pan. Frittata fillings are mixed in with the eggs and folded in the center.
---
Related Searches:
---
The process of cooking the Frittatas is quite easy just like making an omelet or crustless quiche. Well-beaten eggs are cooked on the stove, fillings are added, and after the outer edges are set – transferred to an oven to finish the cooking. You can make multiple servings of the Frittatas together as they can be served at room temperature, unlike omelets which turn soggy after a few minutes of getting cold.
So, are you ready for some good and finger-licking recipes for Frittatas?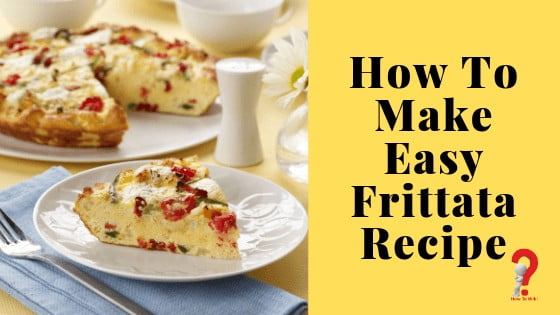 How To Make Easy Frittata Recipe
Ingredients:
Eggs – 4
Milk/ Tomato Juice/ Broth – 1/4 cup
Herbs like dried thyme – 1/4 tsp
Salt and Pepper – To Taste
Filling – Broccoli, Red Onion, and Cheese – 1 cup
butter or Vegetable Oil – 2 tsp
Recipe:
Take a big bowl and beat eggs, liquids, herb, salt, and pepper. Blend until firm.
Add fillings in the same bowl and mix well
Take a non-stick pan and heat. Add butter or vegetable oil.
Pour all the egg mixture and cook over low to medium heat. Cook until the eggs are almost set.
Once the eggs are almost set, remove the pan from heat. Cover the pan with a lid and let it stand. You have to keep it that way until no more liquid egg remains. This would take about 5 to 10 minutes.
Done!!
You can garnish the Frittata with herbs, parsley, basil, etc. while serving.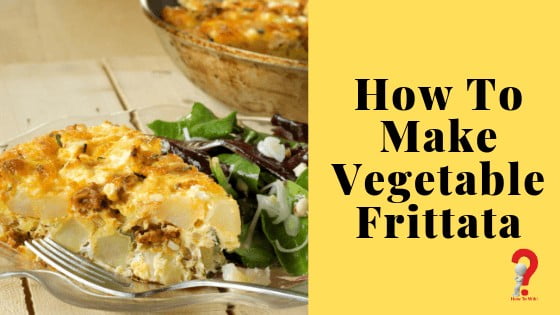 How To Make Vegetable Frittata
If you are looking for frittata recipe for two I have another amazing recipe for you. This one includes a lot of vegetables, that is why this is healthy and the best option for that Sunday brunch you have been planning for so long.
Frittata Tip: Have you ever wondered how the chefs at your favorite restaurant are able to make the same great frittata without changing the taste? The main reason that they are able to cook the same delicious recipes is the ratio of the ingredients they use. For example, if you are using six eggs, the 1/4 cup of heavy cream along with 1 cup of cheese is more than enough. Don't go around like ratatouille pouring everything without measuring. Measurement is crucial.
How To Make A Frittata In The Oven
Here is another vegetable frittata recipe to cook when you want to surprise your family for a brunch. This recipe serves 4 to 6 people
Ingredients:
Eggs – 6, Large
Heavy Cream – 1/4 cup
Kosher salt – 1tsp
Bacon – 4 slices, thick, chopped
Potatoes – 2, small thinly sliced
Black Pepper – 1/4 tsp, freshly ground
Baby Spinach – 2 cups
Garlic – 2 cloves, minced
Thyme leaves – 2 tsp, fresh
Cheese – 1 cup, shredded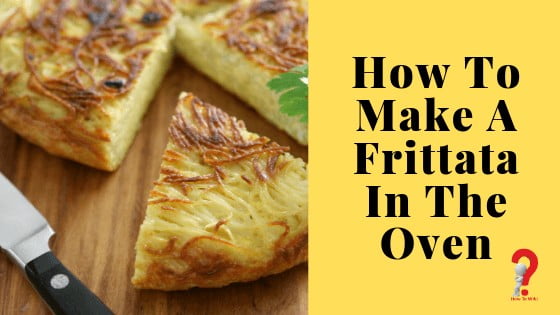 Recipe:
Heat the oven prior to starting the preparation to 400°F
Take a large bowl, add eggs and cream in
Whisk the eggs and cream together until a smooth paste is formed.
Add 1/2 tsp of salt to it and set aside
In an oven safe pan, place the bacon in the pan. Cook it in the oven until crisp. It will take you around 8 to 10 minutes of occasional stirring to cook the bacon perfectly.
Remove the bacon from the pan and put on a paper towel to soak off any excess fat.
Put the pan on the stove, add potatoes and saute the potatoes in the bacon fat. Sprinkle some salt and pepper. Cook until tender and brown. This must take 4 to 6 minutes.
Add the spinach, garlic, and thyme into the pan. Cook while stirring until the spinach wilts, in about 1 minute.
Now add the bacon that you had kept on paper towels. Stir to evenly distribute.
Now you have to add cheese to the mixture. For that, flatten the vegetable mixture in the pan, sprinkle the cheese on top and let it melt.
Now, what you have to do is to take the egg mixture from the bowl and pour it over the vegetable mixture. Tilt the pan to evenly distribute the egg all over the vegetables.
Cook for a minute or two, you will see that the eggs have started to set.
Remove the pan from the heat and put it in the oven. It will take about 8 to 10 minutes to bake the eggs completely. To check if the eggs are cooked evenly, use a knife to cut a small slit in the center of the Frittata. The runny egg means it needs more cooking, else – Serve
Before serving, cool the dish in the pan for about 5 minutes
Conclusion
Frittatas are a full meal in themselves, especially the potato frittata recipe, so having them for breakfast or brunch is a good idea.
Want to share some of your healthy frittata recipes? Comment down below!!