My biggest issue while downloading any file that my colleagues send is that they are literally very lazy and just copy-paste stuff on email. Text is fine, but what about reports? In the beginning, I used to ask them to send the PDF files again. But later on, after many unsuccessful attempts of making them send PDFs of the reports, I learned How To Convert JPG To PDF. That was a relief if you can understand how frustrating it is to write a report.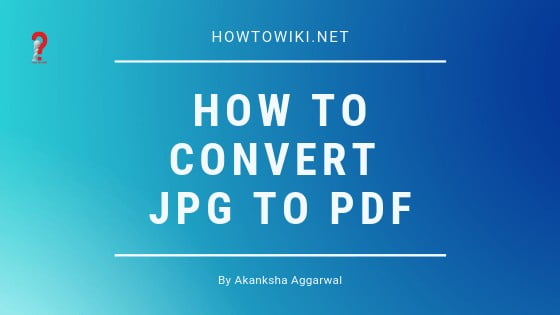 The conversion also helps me upload files for you guys in my blogs. As you might have seen, I publish a lot of template blogs too. And each one of them as PDF, Word, and excel files. Sometimes I design them all, but sometimes I too act a little lazy and convert one format to another. Guilty!!
---
You might be interested in looking at the templates that I provide:
---
So, let us begin with the tutorial.
How To Convert JPG To PDF On Windows 10 
If you own a windows laptop, you might be looking for an answer to How To Convert Jpg To Pdf On Windows, I know I did someday in the past. Here is how you can do that for free.
Convert JPG to PDF in Windows computer
Go to the Start Menu. Click on windows logo in the bottom left corner of your screen and the Start menu will pop-up.

Open the Photos application by clicking the on "Photos" button in the Menu. If you can't find it, just type Photos in the search box and it will appear right there. If you have an older version of windows, then you might want to skip this section. Go to the online method of converting JPG to PDF

When you have opened the Photos application, look at the top-right corner of the Photos window. You will find a select button. Click on it to upload your JPG file from the computer. You can upload more than one at a time if you need to.

After that, click on the print button. It is a printer shaped icon that you can find in the upper-right corner of the window.

In the print menu that just popped up, find the option that says "Microsoft Print to PDF". Click on it, and it will convert your file into PDF

Now all you gotta do is save your file in the desired folder, and don't forget to name your PDF files. Click on the save button, and you are done.
PDF Converter For Android 
On my Android, I have this app that I often use called "Image to PDF Converter". It is quite convenient to use and is very handy when I don't want to open my laptop. I might even add that it may be the Best JPG To PDF Converter as it is light, easy to use, convenient, and can convert a large number of files at one time.
Please note that this is not a promotion of the app, I just use it and felt like maybe you too will like it. You can use any other app, as a matter of fact, they all work almost the same.
Convert JPG to PDF On Android Phone
Open the play store on your phone and download the application

. The free application lets you convert any image format to PDF. So, if you have a png image, you can convert it too.

Open the application and upload your file

. For that click on the "+" Sign in the bottom-right corner. As this is a free application, you may get some advertisements on the screen, please ignore them.

Upload your file from your device

. Select the image from the folders, and click on "done" in the upper right corner.

Click on the Adobe button that you can see in the top panel

. It will open the details window for your download.

Enter the PDF details for your file

. Enter the name that you want to give the file. You get an option to password protect it too, nifty hah! And you can compress the file too.

After you have filled it up, click on "ok"

. It might show you an ad again, but you are using a free tool right!!

Done!! You can see the converted files on the display

. You can go to your File Folder in your phone to share the file with anyone.
Convert JPG to PDF Online 
For those who do not want to install an application, there are a lot of tools online that could be used for conversion of jpg to pdf online. A few of the jpg to pdf online free converter include – https://jpg2pdf.com/, https://smallpdf.com/jpg-to-pdf, https://altoconvertjpgtopdf.com/.
My favorite one is jpg2pdf.com. It is really easy to use, and you can upload any number of file at a time. The best part? You get the option to download the files separately, or you can download them all together in a compressed zip file for easy sharing.
Again, it is not a promotion of any kind!!
Open the website by either clicking on the link, or typing the address yourself in the address bar of your browser.

On the screen, you will see a panel where you need to upload your images. For that, click on "Upload Files" button and select the images that you need to convert.

The conversion will start automatically. After it has completed, just click on "Download All" to download them in a zip file. Or you can click on "Download" on each file individually to download them individually.
End Note:
I hope this article helped you in every way. Please comment if you have any other requests or topics in mind.