Are you a Straight talk user? If yes, then you must know who they are and how they operate. If you have a Stright Talk SIM, then at least once in a blue moon, you must have got the need for Straight Talk Customer Support, for SIM related issues, or other problems. There are different ways to contact customer support like  Straight Talk Customer Service Phone Number, Email Support, Contact through Live Chat, and more.
Straight Talk is the wireless service that was introduced to get people on America's best networks without the expense or the commitment that comes with contracts. It is a service that is provided by TracFone Wireless Inc. You can visit the Official Website of Straight Talk to know more about the service, and the various offers they provide.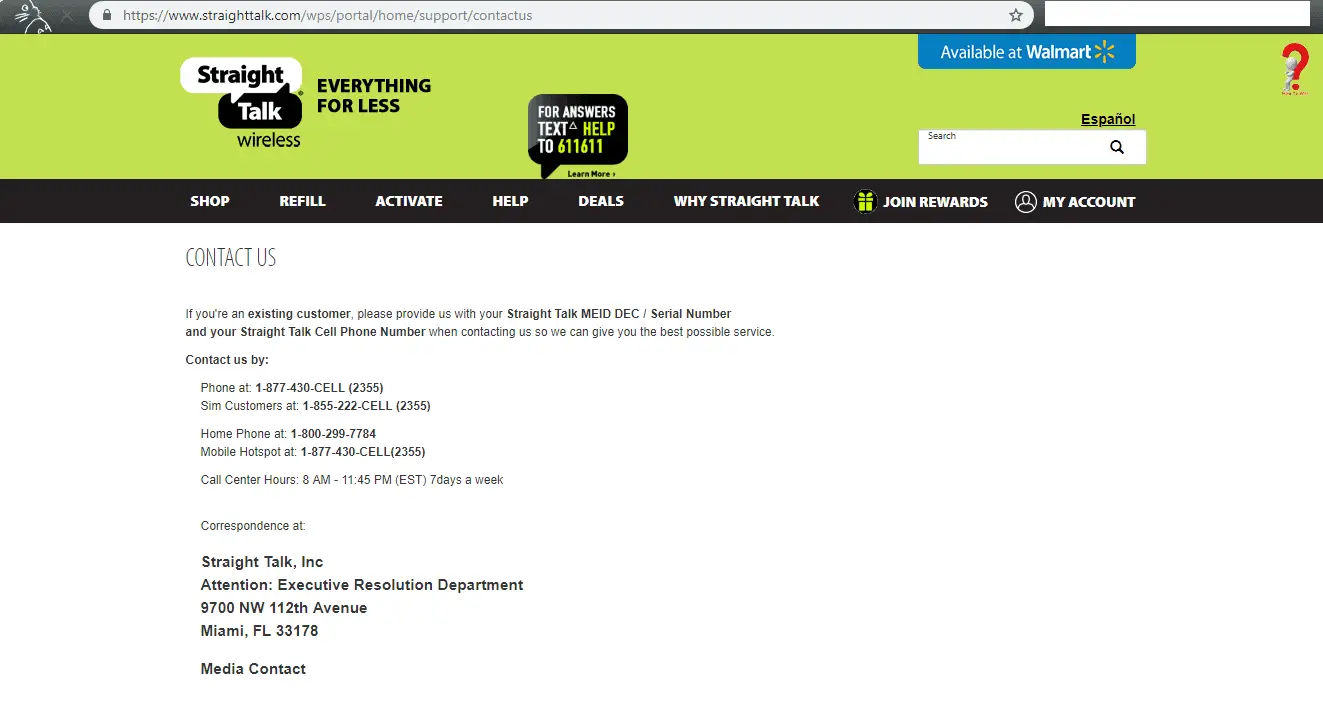 Ways To Contact Straight Talk Customer Service
Many customers put up various complaints and questions on the FAQs page, or in the email, they send to the company. Some of the most common ones include –
Ways to troubleshoot SIM Card

SIM card is saying it is invalid

How can one cancel an auto-refill on Stright Talk Phone

If you want to cancel the Straight talk service, how to do that?

The most calls and email that an average Straight Talk rep receives are about the technical support.
Straight Talk Customer Care Number
You can directly contact the customer care representatives via the Straight Talk Customer Service Number, that is provided for all kinds of issues that you might have.
With Straight Talk SIM – 1-855-222-CELL (2355)
Other Phones –  1-877-430-CELL (2355)
Home Phones – 1-800-299-7784
Mobile Hotspot – 1-877-430-CELL(2355)
Straight Talk Customer Service Chat
For the customers who do not like to have a conversation with the customer agent on the phone, or are not able to do that due to some reasons, Straight Talk supports the Live Chat option on their site.
For that, all you have to do is to go on hte Contact Us Page of the Straight Talk Website, then click on the "Live Help" in the right panel.
Straight Talk Customer Service Hours
The customer service is available for everyone 7 days a week from 8 AM to 11:45 PM (EST). For any kind of issue, you can simply call at any time.
Straight Talk Customer Service Email
There are two ways to correspondence with the customer support agents at Stright Talk, you can either send them an email or send them a well structured and informative letter posted to their correct address.
Email the technical support at Straight Talk –
You can write at "[email protected]", with a subject line including the name of your problem. Include your Straight Talk SIM Number, IMEI number/ Serial Number, so that they could give you the best possible services.
Write them a letter –
Similar to the email, write a well descriptive letter, which must clearly state your issue and inform the reader about the problem you are having. Post the letter at "Straight Talk, Inc, 9700 NW 112th Avenue, Miami, FL 33178
# For media people – If you are from the press or any other media, you must write the email at "[email protected]". This email address is specified for the press and the media partners.  
Conclusion
Whether you want to cancel your Straight Talk Service, or you want to get a new connection, you can do it via your phone using your Straight Talk number or any other phone. The customer support is easy to contact, and they provide you the best support for your issue.
To contact customer service at other companies –
Contact Sprint Customer Support
Contact Amazon Customer Support
Contact Dunkin Donuts Customer Support
Contact Verizon Customer Support
If you want to know more about the Customer Care support about other companies, you can write them down in our comment box below, we will be happy to help you out.