When you have an urgent issue with your AT&T Wireless, AT&T Customer Support is theoretically there to help. But, it can be frustrating to be stuck at a call with an automated system which makes you press buttons in your phone, ad it is not necessary that they will be able to provide you with the better solutions. So, it is necessary to talk to an actual person via AT&T Customer Service Phone Number so that your issue can be resolved.
About AT&T Mobility LLC~

An American Multinational Company AT&T Mobility LLC, or as they call it, AT&T Wireless is headquartered at Whitacre Tower in Downtown Dallas, Texas, and provides wireless services to over 13.8 million subscribers in the US. It is ranked #9 on the Fortune 500 rankings of the largest US corporations by total revenue.

You can visit the official website of AT&T Wireless here – AT&T Website
Why customers might need to contact AT&T Customer Care
There could be many reasons –
To order a new service

For checking up on their order status

To get information on services when they travel abroad

To solve an issue in their bill

.. and more
Ways To Contact At&T Customer Service
There are many ways by which you can report your issues with the representatives at AT&T Wireless. Depending on the level of problem, and the availability of resources, you can either call them directly, email them, or even write to them. Calling up the customer service is opted by many as it is an easy, fast, and most reliable method, well, other than going to the store yourself. Let's see what issues you may be facing and by what method they can be solved.
Data Plans

– If you want to know about your data plans, and/ or want to change them, you can call the Toll-Free number and it can be easily resolved by the automated response

Issues with your wireless – If it is a physical issue, you may need to locate a store nearby you, and for that, you can look into the website of AT&T, but if you have problems with network or data, you can ring the Customer support helpline.

For issues

regarding your internet speed

, you can chat with the executives via Live Chat option on the website
If you want to

file a complaint

or point out some issues with the services, you can write them an email or post a letter.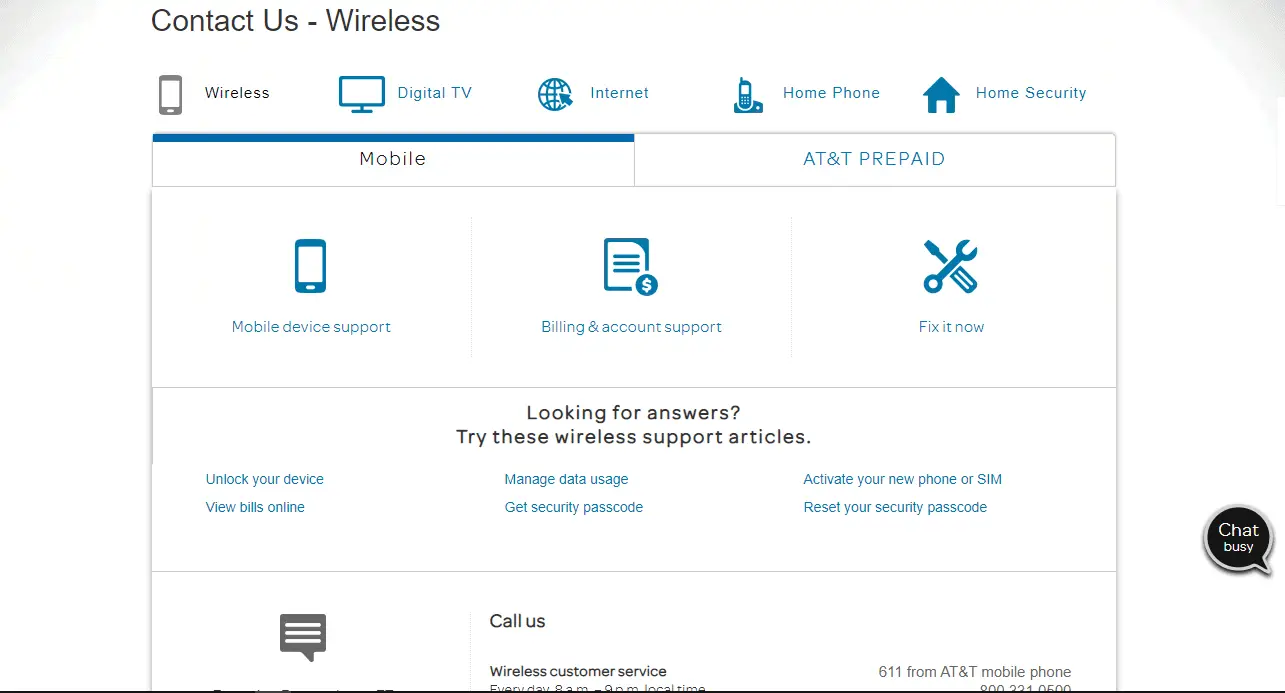 Now, let us see the various methods to contact support ~
Method #1
AT&T Customer Care
To get hold of a representative on phone, you can call the customer support using the following numbers 
| | |
| --- | --- |
| If you have an AT&T Mobile phone | 611 |
| Customer Service Number | 1 (800) 331-0500 |
| Delivery Tracking Number | 1 (877) 782-8870 |
| Call For New Customers | 800-592-3541 |
| Order New Wireless Service | 888-333-6651 |
| Check Your Wireless Order Status | 877-782-8870 |
| Support For Travel Abroad Cases | +1-314-925-6925 |
| Customer Service For Digital Phone | 800-288-2020 |
Method #2
At&T Customer Service Chat
In this method, you can go to the Contact us page of AT&T

HERE

Click on the issue that you want to resolve

and then look for the chat head in the bottom right corner.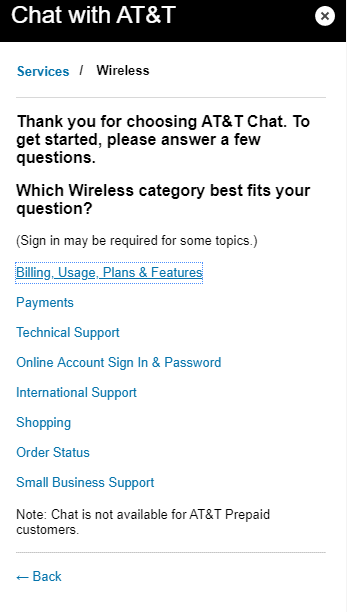 You will find many topics that you may want answers of, if you do not find what you are looking for then you have to sign in with your credentials.
If you want, you can also chat with the support of AT&T on their Facebook Page, Twitter Page, Or ask your question in the Forums. These methods are easy and guarantee the fastest reply for your issue. Get the links here ~
Mention them in your Tweet – @ATTCares
Method #3
At&T Customer Service Email
If you are not able to get a hold of a customer care executive via one of the methods above, you might want to send an email. Write the email in a professional manner, with all the details about your problem, including any bills or slips that might be related to the issue, your credentials and contact information. Visit the Email Support for AT&T
Conclusion
The service hours for customer service at AT&T varies according to the method you are trying to connect to them. If you call the customer support, you can do that any day, between 8 am to 9 pm local time. But, if you order a new wireless service, you can only call them between Monday to Friday, 8 am till midnight. It does not matter which method you follow to contact the customer support, it is always important to get a quick and positive response, which AT&T always offers.
Here are customer service helpline for other companies too
Contact Groupon Customer Support
Contact TMobile Customer Support
Contact DirecTV Customer Support
Contact FedEx Customer Support
Was this post helpful to you and were you able to get your problem resolved? Comment and show your support by sharing this post with your friends, just click on the links provided with the post.