For contacting the T Mobile Customer Support, there are many options. The best one being the T Mobile Customer Service Phone Number, there are other ways too including the live chat option and email for customer support. If you have any issue regarding the services with the wireless network operator, then you can use one of the methods provided in this post to get the solution for your problem.

Before we begin, here is little something about T-Mobile ~
It is a United Stated based wireless network operator and the headquarters of the same are located in Bellevue, Washington, in the Seattle metropolitan area. CEO of T-Mobile US, Inc. is John Legere since 2012, and it has several subsidiaries including MetroPCS Communications, Inc., Layer3 TV Inc.
Ways To Contact T Mobile Customer Service
As stated above, there are several ways to contact agents at customer support of T Mobile. The different ways including calling over the phone, sending an email, live chat, sending them a letter, and contacting via social media.
First Method – Calling The Customer Service Representatives
T Mobile Customer Care Number
There are several numbers that can be dialed to contact one of the agents at the T-Mobile customer support services. If you wish to get hold of an actual person at the customer support, then you can call one of the numbers provided below and get the solution for your issue.
| | |
| --- | --- |
| Customer service | 1 (877) 453-1304 |
| Contact Business Care | 1-844-428-9675 |
| Existing T-Mobile customer looking for help? | 1-877-347-2127 |
| Pay your bill over the phone | Dial *PAY (*729) or 1-800-375-1126 |
| From a T-Mobile phone | 611 |
| From another phone | 1-877-746-0909 |
| Hearing and speech impaired | +1-877-296-1018 |
| While roaming internationally | +1-505-998-3793 |
| Activate your account | 1-877-778-2107 |
| Manage your account | 1-877-778-2106 |
| Refill your account | 1-877-720-5195 |
| International Customer Services | 505-998-3793 |
If you are unable to reach out to the customer support, then you can schedule a call back from their business page. Just fill the form on hte Contact Information Page, and then schedule the callback.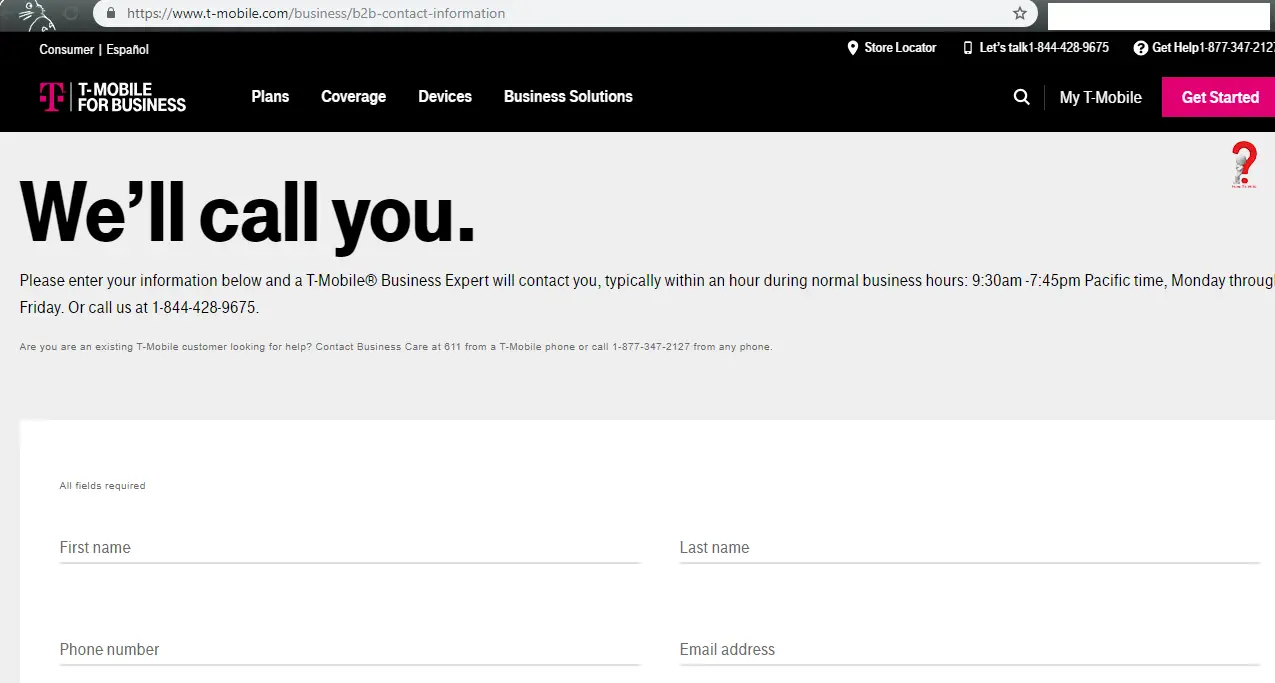 Second Method – Going For the Live Chat
T Mobile Customer Service Chat
Listening to the music and automated answers are not fun to sit and listen to. So, to avoid this, you can visit the website of T-Mobile to use the live chat option. There are two ways that you can use this live chat method. First, you can easily use the offline chat, and get an answer to the questions that are common. Or, you can use the online option, in which you have to log in and then you will be able to chat with a customer care executive live.
To use the live chat option – Visit
Third Method – Email them your issues
T Mobile Customer Service Email
There are certain times when you need to report an issue in the services or send a complaint about something. For that purpose, T Mobile does not actually have an email address for customer support, but it can be contacted via the social sites. T-Mobile has provided you with two options to use.
If you are a Facebook user, you can easily contact them on their Facebook Page, by either posting on their wall or writing a direct message.
The other option is to visit the Twitter page. This is best for Twitter users. You can tweet the issue with the T-Mobile Twitter handle "TMobile" or go to the official page and DM them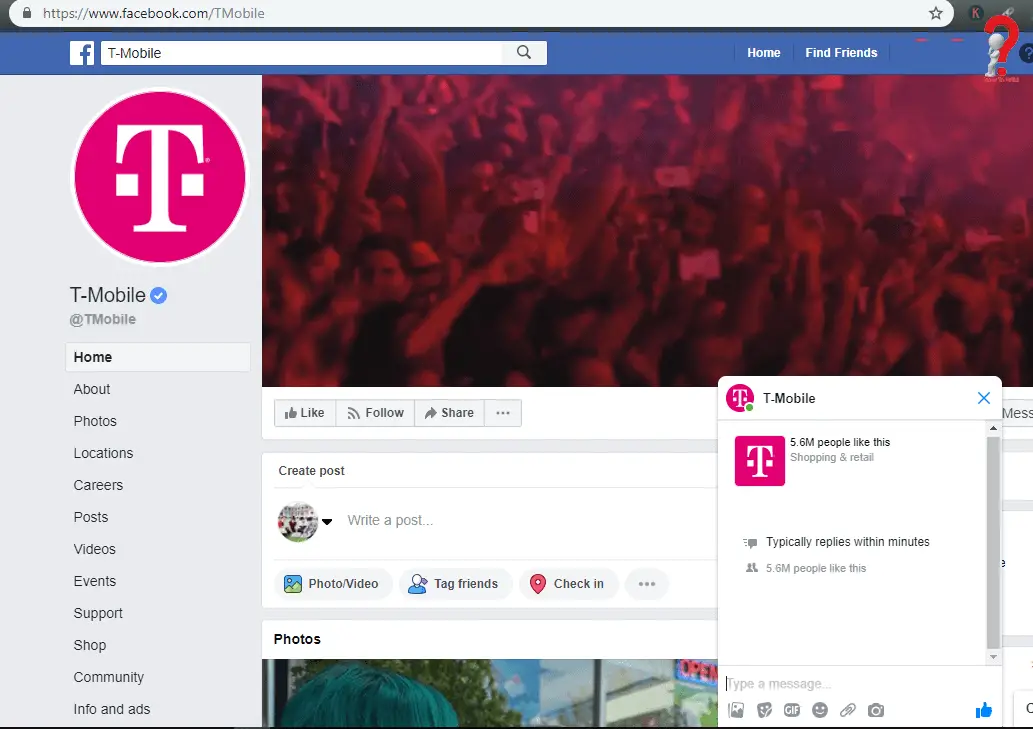 Fourth Method – Other Ways to get Answers to your problems
T Mobile Customer Care
Apart from the usual Talk Mobile Customer Service Number, you can contact them via their online portal. You can visit the help desk page, FAQs page, Online community, and many more to get a solution to your issues and requirements. We have provided you all the links if you want us to add some more, do comment!!
| | |
| --- | --- |
| Pay Your Bill Online | Visit |
| Community Page | Visit |
| Find A Payment Store Near You | Visit |
| Store locator | Visit |
| Forums | Visit |
| Online Support Page | Visit |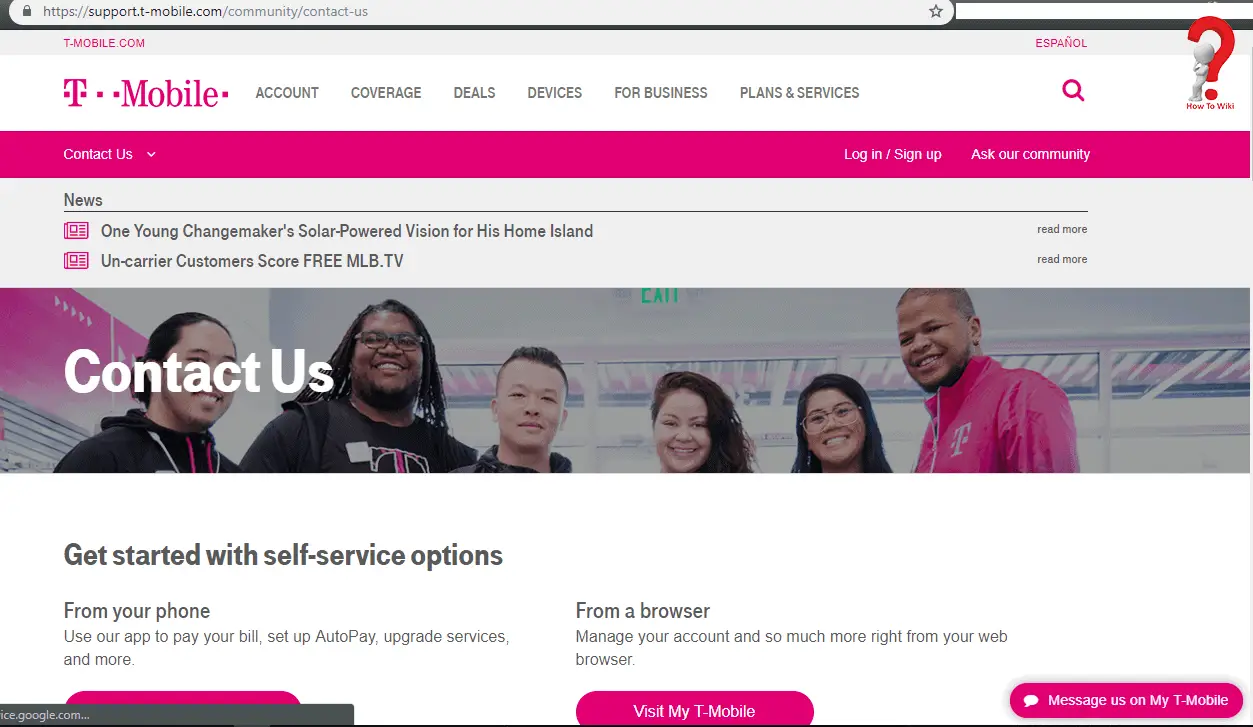 Fifth Method – Write them a letter
If you have got a mail that you want to send to the TMobile representatives, you can send it to the address of TMobile Customer Relations
T-Mobile Customer Relations
PO Box 37380
Albuquerque, NM 87176-7380
T Mobile Customer Service Hours
TMobile Agents are available for your service during their normal business hours that is 9:30 – 7:45 PM Pacific time, Monday through Friday.
For Wireless Issues, the agents are available from 9 AM to 6 PM, Local Time
Conclusion
Mostly, customers contact TMobile Services to ask for some common questions like how can you activate the TMobile, or complain about some Technical issue. Every day, numerous calls are received by the agents at customer support for topics like – cancel or change the account, Lower bill, for inquiries of their TMobile.
For information on contact service for other companies –
Contact Verizon Wireless Customer Support
Contact PayPal Customer Support
Contact Comcast Customer Support
Contact Spectrum Customer Support
Whatever your reason might be, look for the method that will suit your situation, and will provide you the solution without any hassle and wait.