When we want some more information about any product or service then we write a Business Letter For Inquiry. It is a form of business message that is written when someone is interested in gathering information about someone or something. It can be written by the owner of the company or someone else who handles the business communication in the company.
An inquiry letter can be made for many reasons like –
Price list & terms of delivery or payment.
Documents, discount, and promotion.
Information about goods and services.
An inquiry letter is the same as application letter, the main difference is inquiry letter is that like any other business letter for communication in the office, they are more formal and have a concern related to functional activities only.
---
More like this:
Write a business letter for company
---
The main aim of inquiry letter is to solve the issue and avoid the conflicts.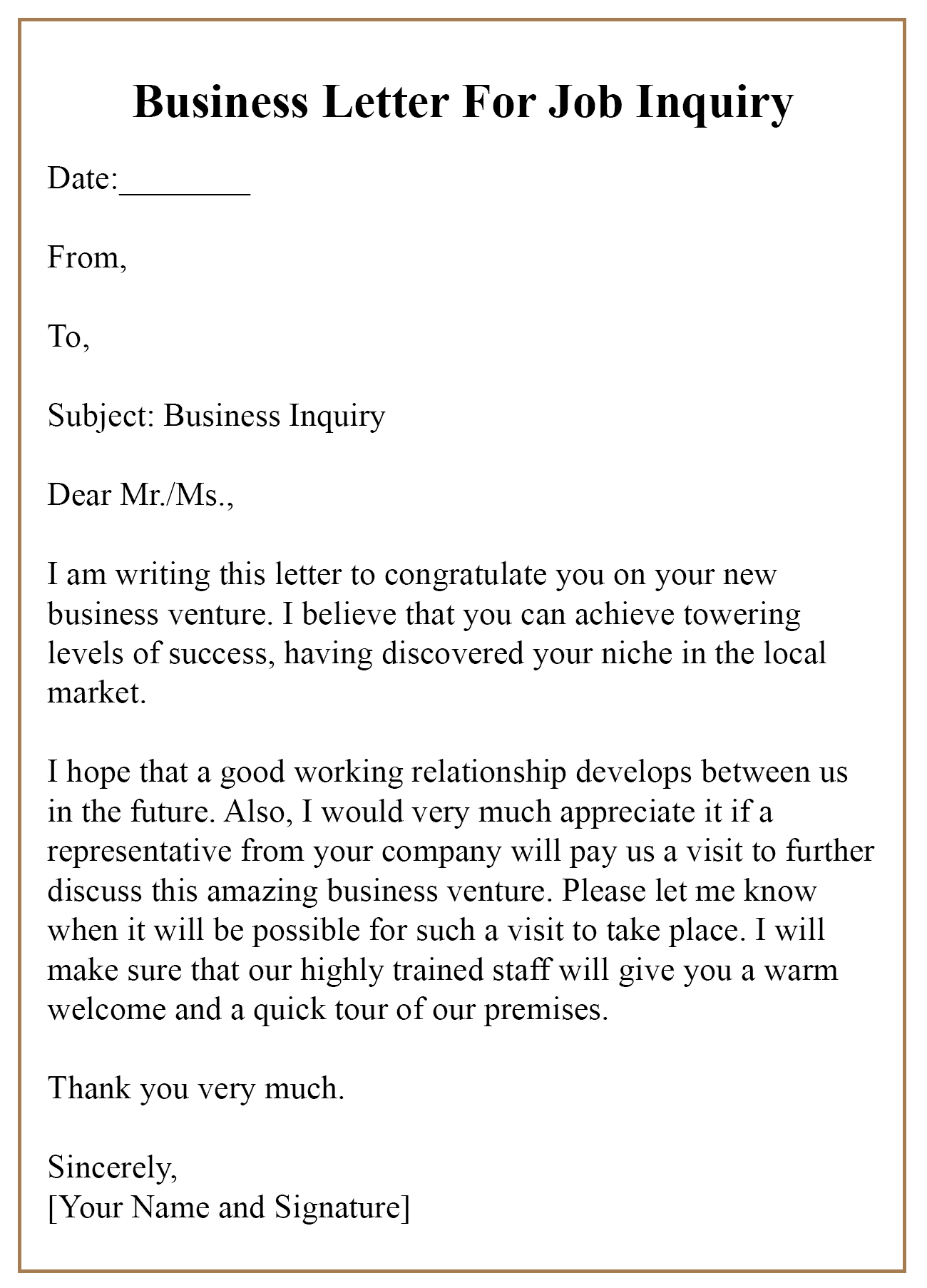 Business Letter For Inquiry Sample
Parts of inquiry letter
Introduction – introduce the letter all about.
Description – describe the problem.
Statement
Final summary
>>> The letter should always start with Dear Sir/Ma'am.
>>> You can send a business inquiry letter
by email (if you use email it is easier for the user to have paragraph with space between them , the email has automatically had the date on which date it is sent so it also helps the user , email will look professional read your letter before sending it if there is some mistake correct it to make your impression better )
OR
as hard copy( your or your company address should be placed at the top followed by the address of a company you are writing to, leave a line of space before your closing and 5 – 6 lines for the hard sign the letter )
How To Write Business Letter For Inquiry
Steps that will help you to write a business inquiry letter
Write a short outline about what you cover in the letter – Write the outline before you actually start writing the business letter. This will work as your sketch of what you do in further steps. If you have good an outline then it will make your work easier.
Write down the main idea that you want to include.
Use the correct structure or format –
Start with the sender's address – the sender's address should be placed at the top.
Leave a line then write the date.
Leave the line then write the recipient's title, name, and address.
Write the letter with right salutation – you can write the first name in the salutation, for example, Dear Richa,
Keep the following points in mind while writing a letter of inquiry for your firm.
If you are not using the recipient's name then you can use ladies, gentlemen or dear sir or ma'am.
Ensure that you include signature and your name at the end
Always give a reference – reference should always be considered in a letter that " with reference to" after reference add a comma (,)
Body – This is the main part this should be good enough that will define all your problem.
Use good vocabulary words – The words should have appropriate meaning and should be understandable
Check your spellings – Use spell check to make sure that you are using correct spelling
Check your grammar – Check your letter that there should not be grammar mistakes in it. You can use a grammar checking tool online.
Check your punctuation – whatever the punctuations that were asked in the letter should be correct and checked.
Requesting for further information – if you want to ask more about something then write "I would like to know" or "could you please tell me"
Summary call for the letter – summary should be included like "I look forward to your reply" & "could you please inform me"
Closing – use yours sincerely or yours faithfully or yours obediently.
Signature – add your title or signature on the following line of your name.
Business Letter For Inquiry Examples
Here are some examples that you can use to create and draft your own business letters for the inquiry to be sent to your clients.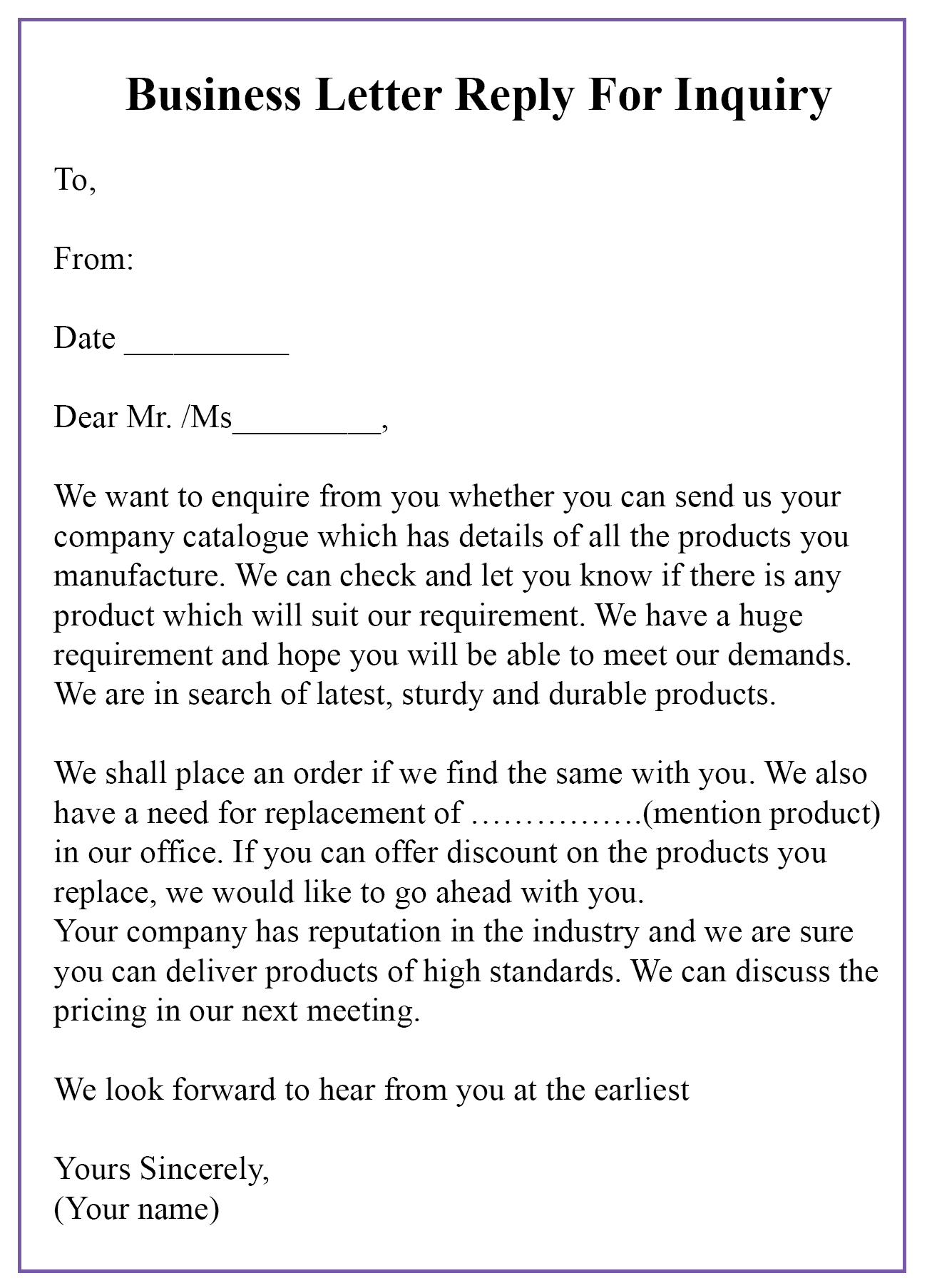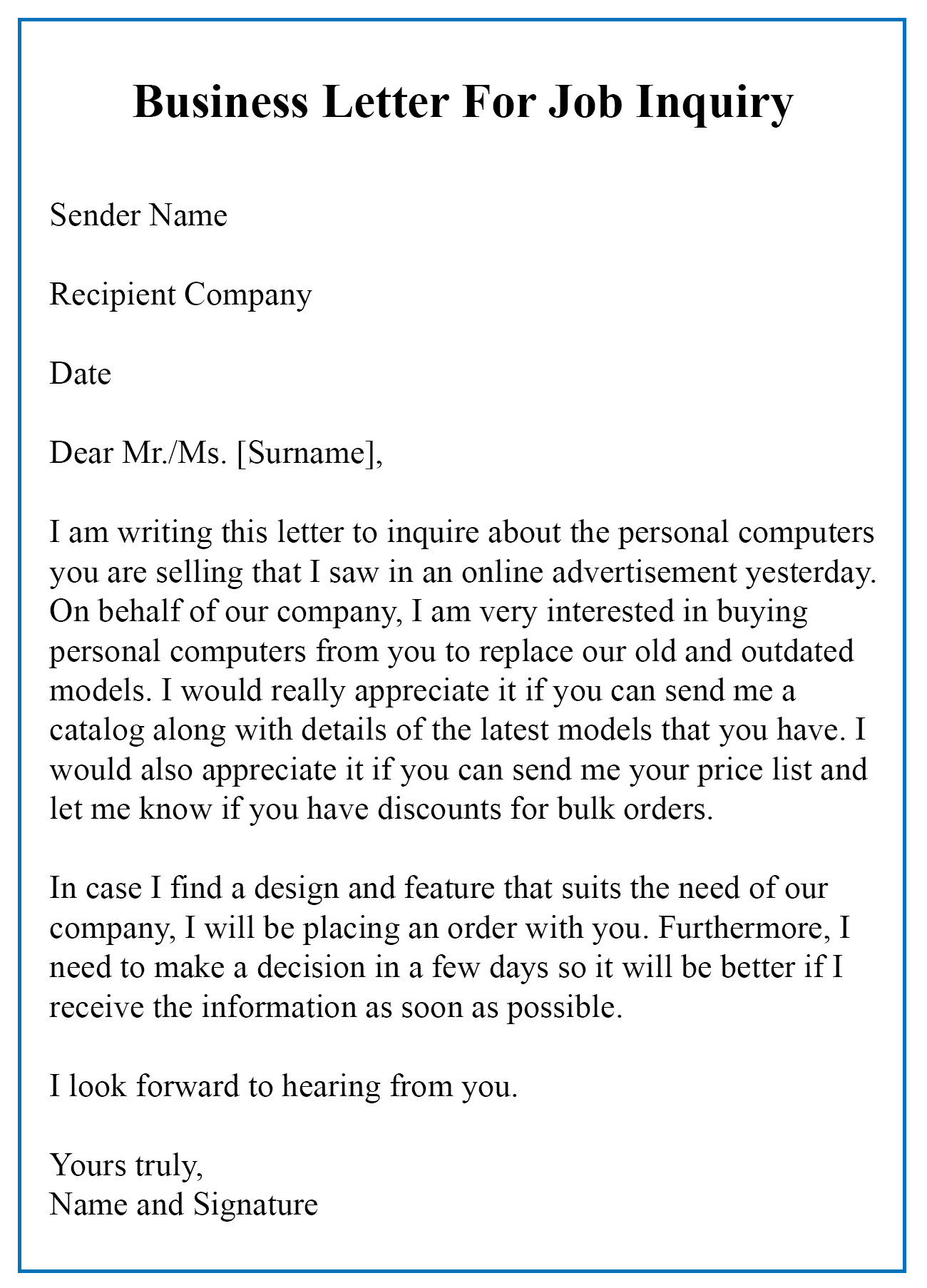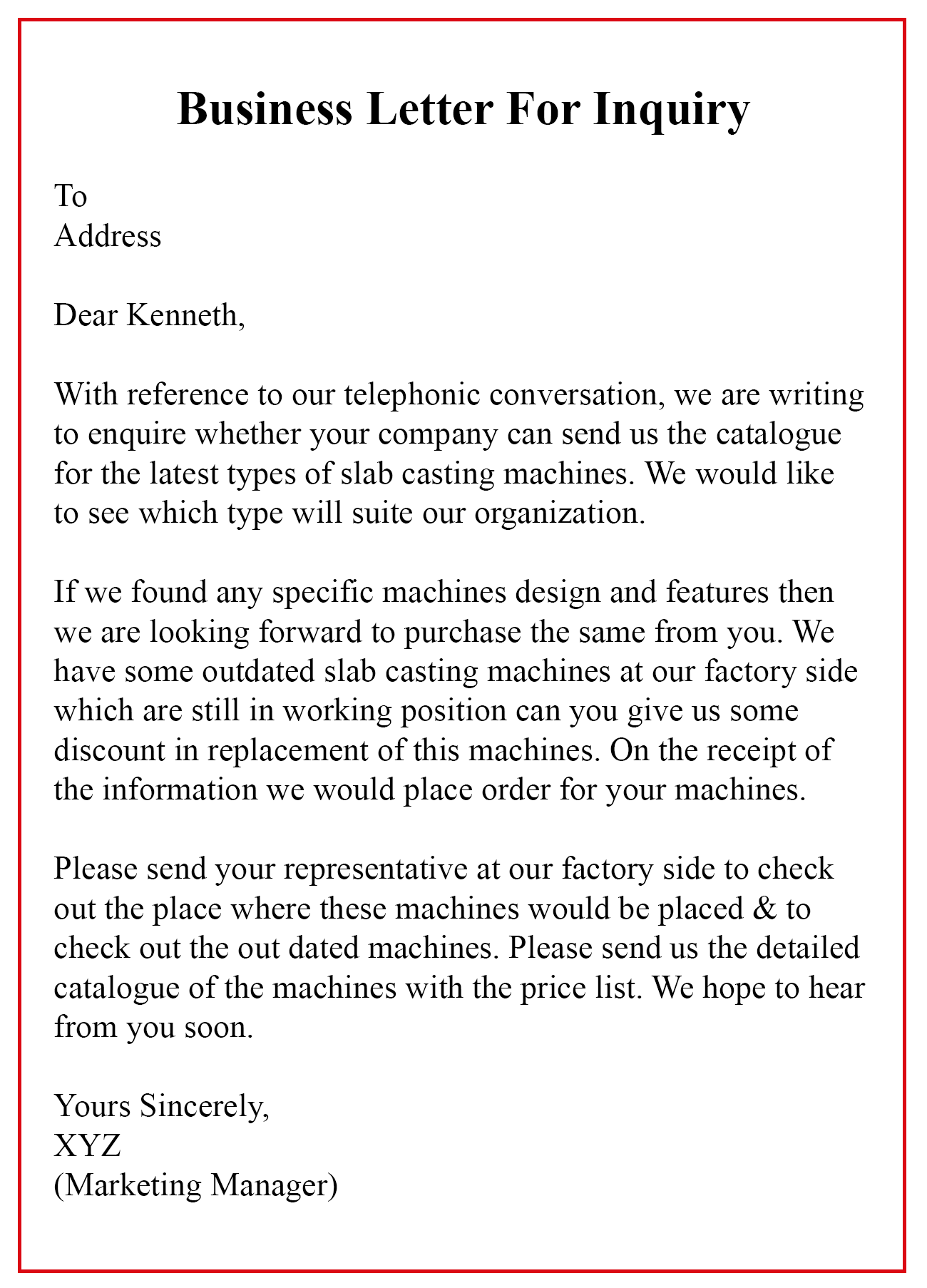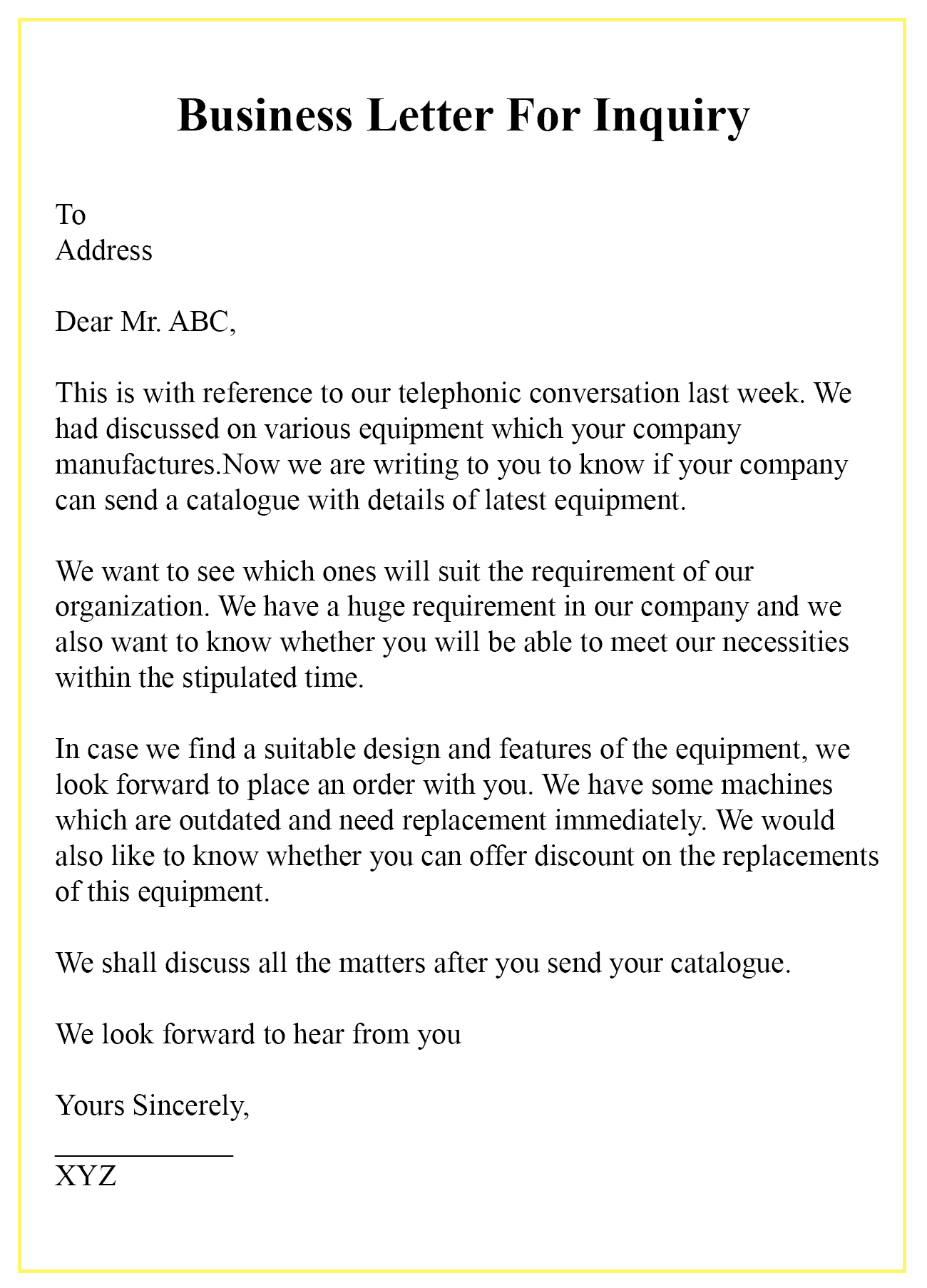 Conclusion
Writing the business letter for inquiry is a serious work when you need to take detailed information about any service or person. When writing the letter, one must be careful about the grammar, content, and details of your inquiry.
Have more ideas for us? Write in the comments!