When I started working on my blog, I encountered the words Domain Authority and Page Authority very often. I used to wonder What is Domain Authority and why is it so important? You see, every new digital marketer often gets confused with the term. And why not, it is all new to them. I was the same. So, I did a little reading about it. Here is what I understood.
A metric was coined by Moz to rate any website on the internet. The scale was set 1-100, and it shows where a certain website rank at. This metric is Domain Authority, and it explains or tells us where any website stand.
So, if your site has a higher Domain Authority that means it has a higher ranking in the search engines, and if it is low, you know the rules!
No idea what Moz is? Well, Google says that it is a software which is actually a service providing company which sells marketing analytics software. History is that it was founded by Rand Fishkin and Gillian Muessig in 2004 as a consulting firm but was converted to SEO software development in around 2008.

What Is Domain Authority
We all know what we have in our minds. One goal that we all share – to rank higher in the search engines (especially Google). And to do that, we use tons(not literally) if web metrics that are involved in search engine optimization to optimize our blogs or websites. We all use whatever measures necessary to rank higher than our competitors, and we do keep a tab on our position on the internet.
There are various(hundreds maybe) metrics that we often hear names of and use in our daily lives. One of them is Domain Authority. Its literal meaning is that it describes the reputation or relevance of any website in the area of its expertise. This relevance directly impacts the ranking of one's website by search engines.
There are many bloggers and website owners who are unaware of the significance of domain authority(DA). And that is why I am writing this blog to give an insight into what you can gain from keeping a check on your DA.
Domain Authority is one of the main determinants that define the wellness of a website in terms of its rank in search engines.
If you are still here, that means you want to know how you can increase your website's or blog's DA and optimize the overall rank. In this article, you will get to know various tips and methods with which you will understand the significance of DA. Also, how you can improve it!
Difference Between Page Authority And Domain Authority
When you study any metric in SEO, you encounter many terms. Along with Domain Authority, you must have heard about page authority. If you have read the above section, you must have got an idea about what DA is.
DA measures the authority of the whole domain. And in a similar way, page authority measures the authority of an individual page. 
There are forty different signals that define the ranking of a site. Like, the number of links that are linking back to you, how many linking root domains you have, and more other ranking indicators.

How To Check Domain Authority
The easiest way to know your site's DA is to install an extension of Moz in your browser if you are using a desktop computer and Google Chrome web browser. You can find it here.
If not, there are several domain authority checker tools available online which help you out. You just have to type the right keywords in the search bar and you will get multiple options from which you can choose from.
What I prefer –
Small SEO Tools –Visit here
Why? Because it is simple to use and tells you exactly what you want to know. Want to know DA? You got it! Want to know PA? You got it! No confusion.
MOZ – Visit here
Why? Simple yet informative. Along with DA of your site, you get to know about your linking domains, inbound links, keywords, and more.
Ahref – Visit here
Why? Because ahref is one of the best tools out there.
How to use it? Here I am using Small SEO tool-
Step 1. Open the webpage. Click on the link above!
Step 2. Enter your webpage that you want to check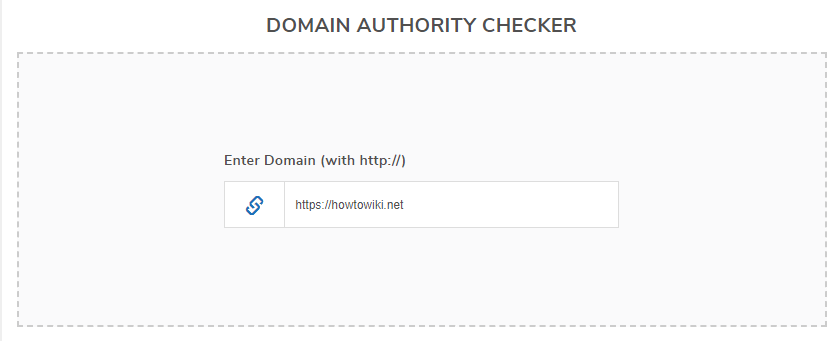 Step 3. Hit "Check Authority" button

Step 4. You get the results!


Why Is Domain Authority Important
In simple words, increasing the DA of your website will increase the possibilities of your website to rank better. Higher the rank, better the traffic. This is why the higher DA sites always rank higher than the lower DA sites.
In technical terms, if you want your website to have a much larger audience than you get now, you need to make your site rank higher in the search engine results page. Higher your websites DA, higher will be its ranking in the search engines.
There are several ways to improve your sites DA score. It doesn't increase overnight, you have to work for it! It's not easy but is not also un-doable.

How Is Domain Authority Calculated
After reading all these things about DA, you must be thinking what I was thinking. How does Moz calculate the authority of any page? Do they count traffic? Do the check linking domains? I have already mentioned that there are 40 different factors. The most important ones of them are:
1. Domains that link back to you. The unique number of domains that are linking back to you is the number of backlinks you have earned. Having websites backing you up surely earn you more points
2. Quality Content on your blog. If you don't provide a quality product, who will come to your shop? Right? Similarly, if your site doesn't give something valuable to the audience, the conversion rate will be awfully low.
3. MozRank – Scores the strength of the external links you have, the links that are pointing back to you are of quality or not.
4. MozTrust – Similar to MozRank, MozTrust is also a metric. It also determines the quality of your backlinks. It checks how close your site is connected to that other domain. Who trusts you, and how much they rank.
5. Is your site Search engine friendly? The overall SEO and structure of your site will determine the friendliness of your site. Poor site structure will result in poor indexing of your site and obviously, that will hurt your ranking.
6. Social quality of your blogs. If people like it, comment on it and share it, your content is good. Moz identifies such sites as of good quality.

How To Increase Domain Authority
If you still in the lower ranks, you would want to have better rank, we all do. For that, we have to take baby steps but a bit faster. There are around forty conditions on which your moz rank is determined. But for starters, to get on the top ranks, the following can be done.
1. Pick a domain name that is relevant to your niche. If you pick up something that will not describe your content, then it is not going to be remembered.
2. The very first thing – Publish high-quality content. Be it grammar or length – you should not compromise on anything. If the topic that you choose demands a 2000 word content, I will say go for it. See what your competitors are writing. Check out several other blogs on the first page of SERP.
3. The next step would be to optimize your site for search engine. There are two parts in SEO – On-page and Off-page. Start with On-page SEO. High-quality content is for your audience and SEO is for search engine. Use better images, use the best keywords, write a catchy description, and a wonderful title.
4. Interlinking your pages will lessen the bounce rate on your site for sure. Take the links of your low ranking posts and put them in high ranking relevant pages. Interlink wherever possible. But make sure to link relevant pages only.
5. Then comes Off-page SEO. Link building is the key. When you generate high-quality links for your site, your site becomes better in the eyes of your search engine. You get domains to link back to you, so it optimizes your site's rank.
6. Check for all the broken links and bad links. Disavow any link that might be harmful to your site.
7. Don't give up on your site half-way. Let is grow and keep nurturing it.
8. You must make sure that the publishing is done regularly on your site. Make a schedule and publish the best content for your audience according to it.
9. Occasionally audit your site to remove any harmful links or broken links to keep your site healthy.
10. It is very important to have a mobile-friendly site. Structure and visual appeal of the site need to be good in both desktop and mobile version. Also, keep a check on the speed of the website.
End Note
When it all started, Google page rank was only the factor that determined how good the site is. But it led to a flawed system. People started using several unethical ways to increase their site's Google ranking. But now, with more factors determining the rank, deserving sites get what they should get.
If you have been unaware of the Domain authority till now, start improving it. It is for your own good!
Got a question? Hit me in the comments!