I have a friend who is a Digital Marketer. I often asked him What is SEO, he told me a thing or two about it, how it works, and why we do it; but I never got a clear picture. You will be thinking that I have an active blog and still I am talking as if I am a noob at this. But what I am telling you was about 7 months ago, when I was actually a noob – I didn't know a thing about SEO and its practices. But today, I have a good multiniche site, a personal blog, and a few niche sites, and they all are doing pretty good even though I am still learning.
SEO – Search Engine Optimization, is a practice that people do to improve or optimize their websites to get them to a high rank in a search engine like Google, Yahoo, Bing. SEO is basically what you do gain rank and traffic on your website without paying. Organic traffic is acquired through search results, and doing SEO on your site will help you in gaining that. If you already have a website, for your brand or personal, you can start making some marketing efforts to get them above your competitors. In this article, I will be explaining the key terms of SEO practices that you must know.
I like to blog about my day, about guides to various tech-related issues, provide DIY material for my readers, and many other How-To guides. And you would think that just writing about stuff daily will get you loads of traffic and ranking on Google, but trust me it is not the case. You have to work really hard to get your website noticed. You have to take care of the content, its readability, how you promote it, use relevant tags, keywords, correct placement of tags, and a lot more things. Confused? Don't be. This all might sound a little – a lot, but once you get the hang of it, you will be able to rank any site in a few months.
Let's begin with this article in which I am going to share my knowledge with you. Please note that I am not an expert myself, I do research a lot, and still read blogs from other authors to take ideas and such. If you find anything that is not right or looks a bit spammy, please let me know in the comments section.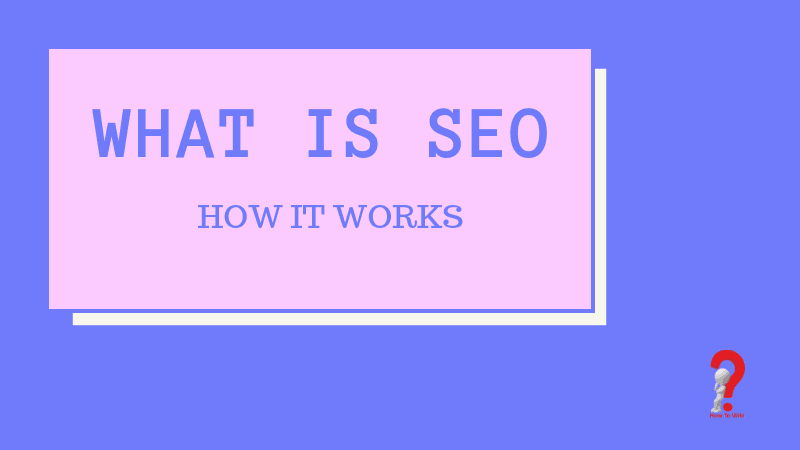 What Is SEO And How It Works
It is all about getting a website to the top of the search engine to get visitors and make money. It is like a science, in which you adjust and tune the content of the website, and promote it on the web to increase your chances of getting a better rank than your competitors. All we want is to appear in hte SERPs when a user types in the keywords in the search bar. SEO usually refers to the organic SEO, but sometimes it can also be referred to cover the PPC services which come under a broader definition. for PPC services, various other optimization techniques are required.
It is a nightmare to many entrepreneurs and marketers, as it blocks their path to the better ranks on Google.
To understand how SEO works we will have to take an example. Suppose you are in a library, and you want to read a book on "automobile tools" Now you will go to the librarian and ask him if they have such a book in the library. The librarian might ask you the context in which you are asking. Whether you want to buy such tools, want to look at catalogs, or just want to browse the images. So, upon checking the directory the library will tell you about the book that you were looking.
If you have watched "Wreck-It Ralph – Breaks The Internet", you might find it amusingly easy to get the point. How Ralph and his friend go to the Search engine and ask for the part they are looking for is exactly how you type in the keyword – short and precise – and you want your website to be on the first few results to gain profit from that search.
This is how your  SEO works. Now there is AI built on algorithms that are complicated enough and learning abilities that keep on changing the algorithm. Previously it was about site traffic only, but now it is about content, traffic, conversions, and sales. You might be scared on how you can rank your website if this all is so complicated, but do not worry, there are a lot of good practices that can help you gain a higher place in the search engine.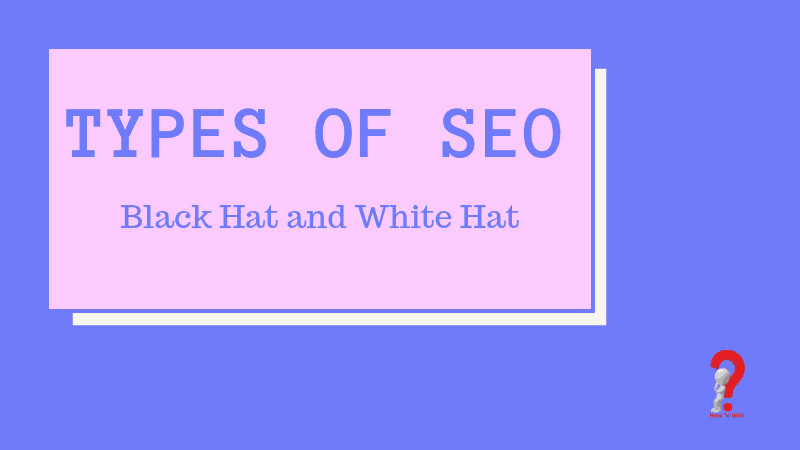 Types Of SEO – Black Hat and White Hat
White Hat Search Engine Optimization
As the name suggests, the reliable and genuine approach towards SEO is white hat, it follows Google's algorithm and does not intend to exploit any loopholes. This type of optimization is considered as wholesome and marketers follow it in order to gain higher rankings in the SERPs while remaining in the guidelines set by Google. Search engines like Google encourage you to use this type of practice. The most common white hat techniques include publishing quality content, doing the best keyword research, HTML optimization, restructuring the website, and more. These practices might be a little slow, but they will give you better results as the results-driven work is more lasting in their approach.
Black Hat Search Engine Optimization
Black hat is all about finding loopholes in the Algorithms and obtain better rankings in SERPs. These practices are completely against the search engines' guidelines and are considered illegitimate. It is like the dark side of SEO in which all the techniques that are used are unethical and can hurt the website in the long term. The spam score is high and wholesome level is almost zero. The most common practices under Black hat optimization are keyword stuffing, hidden text, hidden links, spam links, and more. The traffic generated through this technique is short lived and not of quality. The conversion rate would also be very low.
Gray Hat Search Engine Optimization
There is a third type of optimization technique that not many talk about, gray hat. It is a combination of black and white hat SEO and includes bits from both. This is followed by SEO service providers in order to give the clients the results they are paying for.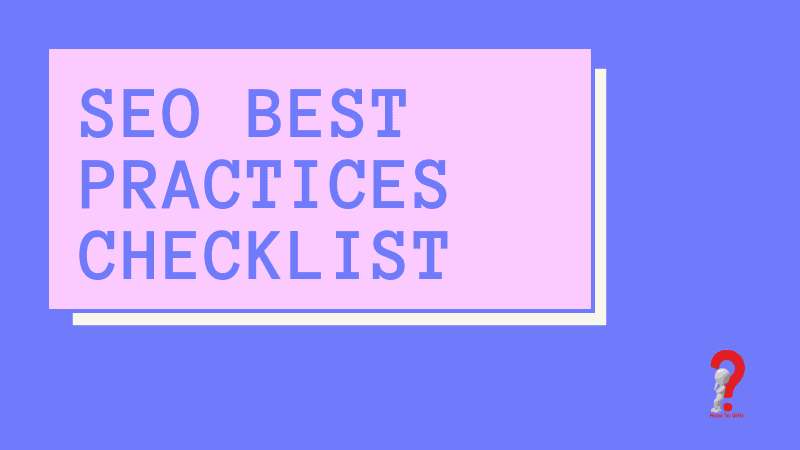 SEO Best Practices Checklist
As we are talking about SEO, I figured it would be great to share a little about the best practices of SEO.
To improve any webpage's ranking, you need to focus on the best practices that you work on. There are two elements of search engine optimization that you need to work on, "On-Page" and "Off-Page". The work you do on your web page to improve its quality and ranking on the SERPs is On-Page SEO, and the work that you do outside of your page is the Off-Page. Also do not forget to get the hosting from the best hosting providers, check Hosting Foundry for the best ones.
Checklist of On-Page practices:
1. Title Tags: One of the most important on-page factor on which your webpage's CTR and visibility depends. The title tag includes the keyword or keyphrase that it is relevant to the page, so as to let the search engine know what the page is about. This is why your title must be unique, have your main targeted keyword, and should have the capability of attracting a user to click on it.
2. Meta description: People often say that the meta description is not that important or search engine rankings, but it helps out the users who are looking for answers to get to know about your blog and its content. This is why your meta description must have your targeted keywords, and it should be compelling enough to attract your targeted audience.
3. Optimized content with targeted keywords: The content is all you have to get the user to stay on the website once they have landed on the page. The content that you provide must be easy to read, must be unique and relevant, and should have the capability to get the user to stay. If the content is copied or more than one page on your website has the same content, you might get penalized and your rakings will suffer.
4. Header tags: The targeted keyword phrase must be used only in the H1 tag, and you can use H2 tags as headings of hte subsections if there are any.
5. Internal page linking: It means a link on a page that refers or points to another page on the same website. It helps strengthen those keywords internally and also helps users to navigate through your website easily. Be sure to relevant and not link to a page that does not belong in the same niche.
6. Image, ALT tags, file names: It is essential practice to include appropriate alt tags in your images, they are good for the search engine. The ALT tags and filenames of the images should be SEO friendly as the traffic could also be generated through image search.
Checklist of Off-Page practices:
The major practice that we use in SEO Off-Page is link building. It is a simple process that is used to get backlinks to your web page from other sites.
What is backlink? A link on any website or page that is pointing out or referring or linking to your webpage or website is called a backlink. The best way to improve your site's ranking is by having a lot of relevant anchor text backlinks to your website.
What is Link building? A process in which you get relevant backlinks from other sites to your own. This is the most important practice in any SEO strategy, and thus should be taken seriously.
What Is SEO Strategy
A process in which you organize or tailoring your website's content by topic in order to help Google to understand user's intent. By optimizing a page around a topic, you are increasing your expertise, and the search engine will see you as a potentially good website to rank well.
Keep on reading for other updates on the topic.
Any questions? Type them in the comment.
Related Article
How to Find the Right SEO Service for Your Small Business