Online casino slots provide a relaxed and memorable gaming experience. Most of the online slots come with fun features and simple formats that appeal to any gaming enthusiast. With the innovations from the leading providers like NetEnt and Microgaming and the high number of slot machines, online provide profitable slot bonuses. These bonuses enable you to get started as an online player.
Moreover, casino slots online offer a wide variety of games, which increases the chance of every player finding a suitable game to play. These include games with great themes like Hollywood movies, TV gameshows, lucky leprechauns, and Egypt. Besides, online casino slots appeal to all levels of a player as their wins are usually down to chance.
How to Play Casino Slots Online
Each game comes with unique instructions, but most use simple symbols that make it easier for you to understand their meaning even if it is your first time to play the game. It is also easy to know how to play lines work. However, when it comes to playing casinos online, there is something to learn regardless of whether you are a total slot machine novice or a huge fan. Here we have researched and prepared a guide on how to play casino online slots.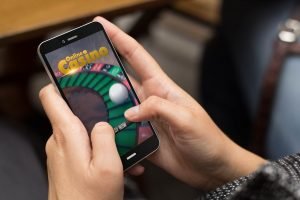 1. Choose Online Slot Machine
The first step in playing casino online slots is choosing your preferred machine and opening your device. Once you do this, a number of operating buttons and reels of your machine will appear on your screen. This will also include your bankroll, which will be displayed in the corner of your screen.
2. Check the Game's Paytable
Once you choose and open the game, the second step should be checking the paytable. This is to determine the value of each of the symbols in order to know the symbols that you will be looking for.
 3. Decide on the Number of Playlines and What to Bet
Next, choose what you would like to bet and the number of play lines. If you decide to choose all the play lines, you will be required to use the "Max Bet Button."
4. Spin the Reels
After the third step, spin the reels by clicking "spin." The game will show the results and give you a chance to gamble. With the chance, you a bonus game that can win you a bigger prize.
5. Continue Spinning the Reels
You can repeat step 4 several times if you wish to continue playing, but remember to keep on checking your bankroll. This allows you to determine whether to continue spinning the reels.
Conclusion
Almost all the casino slot games come with basically similar instructions, which include clicking the spin button and allowing the game to do the rest. However, it is good to note that there is something to learn when it comes to casino slots online, even though they do not need any strategy or skill. We believe that the guidelines that we have offered above will help you learn how to play casino slots online.
More Interested Game
How to play Black Diamond Games for Beginners
How to Play Some of the Very Best Board Games for Families