It's not uncommon to see players struggle to understand double ball roulette. But the game isn't that much different from regular roulette. However, it's played using 2 balls. 
In this roulette guide, we'll show you how to play double ball roulette. You'll also learn about bets, payouts, and strategy. Ride along with us until the end. 
Understanding the Basics of the Game
Double ball roulette is basically governed by the rules of European roulette. So, while you'll find a zero on the wheel, you'll be playing the game with two balls instead of one. But the presence of double balls doesn't make it any more complicated.
In this game, bets are still the same as in regular roulette (inside, outside, call). But for inside bets this time, you only need one of the balls to hit to win. Your winnings will be doubled if both balls hit. 
The exact opposite has to happen in an outside bet which requires both balls to hit in order to win. So if your bet is placed on a Red, you need the two balls to land in a red number. 
You can also play with your bet set on winning the Double Ball Jackpot. In this case, the two balls have to land on a winning pocket in order to win.
Now let's talk about some of the available bets beginning with the outside bets:
Outside Bets
Unlike in regular roulette, outside bets have somewhat different rules. In this case, both balls have to hit for you to win. But the perk is that you get much larger payouts if that happens.
Inside Bets
Most people play double ball roulette because of the rewards that come from inside bets. Normally, when playing regular roulette, all you have to do is bet on just one number. You may also decide to bet on another option like a Split or Street. And once the ball lands in the right place, you get to win. But you can only do this with one chance.
Now, this is quite different in double ball roulette because you have two chances and that boosts your ability to win. In this case, you just have to get one of the balls to land in the correct pocket. But your rewards get even bigger and you can get double your winnings if the two balls land in the correct pocket.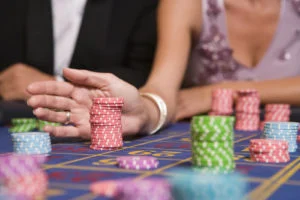 The Double Ball Jackpot
Evidently one of the most thrilling aspects of double ball roulette. That's because it offers you more winning opportunities since the game is played with two balls. Double ball jackpot gives you access to two extra bets that can earn you very huge winnings if they hit, up to 1200:1 payout!
That's massive right? Here's how it works:
If you bet on both balls and they eventually land in the same pocket, your reward will be a massive 35:1. That's really a juicy payout. But it can get far bigger than that if both balls happen to land on the number that you pick. This time, the payout goes as high as 1300:1!
While there's a reduced possibility of this happening, it's part of the thrill and excitement because every player knows that the game has an absolutely insane reward if your bet hits. 
Called Bets
Called bets are also another exciting part of double ball roulette. This time you will be placing your bets based on different sections that can be found on the wheel. Your bets could either be number bets or split bets and earn rewards similar to the inside bets category. 
How To Have An Edge In Double Ball Roulette
While the thrill, excitement, and potential of this game look juicy, every player has to bring their best game when it comes to making decisions. When making inside bets, it makes sense to adopt a strategy of low variance. 
If you are good with taking risks, then you might want to explore a high-risk, high-reward strategy that seems to work quite well when making outside bets. 
When compared to regular roulette which uses a single ball, many who play double ball roulette find that inside bets are more advantageous because of the low-variance nature. So you can enjoy the luxury of risking relatively little or you can go all out by taking much higher risks. There's also a better chance of hitting the double ball jackpot where you get a payout of 1300:1. 
Asides from payout ranging from a ratio of 2 to 1 to 17 to 1, you can also explore line bets which are regarded as some of the safest in the game. A line bet should see your 2:1 payout 2x if the two balls win. And you already know that one of the most exciting parts of the game is the possibility of bagging a double win. 
You also want to be careful with outside bets. That's because they offer the slimmest chance of winning even if the payouts are quite juicier. You don't want to stay stuck in losing streaks back-to-back-to-back by increasing the already high variance of roulette. 
So always keep in mind that the odds here are somewhat different than what you get in a traditional game of roulette. Winning outside bets happens to be tougher but you'll get much better rewards. On the flip side, it appears much easier to bag wins on inside bets. 
In the end, whichever strategy you adopt will have a higher chance of being more successful if you focus on winning more inside bets and setting your sights on the jackpot. From experience, it will be best to focus more on those two areas as they present you with a more favorable chance of recording wins.
Get Started Already
With this guide, you should be well equipped with the necessary basic information to get started. You can try checking out online casinos that allow you to play double ball roulette for free and once you feel ready, you can then play with real money. 
More Interested Game
How to play Black Diamond Games for Beginners
How to Play Some of the Very Best Board Games for Families