More often than not, we find ourselves underestimating the power of a thank you card. One of the pillars of etiquette is to say "thank you" to someone who has done you good. In the old days, people used oral means of expressing gratitude. As of now, most people are moved by thank you notes drafted on a card, regardless of how simple the card can be.
Some people resolve to send text messages or quick emails, while others may communicate everything through a simple phone call. These are modern ways of showing clients, friends, parents, and loved ones that you actually appreciate what they did for you. However, a thank you note written on a digital card says more. Sending personalized thank you cards says that you spared your time, sat down, and wrote a special message to someone who also spared their time to do you good, offer you a service/product, or give you something special. Taking time to makea thank you card shows the receiver that they deserve your heartfelt gratitude.
Personalizing the thank you card's sentiments to the recipient can change their day for thebetter. This is a great way of appreciatingsomeone's gift,a kind gesture, or help. Sending personalized digital thank you cards to your family and friends is one of the perfect ways of expressing gratitudeon a deeper level on any occasion.
However, regardless of how much we try, putting our thank you sentiments on the digital card can prove difficult. Before sending those kind words to the recipient, you will have involved yourself in two mighty tasks; finding the right words to say on the card and making the digital thank you card itself.  The big deal in the former is that saying thank you to a friend, family, or an associate is a onetime deal. Hence, everyone has the desire to make a lasting impression. We all experience it differently, and despite the challenges, there's always a way out. The following is a step by step procedure on how to make a digital thank you note professionally.
Make a Digital Thank You Card in 5 Minutes
1.Download canvas app and selectyour preferred card type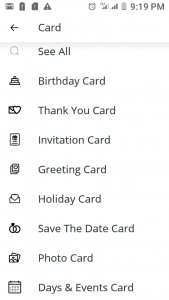 2.Choose the best design layout for your card. There are hundreds of professional design layouts.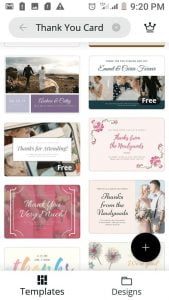 3.Upload your photo. You can also choose a photo from the one million stock images.
4.Fix your photo. Add some stunning filters and edit the card text.
5.Change the text fonts. You can choose from over 120 fresh text fonts.
6.Change the card background. You can use an image as the background, or choose a different background from canvas premium library.
7.Change the text colors and text boxes, and add extra flair
8.Save the card, print, or share it online. If you can physically meet the recipient, printing the digital thank you card and handing it out to them is a special gesture that your family and friends will love. Besides, you can take those special moments and show them that you really care with beautiful online designs. If the recipient is far from you, you can share the thank you card through your blog, a thoughtful email, or social media.
Key Takeaways
There's no better way of expressing gratitude than customizing thank you sentiments on a well designed digital card. Besides, being able to make a digital thank you card allows you to create amazing designs straight from your iPad, Android, or iPhone apps or from your web browser. With this guide, you're done with one part, which is the most difficult. Now, dig deep inside your heart and find the right words to say "THANK YOU!"