Diary – It is simply a journal where you can write all your personal thoughts about your life, the people in it, the characters your build, the stories you write in it are the things that you care about. A diary is a safe place where you can be honest about your thoughts, feelings, and opinions. Your diary reflects your dreams, your thoughts and your view of life. When you write a Diary Entry, it is for your eyes only and you can write whatever you want to without thinking about what others will think of it.
Now the question arises, especially for those who have this in their course, what is a Diary Entry?
You see, a diary entry is a piece of writing, that has to be organized by date. The entries in your diary are how your train of thoughts run, what you feel and what are your opinions about things in your life. In short, you are writing about your days like you would tell it to a friend or to yourself. Diary entries can be short or long, as you want them, The Diary Entry Writing Format contains only two things, the date and day you are writing on, and the content that you have to write.
---
More like this:
Write a conclusion paragraph for an essay
---
How To Write A Diary Entry For School
Here is the format for writing a diary entry for school –
Date – Specify the date on which you are writing
Day – Write on what day the diary is being written
Time – At what time you are writing the entry
Content – This is the main part of the diary entry, here you write about your day or about that enemy of yours
Your Name – You can sign too if you want, it is your diary after all!!
Diary Entry Format For Class 8
The format for the Diary Entry is simple ~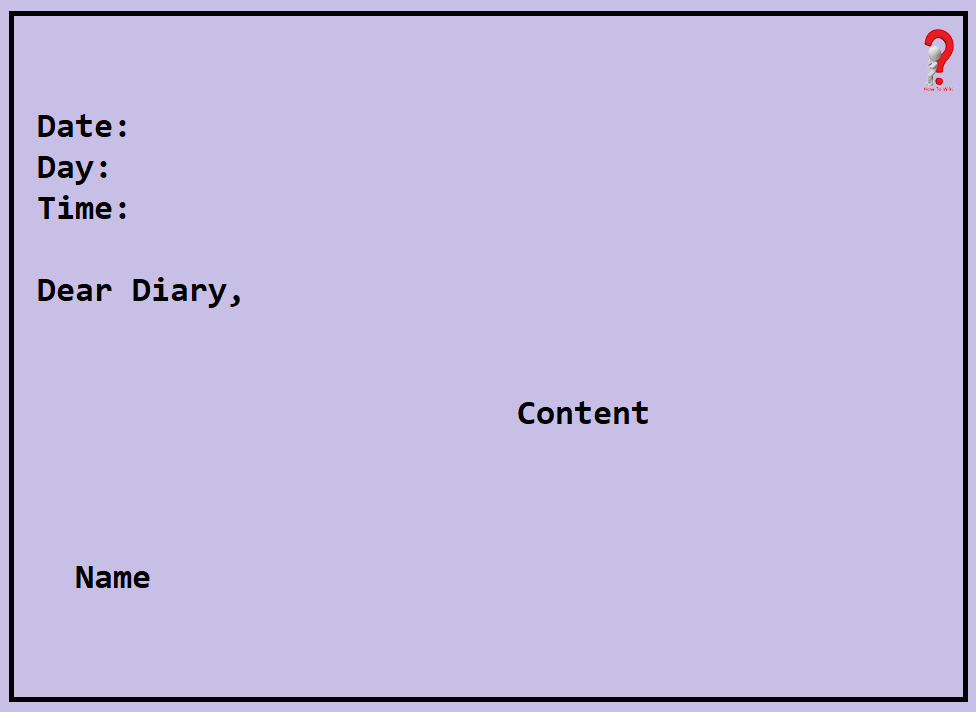 The diary entries are like narratives when you write them to try to describe everything like a story. Doing this will create a beautiful piece of writing, which may seem like a part of a book.
Here are a few tips for students to use while writing their Diary Entry –
#1 Think about what you have to write. Think about the topic, and what you can include in the content.
#2 Take about five minutes asking yourself questions –
What was the important thing you wanted to talk about?
Why is it important?
Do you want to fix something?
Why does it need to be fixing?
How do you feel about it?
….and more
These sort of questions will help you make a plot which will define your diary entry
#3 Now start writing your diary entry by answering each question one by one.
#4 Formatting is important, and no, not the outlining one, but the one that decides the theme of the premise.  Follow the same theme throughout the page so as to keep on track of your story.
#5 Be precise, clear your thoughts and don't be hard on yourself. Let your writing flow, because your diary is a judgment-free zone and won't need everything to be perfect.
Daily Diary Writing Examples
Some sample questions for the class 8 English Grammar students are given below for your help ~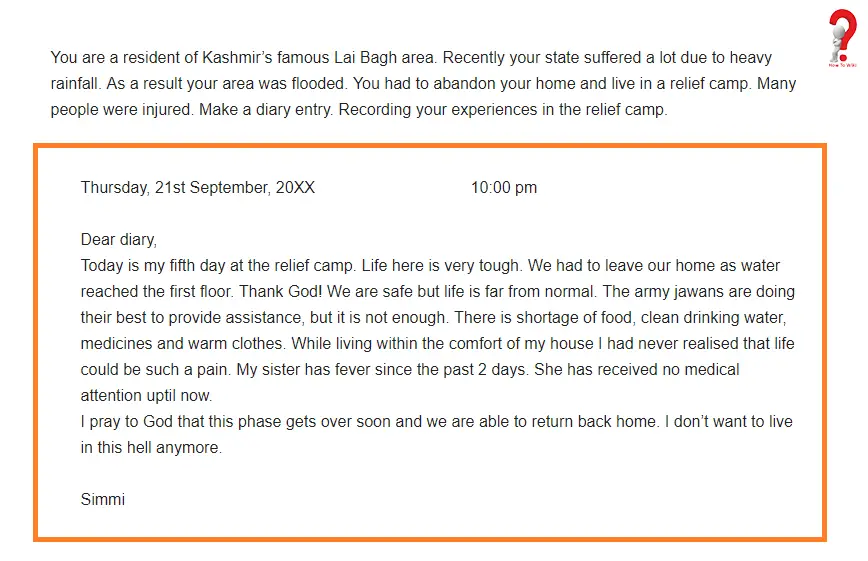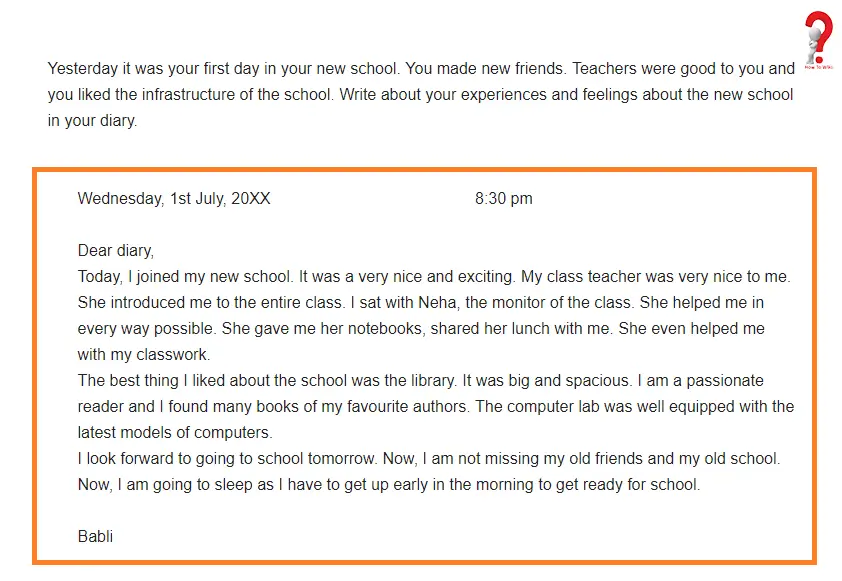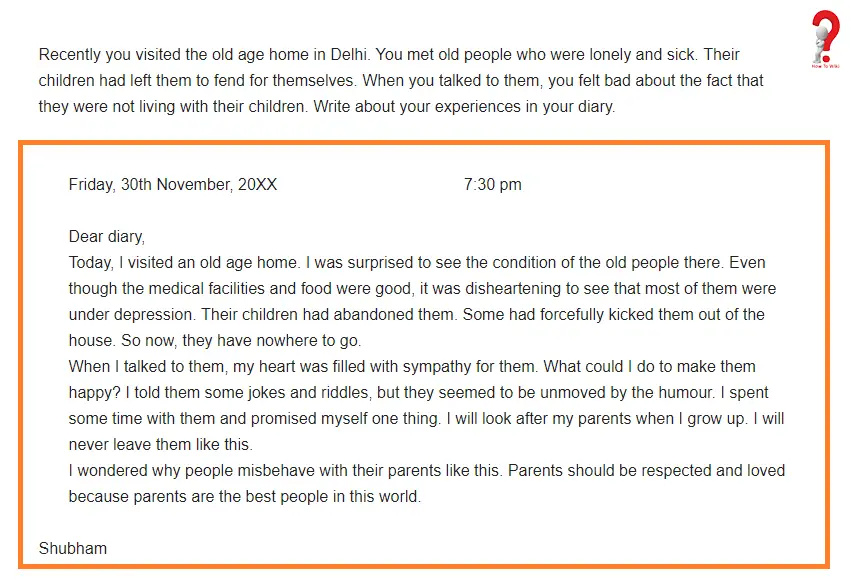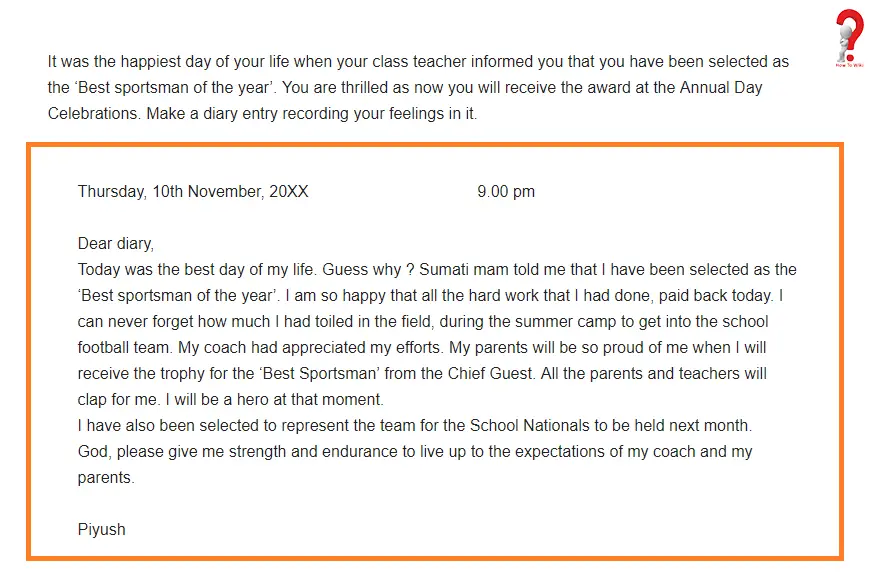 For further doubts, you can consider watching this video for a thorough explanation of the topic.
Was this post informative enough for the students? If yes, do tell us and share your diary entries with us. We would love to hear from our students how their entries turn out. IF you have friends that may require help on this topic, then don't forget it with them on WhatsApp groups, Facebook, and other social sites.
---
View More On How To Wiki
Writing Love Letters to Your Girlfriend | Amazing Samples Plus Tips
Home Remedies – Reduce Face Swelling In Minutes