Diary – It is simply a journal where you can write all your personal thoughts about your life, the people in it, the characters your build, the stories you write in it are the things that you care about. A diary is a safe place where you can be honest about your thoughts, feelings, and opinions. Your diary reflects your dreams, your thoughts and your view of life. When you write a Diary Entry, it is for your eyes only and you can write whatever you want to without thinking about what others will think of it.
What is a Diary Entry?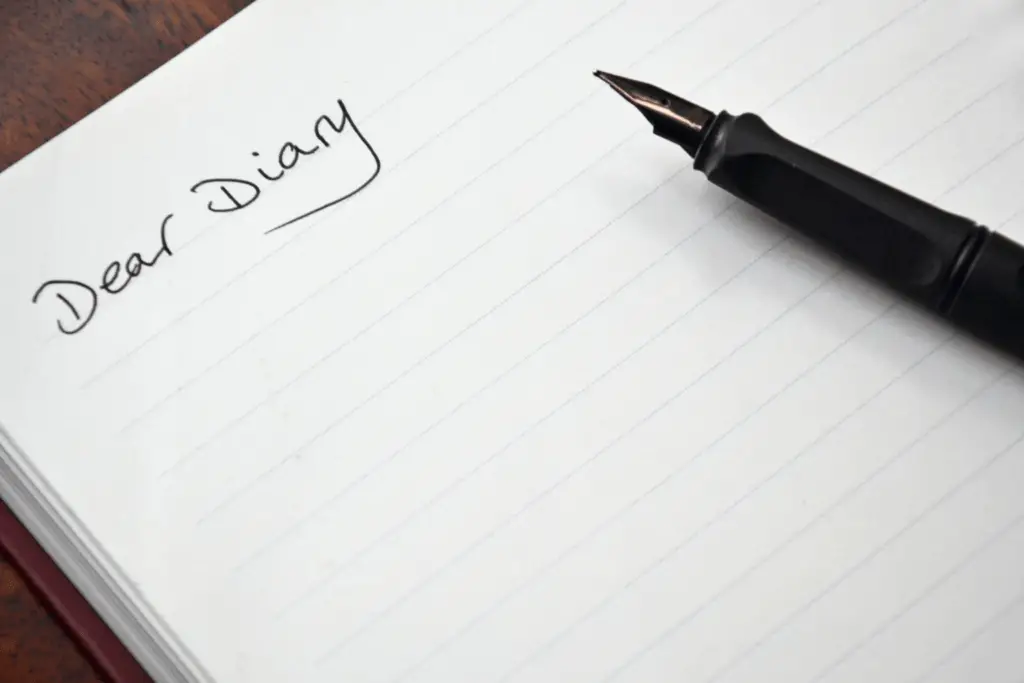 A diary entry is a form of narration in the pages of a diary where the writer narrates the events that happened to them. It's typically well-organized as per the time and date on each page when it was narrated. However, the contents of a diary entry range from emotions, thoughts, dreams, reflections, and so on, according to the diary types. For example, you can describe your thoughts when an incident happened or how you were feeling. 
Furthermore, the entry content can be divided into different sections or chapters of the feelings and thoughts about you. For instance, you can subcategorize a dream diary into – eloquent dreams, night terrors, etc. You can write a diary in different forms too. Like you can include pictures, written texts, audio, or a mixture of different forms.
Also Read:- When and How Did We Humans Start Counting Years?
Here are some of the key features to include when writing a diary entry –
Begin with 'Dear Diary'

Elucidate the places where the incidents happened

Use past tense to write.

Write using pronouns such as 'I,' 'me,' and 'my' to manifest that the incidents occurred to you.

Try to employ fascinating vocabulary.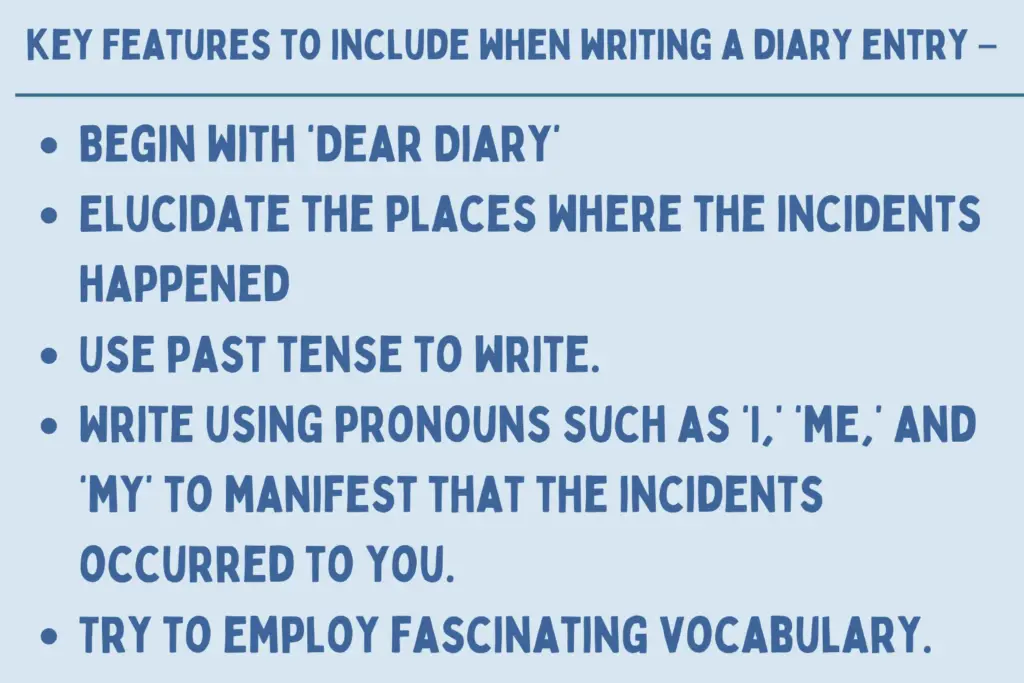 Also Read:- Write a conclusion paragraph for an essay
How To Write A Diary Entry?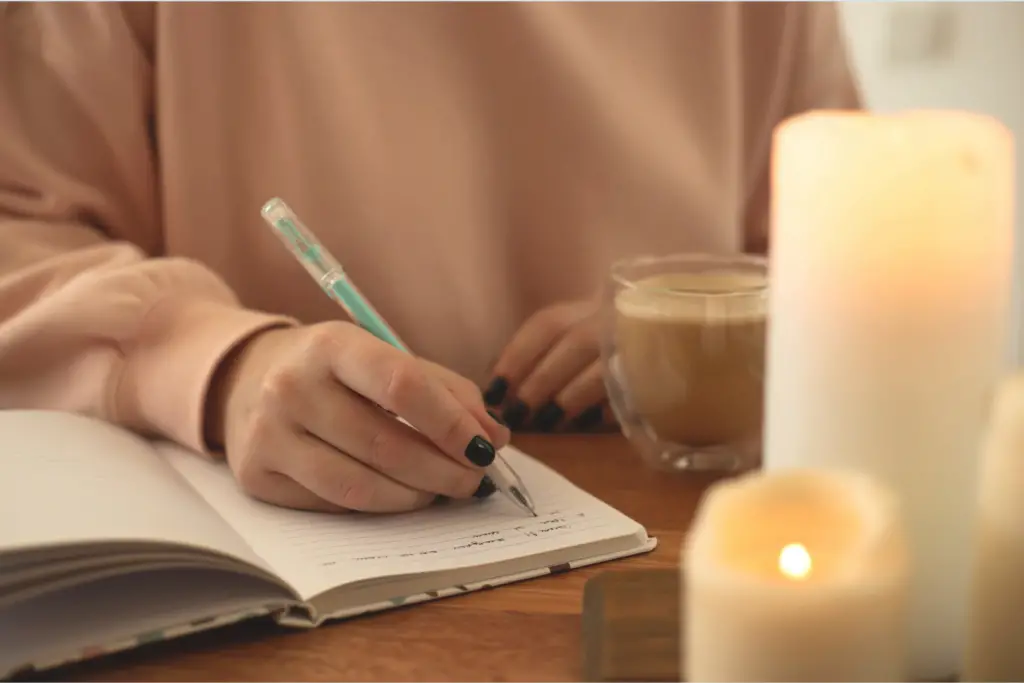 There was a time when you had to hide that little locked diary in your sock drawer or beneath the mattress. However, standing in 2022, your diary entry has become different than you had in your youth. Today, it's like a diary or an old journal that you use for your own. 
Well, a diary entry is not any difficult feat. You simply write down whatever you feel or that comes to your mind while writing – NO HARD RULES TO FOLLOW for a diary entry format. However, suppose you have the habit of writing a diary daily. In that case, you will know that sometimes it can be difficult to ensure a quality diary post. 
It requires a considerable time as you won't want to end up writing a load of nonsense that actually doesn't fit your diary purpose. So it is recommended to take a little bit of time to recollect your thoughts and delineate them properly to create a significant difference in the outcome of a diary entry. 
Are you planning to start writing a diary? Not aware of the diary entry format or can't understand how to start? No worries! We have listed down several tips for you to follow that will help you develop quality insights about how you feel, maintaining a proper diary entry format simultaneously. 
So keep scrolling down!
1. Put the Date of Your Entries
When you start writing your diary, you endeavor to safeguard it for a long time. Thus, if you jot down the dates, it will help you to find the entries easily in the future. 
2. Use The Old Traditional Formula – "Dear Diary"
Although the perception of diary entries has changed today, a few things will never get old. Like, beginning your diary with "Dear diary."
3. Choose a Topic and Offer A Fascinating Title
A topic will act as a theme or direction for what you intend to write in your diary. And it can be anything, including a thought, feel or dream that you want to share. 
Moreover, you can choose an intriguing title for each descriptive subject in your diary entry. Then, suppose you scan through the entries later. In that case, the title can make you instantly recollect that memory and even bring up a smile on your face based on the recorded incident. 
4. Write In A Natural Way
Diary writing allows you to jot down the things you love. It can be about your daily life experience, the things you love, the places you travel to, your family or friends, the foods you love, and finally, yourself. 
5. Keep It Real
Your diary is for your personal use. So make sure to keep it real. Write about the real you, the things you do, or something you really encountered in life. It won't matter if an incident is weird or you have any bad habit. Writing the truth will help you understand how you can rectify or improve the bad habits.
Also Read:- How to Write A Check For 1200 Dollars? (A Step-by-Step Guide)
6. Choose a Different Prompt Every Time
If you choose to write your diary in apps like a diary, you can customize templates for each new entry. Likewise, you can explore new things every day that will keep up your interest too. 
However, like many others, you may feel bored putting down the same thing every day. And some of you may not even know what to write today. So here's a simple solution –
You can try to answer a different question every day like,
What was the biggest incident that happened in my life? What were the things that dominated my thoughts?

Who is the person that made a difference in my life? How do I know them? What was their contribution to my life?

What are the things I enjoy doing the most but don't get the time to do? How does that make me feel? What can I do to make time for doing it?

What is the biggest decision I have taken in the last five years? How did I decide what to do? 

If I had to change one thing of mine, what would that be? Why do I want to change it? What will be the benefit if you change it?

Did anything special happen today? What is that? How did it make me feel?