There are many cases where you might want to write a really good Business Letter For Quotation for your company to offer for a sale. This letter is generally written in response to an inquiry letter which might have been sent from a particular business or individual inquiring about your brand or property. When you want to establish a good relationship with your client, you want to ensure that the letter is written with utmost care – proper grammar, clear message that you want to convey and proper information about the deal.
Business letters are the formal letters that are written from one company to another or written between two parties for the purpose of doing business. A Quotation Letter is also the formal letter followed by certain rules, and they are mainly used for the transfer of important information concerning to business-related matters that might include information about the price, cost of particular goods or services. This basically depends on the relationship between the two parties.
On the basis of the purpose, quotation letter is classified into various types.
Business letter for quotation –

Business proposal quotation
Business quotation cover letter
Construction quotation cover letter
Sample quotation cover letter

Business Quotation request letter –

Approval request letter
Request for a quotation approval letter
Quotation request reply letter
Purpose Of Writing A Business Letter For Quotation
Quotation letter can be written by the customer in order to request the quotation proposal (Quotation proposal is a document written by businesses and given to other organization, other parties, customers & clients)

A customer or client can send such a letter in order to negotiate about the price and payment written in quotation proposal.

It could be written by a customer in order to acceptance or quotation proposal by the company.

This

letter can also be written by business or organization in order to tell the buyers, customers about the changes or editing they have made in quotation proposal.

Often, it is also written when rejection of buyer's in terms of prices and policy
Tips For Writing Business Quotation Letter
The letter should be so attractive that attracts the eyes of the reader. The starting should be so eye-catching, yet formal, that it compels the writer to read the whole letter. Write something unique and tell why the reader should choose you.

There should be transparency in deals everything should be very clear; no hidden things should be there in the letter.

Every point should be in bullets its boredom to read the paragraphs or write the letter in small parts.

Tell the benefits of your proposal. Explain how your business is beneficial to others or how you are beneficial to their businesses.

Write full details about you in the starting write all your details with contact details.
Business Quotation Letter Format
You should always write your name, address, phone number and email address at the top.

After this write the information about the person or the company you are writing this letter.

Then write an appropriate salutation for the person/company you are writing to.

Next, write the body of the business quotation letter – the body of the letter is very important to write all the information about your proposal in detail. Let them know what you want and what are the benefits of others if they accept your proposal.  

Then close the letter with a signature which must include your full name, designation, and company name (if any).
Benefits Of Writing Letter Of Business Quotation
There is clarity between both the parties want they want should be clearly defined so this is the advantage of the quotation letter.

Quotation letter should be used as a piece of evidence in the court in case of any violation or misunderstanding between the two parties. 
Business Letter For Quotation Sample
By using samples of business quotation letter you can use these templates and modified according to your need and requirement. There are various samples available here. Use these samples and template to write your own letter. You can use an editor in your device to make any desired changes and add anything that you might want to.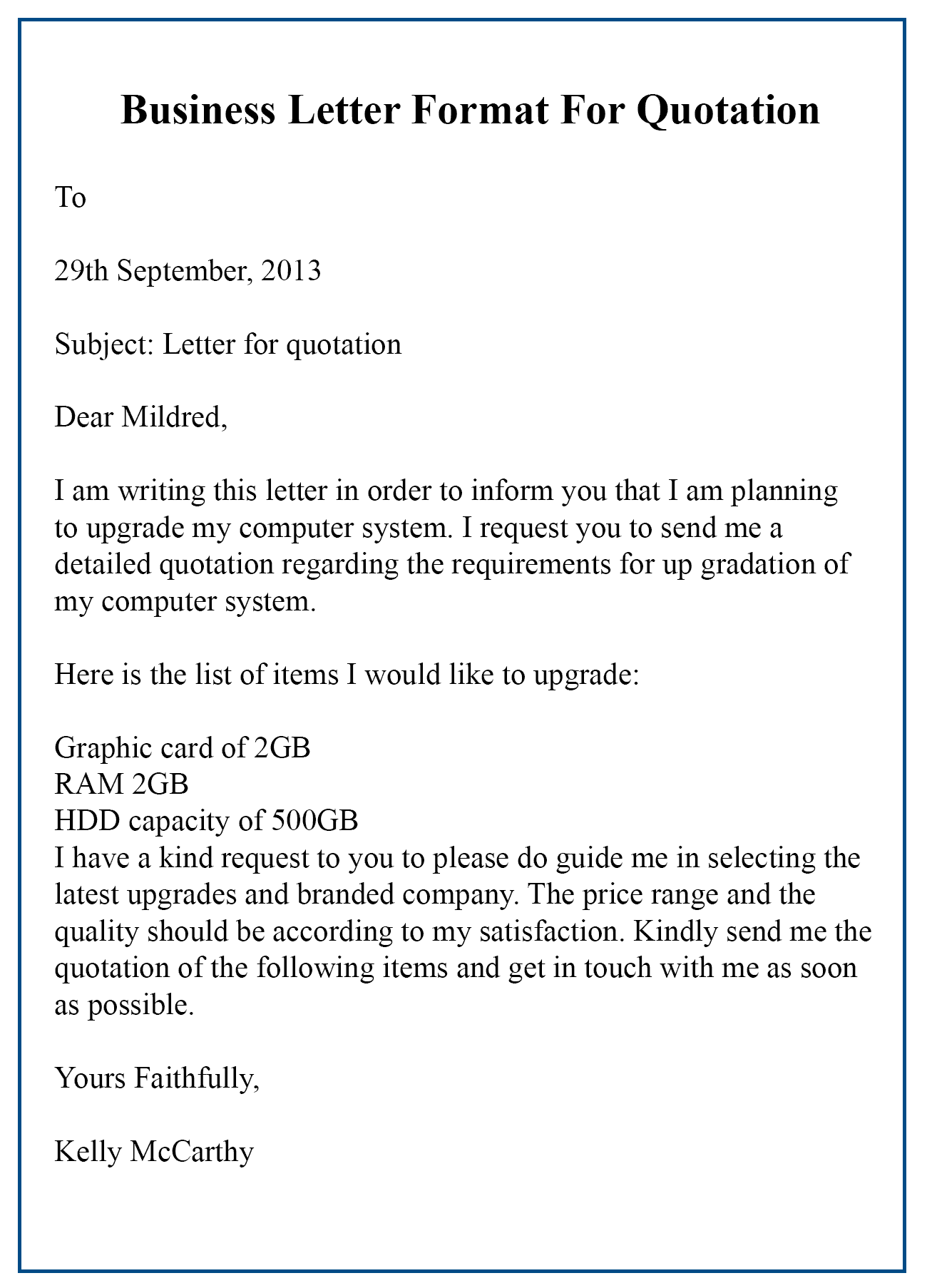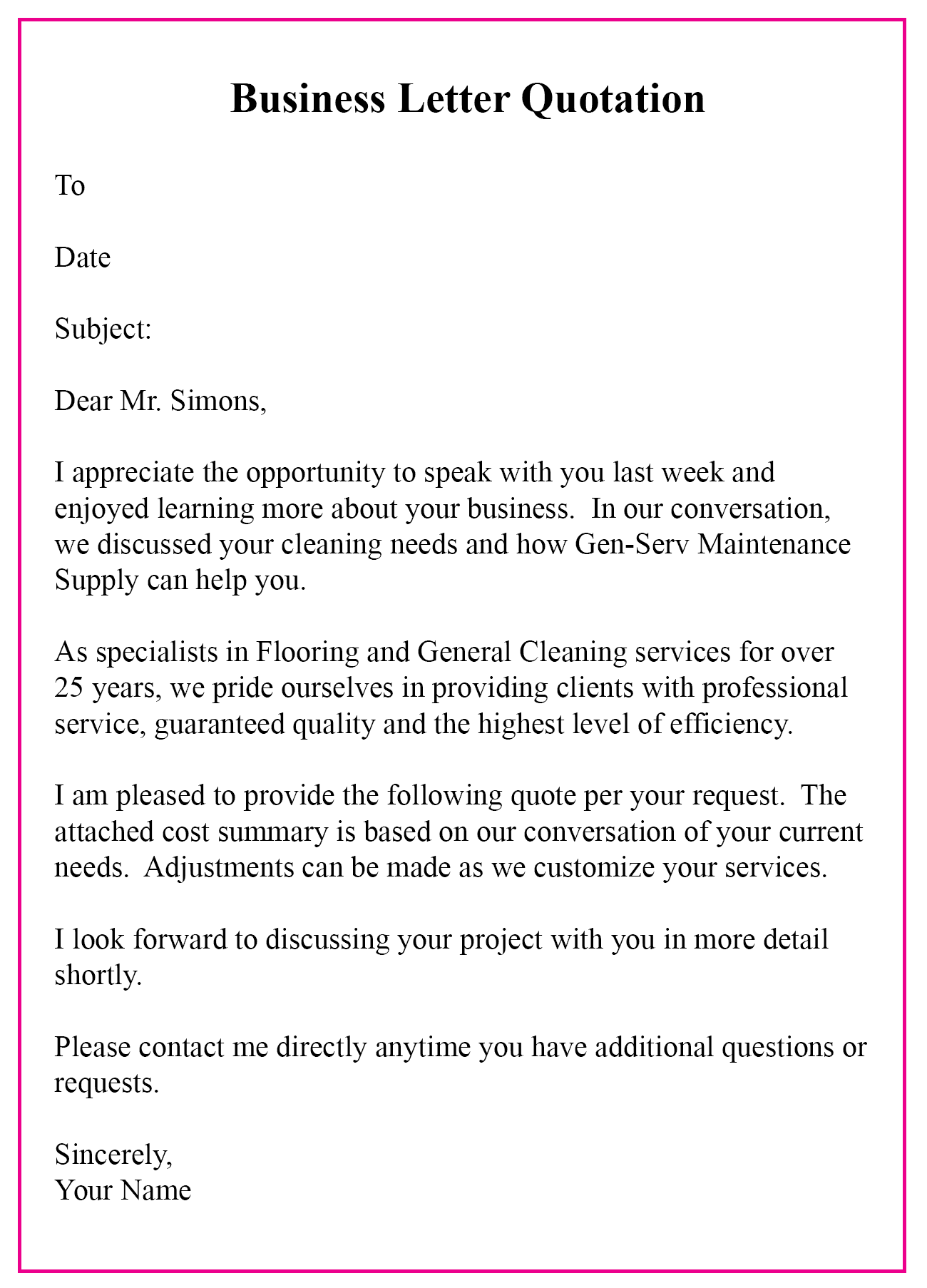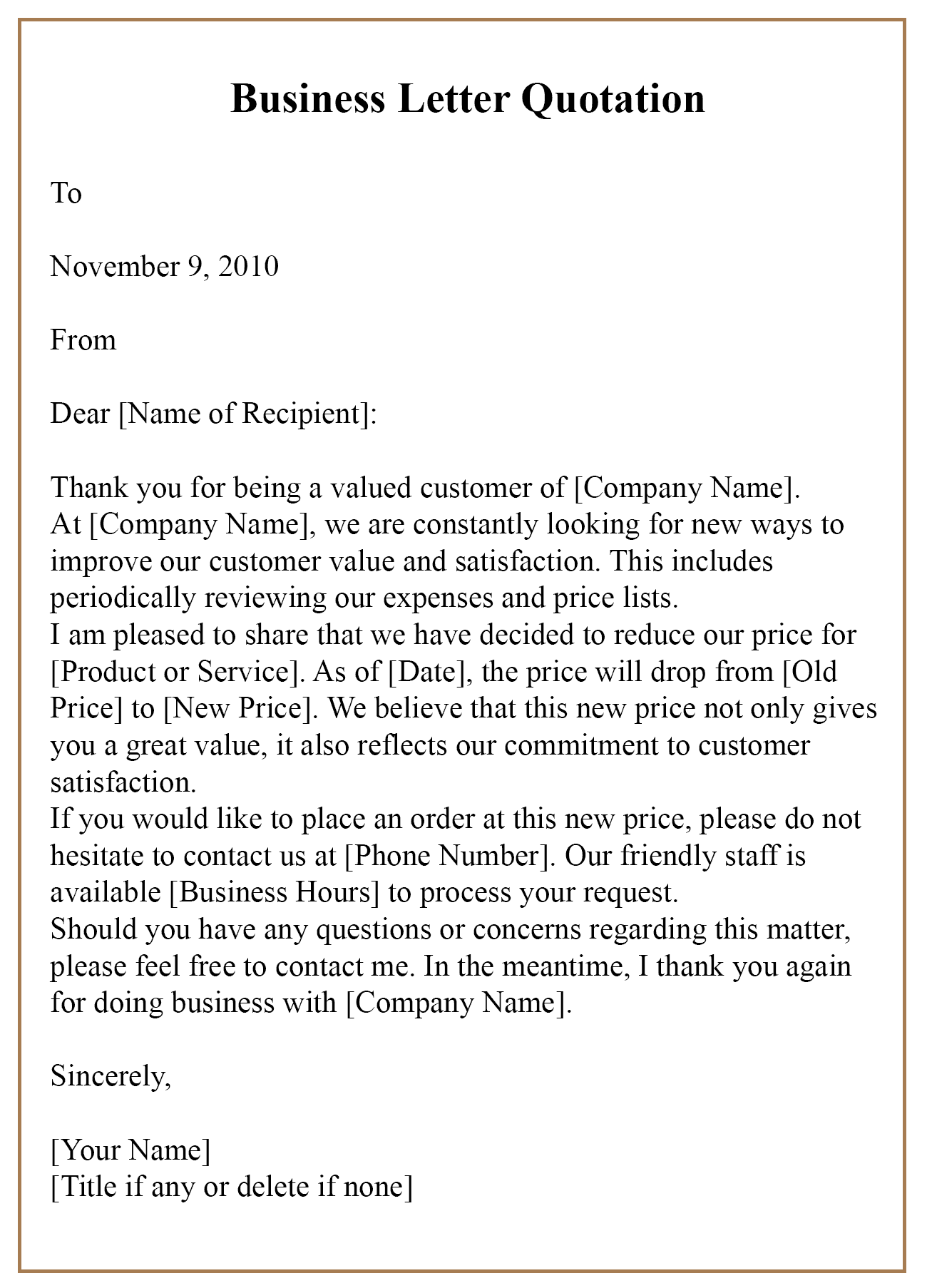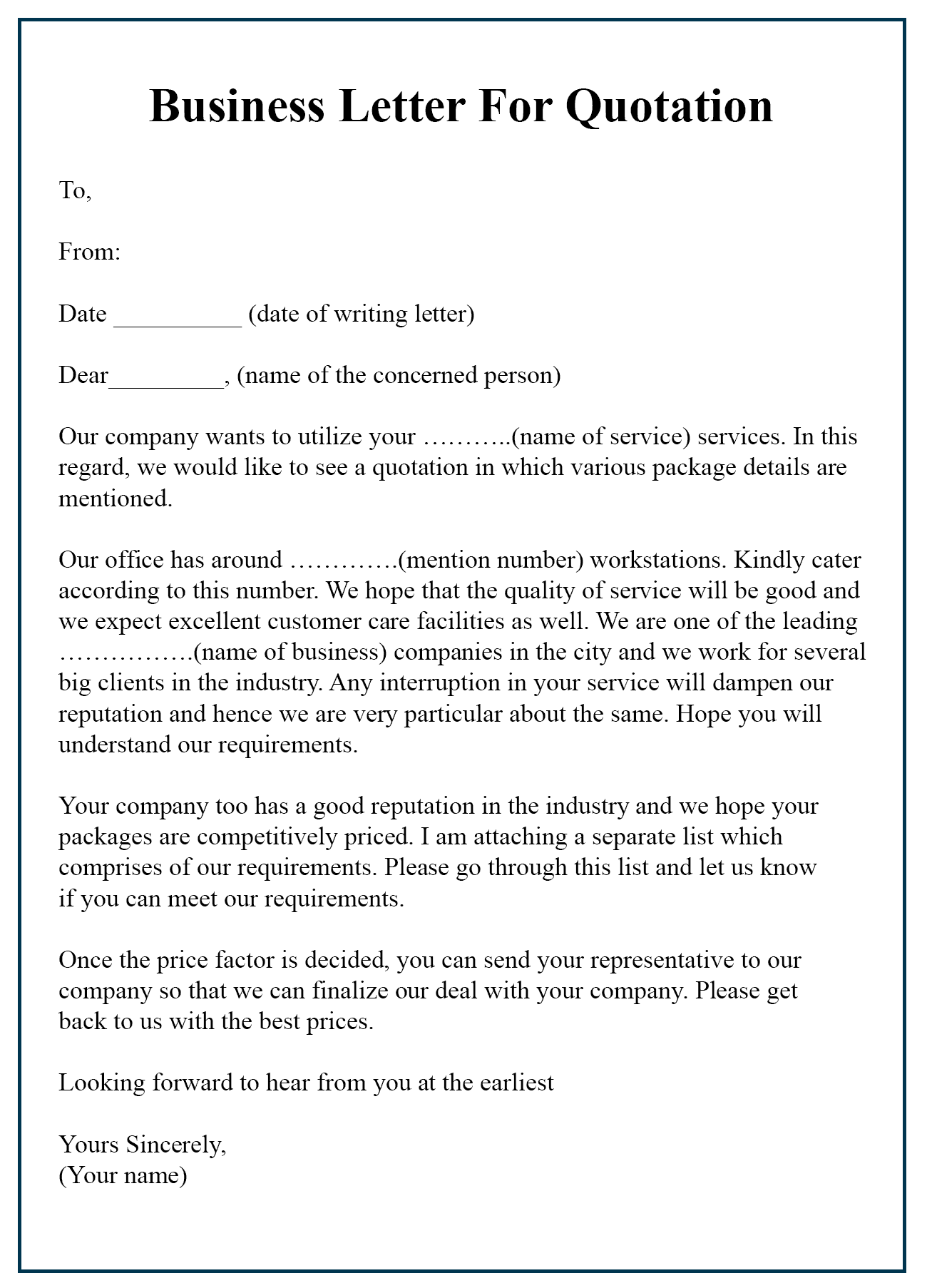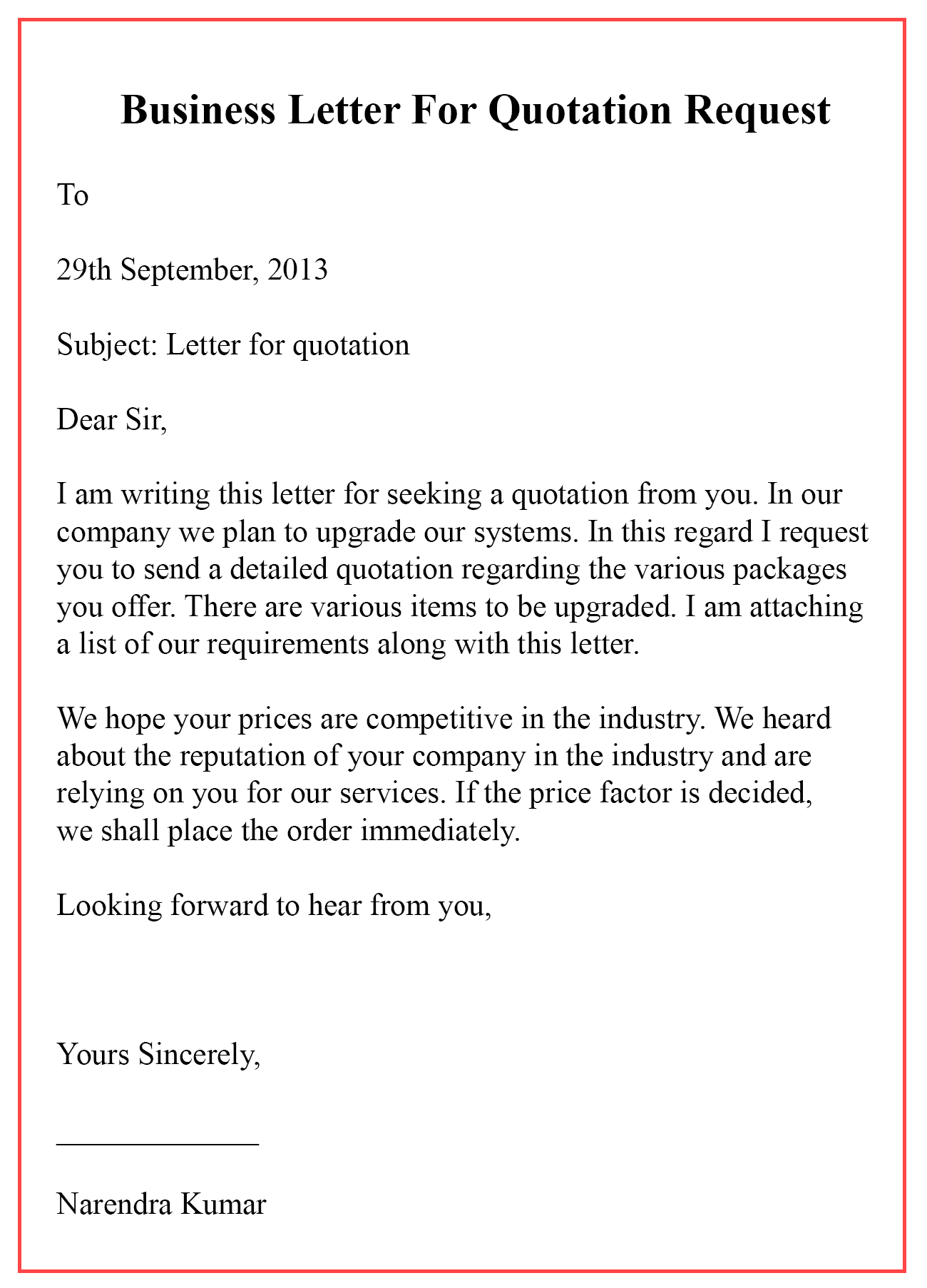 These templates are provided in PNG and PDF format for their easy usage. The downloading process is quite easy too, you just have to right click on the image of the template and you will be able to find an option for "Save Image As", just save it on your device and you are good to go. As for mobile users, A long press on the image will do the trick. If you want to edit the file, just download the PDF version by clicking or tapping on the "PDF Download" button at the bottom of every template and you will find the download button for that too.
Hope that this helps you out. Comment down if you have any question or just have a random thought while reading this article.