There you are, sitting in your new house, that you bought with your well-earned money. Have you forgotten something? Is that getting new furniture? Is it setting up the dog house in the lawn? Remember Address Change USPS? Yep, that's it. All your mail, parcels, and bills would be getting delivered at your old house, and here you sipping your coffee waiting for your bills for last month.
Changing your house address with USPS is not a difficult task at all. You don't even have to visit the USPS office to get your address changed as the website of USPS has that facility. Now you can sit at your home, sipping coffee, and change your home address in a few minutes.
If you want to change your address, you can do that.
To get your house address changed at USPS, you will have to visit the official website of USPS. For that, visit this link – USPS Online
This is quite similar to any other mailing service, or any other online store. When you change your house, you must always change your address with USPS or any other mailing service too.
Why should you change your home address at USPS?
> The major reason? Your mails. You don't want to lose your parcels and bills right? That is why USPS gives you the option to change your mailing address as many times you want. All your mail, after the address change, will be delivered to that address.
> The other reason that you might want to change your home address could be that you are going on a vacation of a few weeks or months. For that period, either you could ask your neighbor to look out for any mail, or just get the address changed and get your things delivered to you even on vacation.
USPS Address Change
Let's begin with the step by step tutorial on how to change address at USPS.
Visit the homepage of USPS Website
After that, follow the given steps carefully.
Step 1. On the Homepage of the website, click on Track and Manage
Step 2. From the drop-down list,  choose the option that says Change address.
Step 3. The previous step will redirect you the next page, where you have to click on "Get started".
Step 4. Fill up your information correctly and follow the directions as on the website.
USPS Customer Service
There could be times that you don't get the steps right. Don't worry, you can always give a call for help. Call the customer service executives any time with your issues, and they will help you and tell you what you need to do.
For any other issue or if you are not able to find what you are looking for, you can call on the customer service number for USPS.
Call – 1-800-275-8777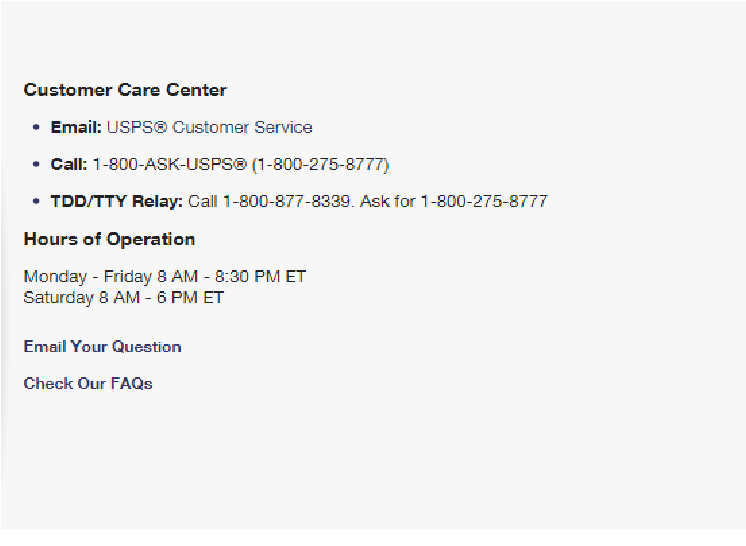 Conclusion
If you want any other service information on USPS, then you might be interested in our other posts –
USPS Customer Care Information
Mail Hold Service At USPS
If you have any other question or want to know about any other company's customer service, do comment and we will be happy to share the information with you.