Setting up a new Google Account is extremely necessary nowadays. Why? Because if you create a new Google account you are able to access various perks that it offers. Your Android requires a Google signup in order for you to have access to the Google Play Store, Gmail, Google pay, Drive, Maps, and Cloud.  A Gmail account is also necessary for signing up to various other applications like Facebook.
Whatever your reason, the process of creating a new account on Google is very easy. All you need to do that is a working internet connection and a Mobile device or desktop(whichever you prefer to work on).
What is Google Account? It is an account which a user requires to access the various online services the Google offers. The account is required to access and authenticate your identity on that service. If you do not have an account on this platform, you will not be able to enjoy the services like Google Maps, drive, and more.
---
Read more:
Send email using Gmail Account
Creating Skype Account in easy steps
---
Let's begin with the process.
How To Create Google Account
What you will need-
>> A working internet connection. You are going to need that obviously because the process is online
>> A device on which you are going to be working – a mobile/desktop. You can use your laptop or any other mobile device you use or have handy
>> Desired email address or username – Try to keep it professional because you might need it to add in your CV. If it is absolutely for personal use, you can use anything you like.
Without further delay, let's start with the process, shall we!
Step 1. Start with the Google account sign up page. There are three ways you can reach there.
You can directly click on the link I have provided, read the blog first and you can directly go to the page.  You can go directly on the signup page from here – Google sign up
Or you can first go to Google.com > click on "sign in" in the upper-right corner > click on "create account" > select "for myself"
Here is the step by step process to go to the sign up page using this method:
First, go to Google homepage. Type google.com in the address bar and you will be sent to the homepage.
After that, click on the "sign in" button that you will be able to see in the top right corner of the screen.

On the Google sign-in page, click on the "Create new account" link in the bottom to create a new account.

You will get two choices – "For yourself" or "For business". Select the one you want to create.

You will be redirected to the sign-up page where you can create your account.
The third way is directly going to gmail.com
On this page, in the top right corner or at the bottom, you will find the "Create new account" button. Click on it and you will be redirected to your desired page.

Any way you choose, you will see this page –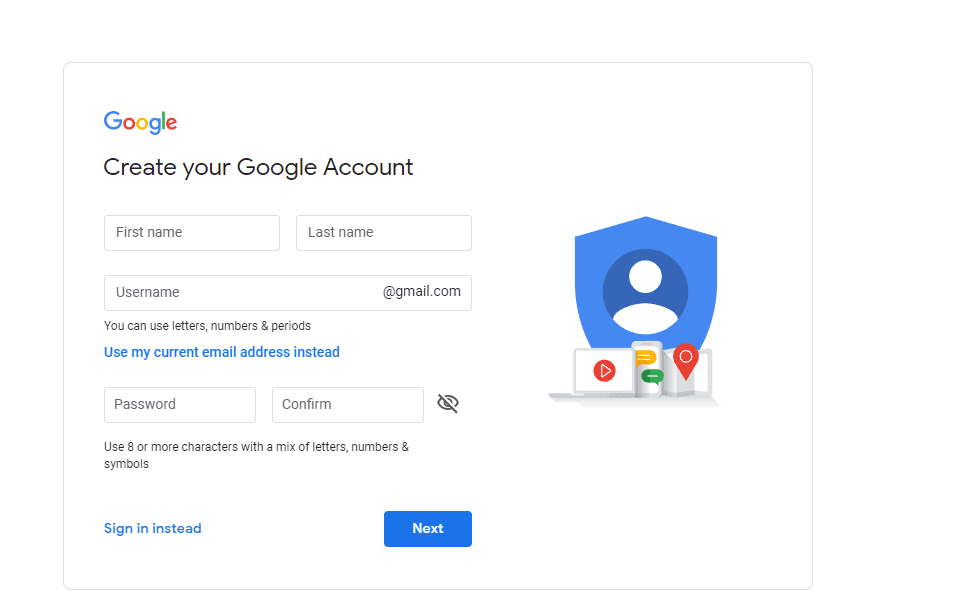 Google Account Creation Page
Let's breakdown the account creation page for easy understanding.
1. The first section you have to fill is the "First name" and "Last name" section.
Here, add your own name or the name that you want to display on your account
2. Next is your account username. You have to insert your desired username and it will include @gmail.com to make it your Google account sign up email.
3. The third section is Google account sign in password where you enter your desired security password. You have to enter it twice to confirm what you have typed to avoid any typing errors,
It is suggested that you use eight or more characters and include a combination of letters, numbers, and special characters to make it more secure.
4. After you are done and satisfied with the elements, click on "Next" button at the bottom
5. After you have done that, you will be redirected to the second page of signing up. Here you have to enter your contact information(your number) for security reasons, a recovery email, your birthdate, and your gender.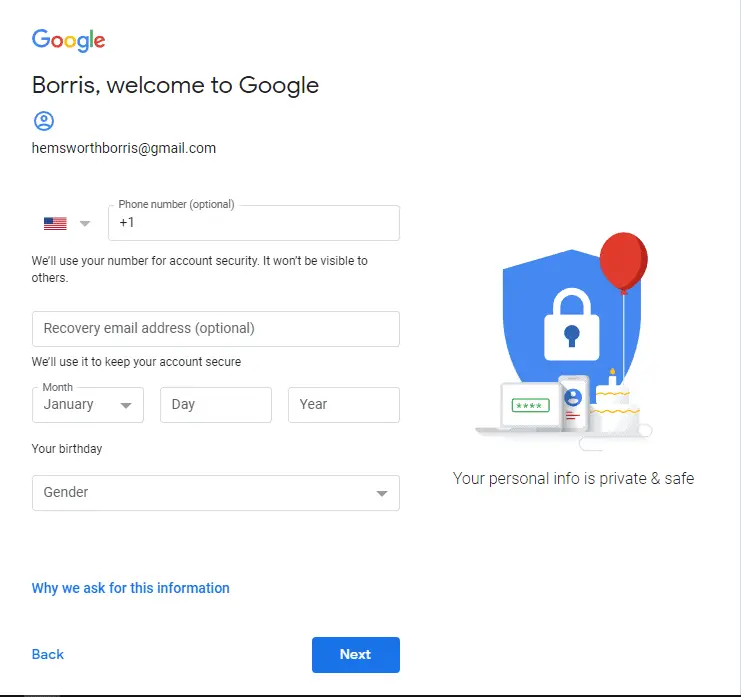 6. Click on "Next" when you are done.
Follow the instructions that you will get on the next page, and your account will be created.
Conclusion
Creating a google account for personal use or for business purposes is totally fine. It is recommended to read the terms and conditions of creating a new ID and not use the email for any fraud activity.
I hope the process was easy for you. If you have any questions regarding the same, you can comment in the reply-to section below.