How to Write A Motivation Letter to Employees?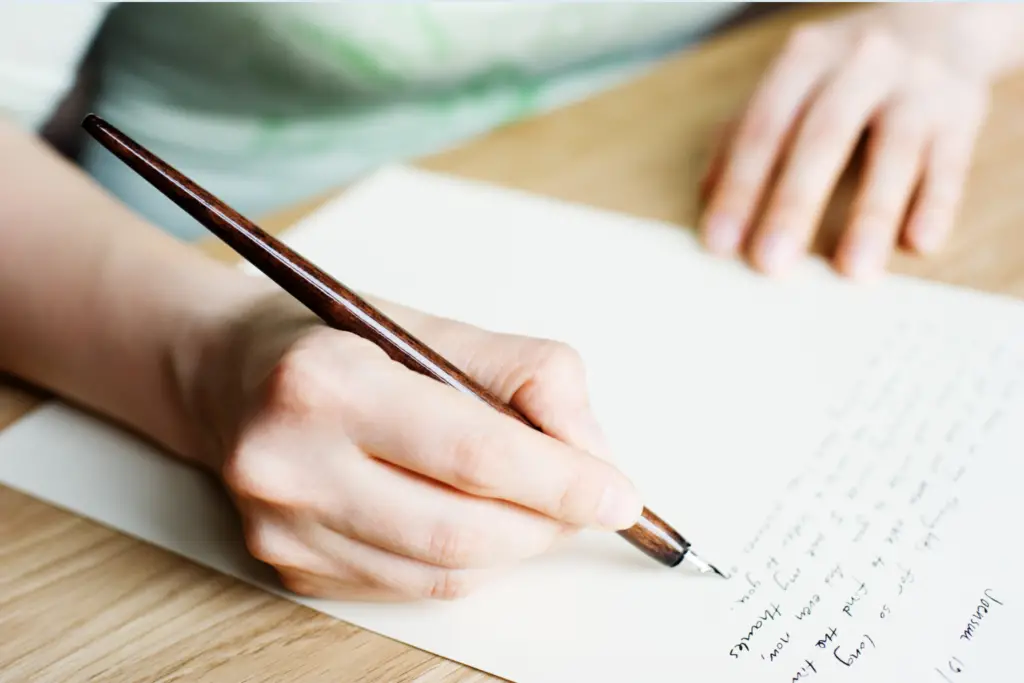 If you want to write a motivation letter, you need to do your homework and gather information about the employees. Know the main projects they are working on, their interests, and their philosophy – all these things will help you figure out what you can put down in your letter. 
In addition, it's essential to write a motivation letter in the correct format. So you can follow the structure mentioned below that is the most common for this letter type. 
Giving a relevant subject is important if you send the motivation letter via email. However, you have to choose a subject line properly as it will set the tone for the letter's content. Thus, try to write something positive and encouraging or something that speaks of the situation you want to talk about straight.
In the case of writing letters to your employees physically, a subject line is still important. It will let the employees know about the letter's main content. 
Now, start writing your letter with a greeting. Try to be more specific in it. For example, suppose your company has a small team. In that case, you can address a letter to every individual employee like "Dear Anthony." Or, you can even write everyone's name with the greeting in the letter. 
On the other hand, you can address a group of employees by a particular department title or as a team. For example, "Dear Admission Committee." 
Keep this section in your letter more formal or casual based on the workplace. 
Write down your primary goal in the first paragraph. You can state why you are writing the letter or what appealed to you about the employer. You can write a summary of the main aspects that set the employee or team apart from other members or team, making them a perfect candidate. 
This section has to highlight the skills, strengths, and work experience that made the employee a competitive candidate. You can even delineate the current situation – it can be a busy work season or a big project. 
When you acknowledge such a situation, it exhibits that you understand the pressure and the hard work required to complete it. Emphasizing the hard work of the employees/teams that they have been doing at present or in the past will simply motivate them. 
This will show that you can see their efforts and that they are proficient in completing the ongoing project successfully. After this, add a sentence or two about how much you apprehend and appreciate what they have been doing to accomplish the task. 
It's very much important for a motivational letter.
Write What Needs to be Done
After your words of appreciation, you can write down what is left or required to be done to complete the current project. For example, you may ask them to begin working faster or maintain their current pace to meet the deadline. 
Make sure to maintain a positive or firm tone while writing it, being specific. Your words should manifest confidence that you have in them and that they can meet any upcoming challenges. You may also add that they can ask for advice or assistance if required without any hesitation. This will make your motivational letter look more sincere. 
Write one or two encouraging phrases or sentences to make your employees feel motivated and encouraged in your concluding part. Then, of course, you just have to make sure that the sentences are positive as possible. 
This will show that you respect your employees, which will, in turn, end the letter, showering positive vibes among the employees. 
End the motivational letter by writing "Sincerely yours" and type your name and contact details.
Also Read:- How to Make Storyboard Template in PDF & Word
5 Tips to Follow When Writing A Good Motivational Letter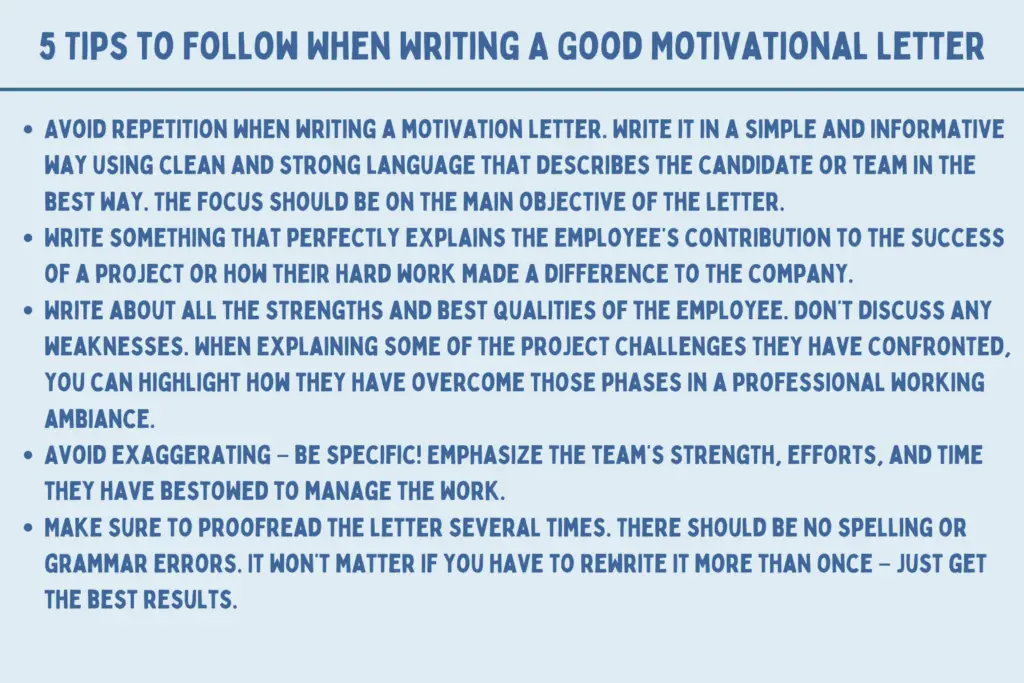 Avoid repetition when writing a motivation letter. Write it in a simple and informative way using clean and strong language that describes the candidate or team in the best way. The focus should be on the main objective of the letter.
Write something that perfectly explains the employee's contribution to the success of a project or how their hard work made a difference to the company.
Write about all the strengths and best qualities of the employee. Don't discuss any weaknesses. When explaining some of the project challenges they have confronted, you can highlight how they have overcome those phases in a professional working ambiance.
Avoid exaggerating – be specific! Emphasize the team's strength, efforts, and time they have bestowed to manage the work.
Make sure to proofread the letter several times. There should be no spelling or grammar errors. It won't matter if you have to rewrite it more than once – just get the best results. 
Motivational Letter Template For Employees
Follow the given template to write a perfect motivational letter to an employee –
(Write the Recipient's Name)
(Write the Recipient's Address)
(Subject)
(Greetings to the Employee / Team; Use "Dear" to greet)
(Body: Write about the current situation, appreciate the hard work, and then expectations from them in the future to complete the work)
(Conclude with a positive note)
(Best Regards)
(Your Signature) 
(Write your name and contact details)
Example 1: Appreciation Motivational Letter
David Keller
240, Mayfield Road,
Houston, Texas 13229.
Subject: A note of appreciation for your hard work
Dear David,
We are glad to inform you that the management is very impressed with your hard work and skills. We appreciate your sincerity and competence in your work. Your dedication and hard work within your working period of five years are visible to all. 
You have always tried your best to show your capabilities, being a good employee. Your efforts have proved beneficial for the company and surpassed our expectations in every project assigned to you. We wish you all the best for the current project you decided to work on. 
We are confident that you will handle it efficiently with your skills and knowledge. Thank you for all your efforts and dedication. We hope to see the same efforts and intellectual strategies in the future that will surely benefit the organization. 
Best Regards & Good Luck!
(signature)
Anthony Thames 
Chairman
ABC Company.
Example 2: Appreciation Motivational Letter
Sales Team
IDCB Company
Subject: We Appreciate Your Hard Work
Dear Sales Team,
As per the current analysis of our product's sales, we would like to say "Hats Off" to the entire sales team. We are highly impressed by your marketing skills and proficiency in gaining the trust of new clientele. The results truly exhibit your dedication and efforts for the company. 
So thank you for all your hard work! The company owes much of its growth to the entire sales team. We know you are each working more than usual and truly appreciate what you all are doing for this company. Just keep up the good work! If you need any assistance, please don't hesitate to let us know. 
Thanks once again for your cooperation and support! 
Best Regards
Kevin Scott
Departmental Manager.
Also Read:- How to Write Professional Fax Cover Sheet – Full Guide
Verdict
For most employers, the lack of time may have lead to them employing professionals to write the letters for them, but learning to write a perfect letter with clarity can lead to success. You can learn it today with the samples provided in with the post.
We hope that the samples and tips provided by us will be helpful enough for you to write an amazing letter of encouragement to your employee. Do share with us your experience while writing one on your own. Share this article with your social circle to let help them learn these tips too.