Any home renovation project can be overwhelming. So, whether you are going for huge modifications like converting an attic, or cosmetic adjustments such as new wallpaper or light fittings, or remodelling your shelves and kitchen cabinets with draw runners for a smoother operation, you need to plan the entire process effectively for a stress-free makeover.
Here are the top five tips to help you plan your renovation.
Set a Renovation Budget
In order to avoid unnecessary or unexpected costs, pre-decide the amount you want to spend by setting a renovation budget. It is always better to keep aside at least 10% of your budget for unexpected costs. The budget should include the costs for building materials, labour, permits, and other fits and finishes. Never settle on a contractors Contract before reviewing him. Request multiple quotes from numerous contractors to compare the prices.
Use Your Space to Its Full Potential
Take a look around your home; there are chances that you are not using your space to its full potential. Whether it's a closet, a basement, an attic or a loft, there are areas that are filled with junk you probably do not use.
You could convert your attic space into a new bedroom or study, or your basement into an office space or utility area. Transform your mop cupboards into a powder room and your under-stair spaces into storage. A walk-in wardrobe could be renovated into an en suite bathroom.
Modernise Your Kitchen
Renovating your kitchen can not only improve the value of your home but can also make it more suitable in the long term. De-clutter and maximize the storage by utilising the kitchen space to its maximum. This will also help you reduce your storage problems.
Having kitchen drawers with drawer runners instead of cabinets allows you to not just soft close and self-close your drawers but also compartmentalise your storage. And you can easily locate your items while cooking. There are draw runners that can support items from 50 kg up to 100 kg in weight.
Revamp Your Bathroom
It is easy to give your bathroom a new lease of life. You just need to do small changes here and there like replacing the floor tiles or addressing the ventilation or installing mirrors. These changes can have a big impact on the overall feel of the bathroom.
To make a small bathroom look bigger, you could use a lighter colour palette on the walls and floor tiles.
Add a Dash of Colour With a Fresh Coat of Paint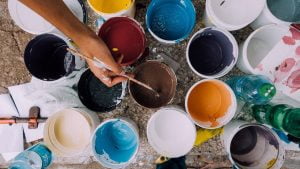 A fresh coat of paint is the easiest way to transform your home without spending a fortune on other major structural renovation jobs. A change in the paint colour can help transform any room without breaking the bank.
With these above tips, you can renovate your home without facing any challenges. Drawer runners are elements that can enhance the utility of your kitchen interiors.  If you are looking for a variety of draw runners at affordable prices, you can find them on our website.