The beauty industry can no longer ignore its environmental impact. As climate change and pollution threaten ecosystems worldwide, consumers are seeking out environmentally friendly products and services. This shift is not just a passing fad but a response to urgent global challenges. Beauty salons must adapt to meet the demand for sustainability.
Salon owners are noticing a trend: customers increasingly factor environmental impact into their purchasing decisions. People want to support businesses with ethical, eco-friendly practices like responsible sourcing and low carbon footprints. "Green" and "sustainable" are no longer just buzzwords — they represent values that matter to consumers.
To gain insight into eco-friendly salon practices, we interviewed Claire Kettell, founder of SalonServe, a leading UK beauty supplier since 1994. Claire shared her perspective on the industry's shift towards sustainability:
"There is a growing awareness among salon owners and stylists about reducing environmental impact. Many are taking steps to "green" their operations — from LED lighting to eco-friendly product lines. At SalonServe, we help salons implement sustainable practices. This includes providing energy-efficient equipment, sourcing ethical product ingredients, and advising on ways to be more eco-friendly.
 Running an eco-friendly salon isn't just good for the planet, it's good for your brand reputation and bottom line. Consumers want to frequent businesses that align with their values. By taking proactive steps towards sustainability, salons can attract eco-conscious clients and future-proof their businesses."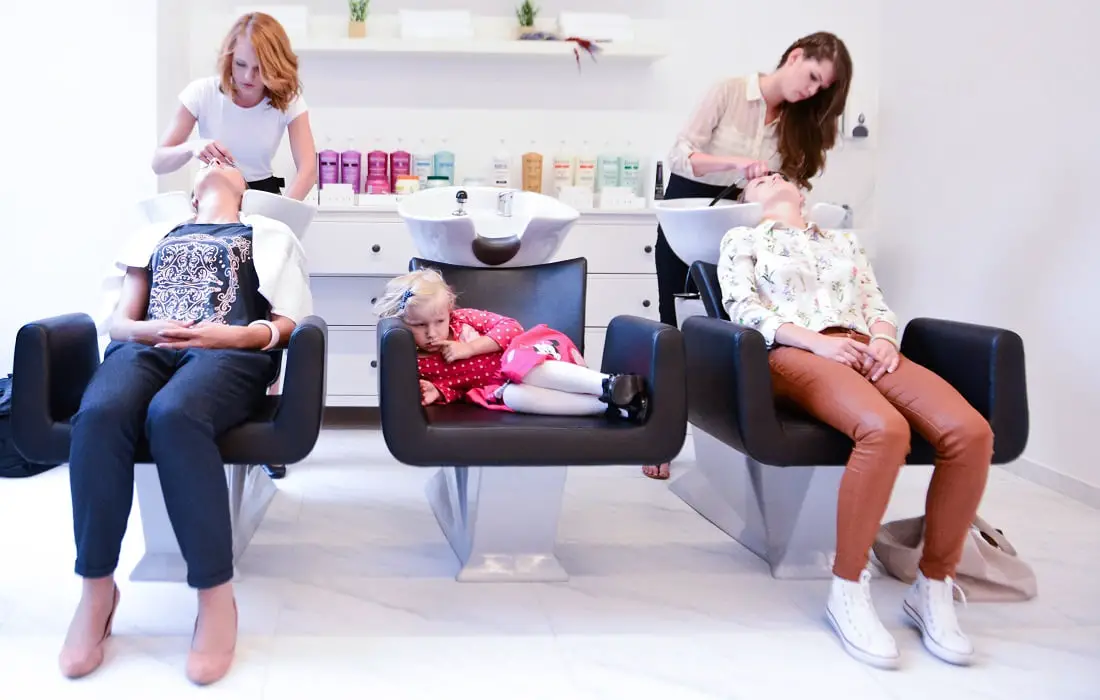 B Corp Certification in 10 Steps
B Corp certification is a significant sign that shows a business's commitment to social and environmental responsibility. If you're a beauty salon owner looking to make a positive impact on your community and the planet while running a successful business, becoming a B Corp is a great step. This guide will walk you through the process of getting B Corp certified as a beauty salon.
Step 1
Understand B Corp Certification: before diving into the certification process, take the time to thoroughly comprehend what being a B Corp entails. B Corps are businesses that prioritize more than just profit. They are committed to a triple-bottom-line approach, considering people, the planet, and profit equally. Familiarise yourself with the B Corp movement's principles, which include social and environmental responsibility, accountability, and transparency.
Step 2
Assess Your Current Practices: Conduct a comprehensive evaluation of your beauty salon's existing operations. This evaluation should encompass all aspects of your business, from your supply chain and product sourcing to your daily operations and customer engagement. Identify where your salon excels and where it falls short in terms of sustainability and social responsibility.
Step 3
Set Sustainability Goals: Based on the assessment, establish clear and measurable sustainability goals. These objectives should align with the B Corp certification criteria, which include areas like environmental stewardship, employee well-being, community engagement, and governance. Setting specific goals will provide a roadmap for your salon's sustainability journey.
Step 4
Create a Sustainability Team: Form a dedicated sustainability team within your salon. This team should include passionate individuals who are committed to driving positive change. Assign specific roles and responsibilities to team members to ensure that your sustainability initiatives are well-managed and effectively executed.
Step 5
Implement Sustainable Practices: Take concrete steps to integrate sustainable practices into your salon's daily operations. These practices may involve reducing energy and water consumption, sourcing eco-friendly beauty products, recycling and minimizing waste and adopting ethical employment practices. Make these changes systematically, and track your progress.
Step 6
Measure Your Impact: Use  to measure your salon's environmental and social impact. This comprehensive evaluation tool will provide a numerical score and detailed feedback on your salon's performance in various impact areas. It will help you identify strengths and weaknesses, enabling you to focus on areas that need improvement.
Step 7
Make Necessary Adjustments: Based on the assessment results, make necessary adjustments to your salon's practices and policies. This might involve revising your sustainability goals, refining your waste reduction strategies, or enhancing your employee benefits program. Continuously seek ways to improve your impact.
Step 8
Engage Your Employees: Encourage active participation from your salon's employees in your sustainability efforts. Foster a culture of sustainability within your team by providing training, resources and incentives for environmentally and socially responsible behaviour. Employee engagement is crucial for long-term success.
Step 9
Documentation and Verification: Compile all the required documentation to support your B Corp application. This documentation includes evidence of your sustainable practices and initiatives. Depending on your location and size, you may also need to engage third-party auditors for verification. Maintain clear records of your efforts for transparency and accountability.
Step 10
Submit Your B Corp Application: Once you've completed the necessary steps and have all required documentation in order, submit your B Corp certification application through the B Lab website. Be prepared to pay the certification fee, which is based on your salon's annual revenue. The B Lab team will review your application and, if everything aligns with their standards, grant you B Corp certification.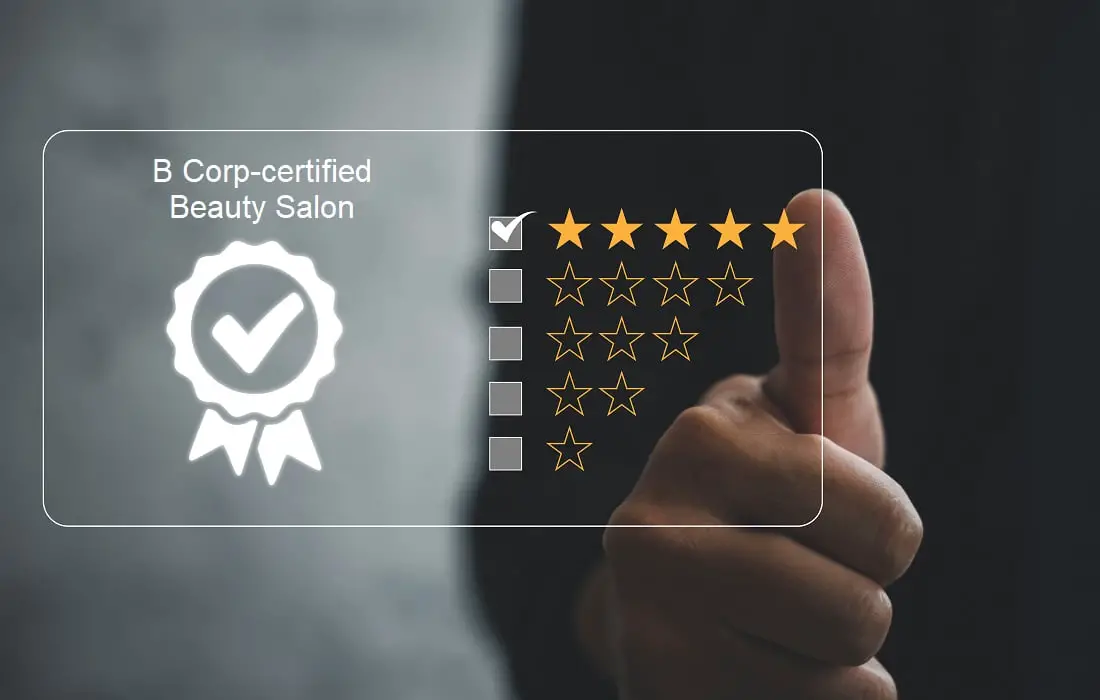 Take Away: Value of B Corp Certification
Becoming a B Corp-certified beauty salon requires dedication, effort, and a genuine commitment to making a positive impact on society and the environment. This certification not only benefits the planet and your community but also enhances your salon's reputation and attracts socially conscious customers.
Embrace this journey towards sustainability as an ongoing process, and continue to innovate and improve to meet the evolving standards of B Corp certification. Once certified, proudly display the B Corp logo in your salon window, on any brochures, and on all of your social media posts as a symbol of your salon's dedication to a better world.