What does a joiner do?
Joiners work with wood to cut, fit and construct objects, commonly furniture, roofing, and architectural elements. Joiners differ from carpenters as they don't use metal fastening such as nails and screws to construct their projects.
Joinery, just like carpentry, is a skilled trade in its own right. However, many carpenters will train in joinery as well and vice versa.
Typical tasks in the daily life of a working joiner include shaping, cutting, and techniques wood for furniture and fittings, selecting wood for projects, working with skilled tradesmen on construction sites for large projects, and working on large-scale installations for a range of industries.
What qualifications do you need?
No formal qualifications are needed to join the joinery trade as an apprentice, although specific qualifications and practical experience will help your chances of landing a coveted apprenticeship. A City & Guilds qualification can be extremely helpful in gaining practical knowledge and an industry-recognized qualification.
There are many short courses in woodwork and joinery out there too. Although many of these are more for fun than about becoming a skilled tradesperson, they can be very helpful when first starting out. As they will provide some practical experience and first-hand knowledge of working with wood.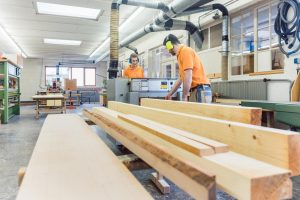 What Skills Do You Need?
There are several inherent and learned skills you will need to become a joiner. As joinery is a very physical job, you will want to ensure that you have a level of fitness adequate for the job. You will also need to be practical, numerically astute, and poses the ability to think and adapt quickly in response to challenges.
You will also need a high level of attention to detail, an analytical approach, excellent problem-solving skills, and a creative streak. Awareness for health and safety best practices is also a good skill to cultivate when working as a joiner.
What equipment do you need?
A good joiner needs the right tools to create exceptional pieces from wood. In your tool kit, you'll need items like hand saws to cut the wood into different shapes. Other items you will probably need include spirit levels, claw hammers, mallets, tape measures, sandpaper, wrenches, and wood varnish.
During your joinery training, you will learn the tools you need to effectively do your job as a joiner. Building up your own joinery toolkit over time.
Being a joiner can be a wonderfully rewarding career, with many opportunities to do a wide variety of different projects. Hours can be long, depending on the projects you're working on. But nothing can beat the feeling of completing a project for a client that you have made with your own hands.