All the business owners today know how difficult it is to compete when you are not social media savvy. You need to get your customers via the internet as everyone is going online.  Almost all the youth rely on big brands like Amazon, Facebook, etc. to get to the latest trends and best deals. If you too want to get into the online market, and you do not know where to start, you can always begin to Sell Things On Facebook.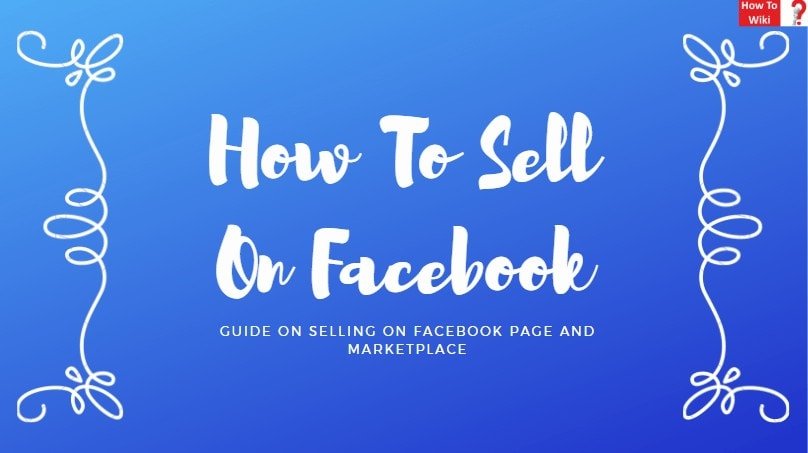 Why sell on Facebook?
>>> Well for starters, everyone has a Facebook account nowadays. So you do not have to worry about having to register or signing up for one.
>>> Second, with all the public that is online almost every day, your ideas and products are going to be viewed by any. You just need to get them out there. Once you set up your shop on Facebook, with continuous hard work and best offers, you can start selling online.
>>> Lastly, with the increasing demand and usage of online shopping, one could get a hint that people like it when they do not have to go to the stores and their household items, or clothes, or anything come at their doorstep within a few days. So, getting more and more business online is going to benefit your company.
If you look into it carefully, you will understand that to sell your products on Facebook, there are many good opportunities that are provided on the platform. Some might see them rewarding and an "easy-peasy" task, but for those who haven't use Internet other than replying to texts or liking their cousin's wedding photographs, are going to feel a bit confused. You see, Facebook offers a lot of good opportunities for you, but they are somewhat complicated. You need to get familiar with terms like Facebook Shop, Marketplace, PayPal, Storefront, and more.
So, are you guys ready to dive into the huge market? Okay then! Let's begin.
How To Sell Products On Facebook
It is hard to balance between gaining more audience and learning about the new updates that keep on adding. You might get frustrated in the beginning, you might want to quit. But, do not lose hope, because like a simple business needs a simple investment, an online business needs your time.
How To Sell On Facebook Marketplace
First, let's start with the term "Facebook Marketplace"
A Facebook Marketplace is just like a flea market or a bazaar, where you can sell or buy things without having to set up your Facebook Page. It is like a temporary thing, like a tag sale or Craiglist. You can sell a specific item here. It might be used for business sales, but setting up your personal page gives better results and proper and permanent customers.
Sell on Facebook Marketplace:
Go to the Marketplace column from the left panel of your news feed. You can also follow This Link to visit the marketplace page directly if you are logged into your Facebook Account
Click on "+Sell Something" button you will find on the left side of the page.
It will ask you what are you listing. Select the type of your listing – item for sale/ house for rent
Fill up the form that comes up next. Enter the title of your listing, price, the location at which you are selling, select the category the item falls under, describe it, and add maximum 10 pictures of the item.
After you have filled the form completely, click on "Next".
Follow the instructions carefully and make sure that you fill in the appropriate information.
How To Create A Facebook Shop
For those who want to set up an online business, the Facebook shop is the best option they have got. Selling on the Facebook marketplace is not that rewarding, as you are not gaining any permanent customers. But, when you own a Facebook page for your business, you are inviting the online community to be your customers for always. You might even get orders in bulk, and orders from different cities too.
So, go and create a page for your business on Facebook. It is very simple. If you do not know how to create a page on Facebook, we will discuss the method to create a Facebook Page in my other article.
>>> Now, when you create your Business Page on Facebook, it will ask you to choose a type of business, select a category from the list. For example, if someone has a grocery shop, they will categorize it under "Grocery Shop"
>>> After you select the best Name for your page, click on Continue. Upload a relevant profile picture for your business and a cover photo. Bam! You are all set.
>>> Next step is to set up a nice Facebook Store where you can display all your products.
Create a Shop Section on the page.
Open your business page
Click on the "shop" Section that you will find on the left side menu.
Here you will be asked to review Facebook's Seller terms and condition. Review it and if you find everything right, click Agree
Select the currency that you want to deal in. For Americans, it would be dollars.
Select a checkout method. It varies from location to location. Set it up carefully.
Enter your business address and email for people to be able to contact you.
Now the store is created. All you have to do now is stock the storefront.
This means that you have to put your products there. Upload some eye-candy pictures of products, set prices, product name, and category. Also include shipping methods, and whether it is on sale.
Now go promote them like crazy!!
Show them to your friends. Invite other people on your page. Showcase on other public pages. All that you can do to promote your Facebook shop will be described in my other post on Facebook Shop.
Till then, learn how to generate an audience.
There are two methods of gaining an audience on your Facebook shop. First, you can use Facebook ads. For a small amount, you can reach thousands of people easily. OR, you can generate organic traffic by sharing and showing the page to people on the Internet. Let's see how it is done!
Facebook Ads
You can run Facebook Ad Campaigns which are paid advertisements. It will help your page to be seen by many, but it might not generate traffic that is there to stay. It looks promising and powerful, but it might not get enough customers because people look and ignore these kinds of ads.
You can use these campaigns if you have confidence in your products that they are going to engage the audience on just one look. Otherwise, I am not a big fan of Facebook Ads.
In my opinion, organic traffic is the best.
Why?
Because, organic traffic is free, engaging, converting and will be beneficial for long-term business.
So, if you can't make the Facebook Ads work for yourself, instead of blaming the platform, go for organically improving your sales.
End Note
Was this article on "selling on Facebook" engaging enough for you?
Please comment on this post to let me know what were your thoughts on the topics I covered.