If you are planning on quitting your job and considering writing a Formal Resignation Email to Manager instead of writing them a letter, you must do that only under certain circumstances. For example, if your manager is out of the station and you cannot contact them face to face, then you may not be able to resign in person so in that case, you might announce your resignation through a well-drafted Email.
Now, you may want to send the Best Resignation Email After all, how many times you get the chance! Right? You must include all the necessary information into the Email so that you canleave your job on a positive note.
Here is a sample Resignation Email Sample to Manager that you can refer to while writing the Email.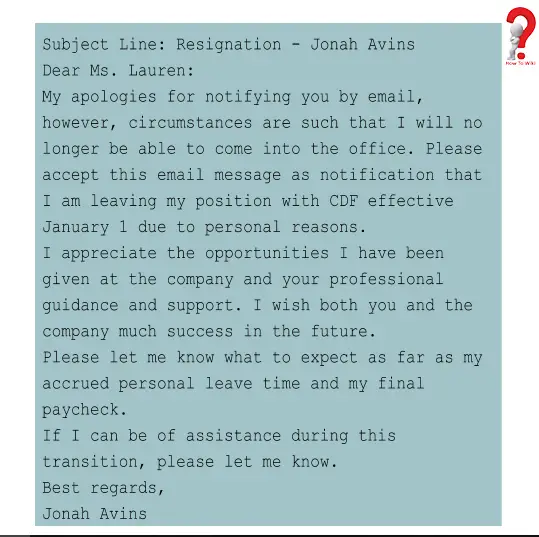 Resignation Email With Notice Period To Manager
Tips for writing Resignation Email to Manager
Give two weeks notice

. Giving a standard two weeks notice is a must while you are resigning from a job, this is not only good manners but will help you in your next job as it shows good work ethic.

Use a clear subject line

. Use a simple and direct sentence in your subject line, it must show that you are writing to resign from the job.

State the accurate day and date

. The planned date must be written in clear and correct format so that there is no misinterpretation.

No need to go on details

. All the details can be kept to yourself, you only need to include a short explanation and not the complete story.

Express Gratitude

. It means that you are getting a chance to give thanks to the company for all the time that you spent there, and you must grab the chance

Offer Assistance

. Offer to help the company with the transition; You can also offer to train the person who will take your position.

Must provide the contact information

. Include your personal email-id and phone numbers in the email so that your employer can get in touch with you if needed.

Proofread

. The most important step is to proofread everything you have written, you do not want your last impression to be bad, right?
Here is another example of email resignation that might help you while writing one for yourself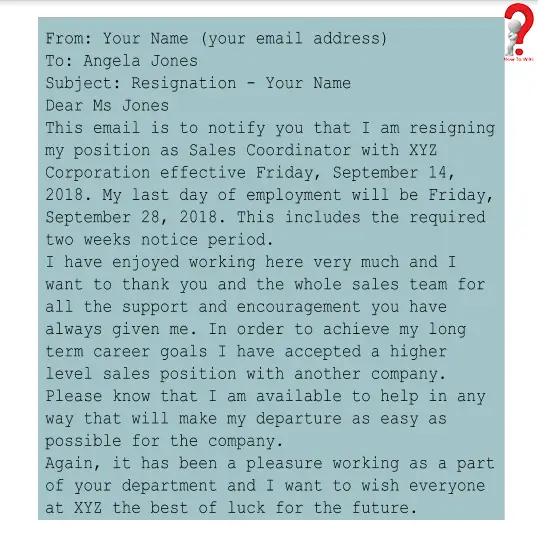 If you are looking for a more straightforward and short Email example, here is one that may interest you.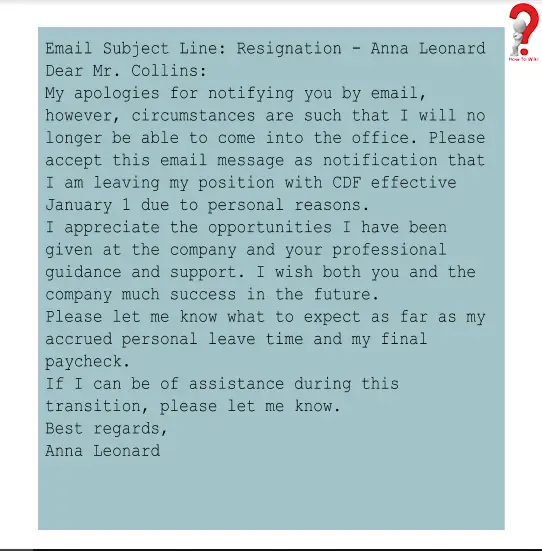 It doesn't matter what your role is in your company, and who you report to, you must always be polite in your resignation email or letter. Gratitude and support during your departure will not only show your work ethics but also will allow you to gain some good words for your next employer.
With the sample provides, you are ready to write that amazing resignation letter, and after that for the new adventures that are about to begin in your life.
If you liked this post, you can share it with your friends on one of your Social Media Account.