The last few weeks and months, quarantined at home with the rest of the world, offered us a brand-new perspective on our house. With endless time in our hands and nowhere to go we all took a closer look to the space surrounding us and for many the realisation was sudden and clear: "Gosh, this space could do with some renovating".
Well, let us look at the positives, as we approach the summer months, now it is the best time to start a renovating project, particularly one that deals with wallpaper. Wallpapering requires temperatures that are neither to cold nor to hot, so late spring is simply perfect. As you might have noticed browsing around, wallpaper has made an incredible comeback and it is very trendy, thanks to its versatility and price. Its ability to change and define the atmosphere of a space at an affordable cost makes it the perfect tool to freshen up any room in your home. Whether you prefer to wallpaper all four walls or choose to highlight one of them with a feature wall, the choice is entirely yours.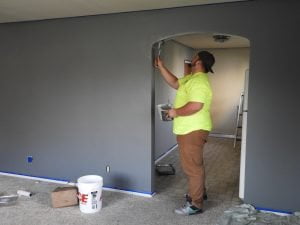 Some people would pick their favourite wallpaper from a traditional retailer or an online one and then call a professional to have it install. But that is now you! As a reader of "How To Wiki" you wouldn't want to miss the fun! Modern wallpapers are much easier to install than traditional ones, so don't worry to much. The first step is obviously to measure your wall in order to know how much wallpaper you actually need. Measure it more than once, as you want to make sure your measurements are asaccurateas they can be before placing the order. It's always better to round up so that you can trim the wallpaper where needed. If you picked a cool wallpaper model with large motives, it is a good idea to order a bit more in case you need it, as the excess paper will make it easier to match your pattern.
One important word of advice before we continue: whatever you plan to do with your wallpaper, whether you are an absolute beginner of a seasoned pro in wallpapering, always remember to carefully follow the manufacturer's installation instructions. With this recommendation out of the way, we have collected here a few "pro-tips" you should consider before embarking on your wallpapering project.
Remove All The Furniture
Let's start with a simple statement: ideally, the space you work in would be empty.You need space to manoeuvre and you don't want to damage or stain any valuable piece of furniture. If your house is too small and there is no space to move everything out of the way, try at least to move smaller pieces of furniture to other rooms, and shift larger items, like a couch or an armchair, to the middle of the room. Remember to cover them with a robust protective sheet. Use this approach if you want to just wallpaper one wall, as in this case you don't need to move everything.
It's now time to consider all pieces of furniture or accessories mounted on the walls.If your plan is to place them back in their original position once you have wallpapered,  a good idea is using toothpicks or matches to mark the drill-holes, to make sure they are not accidentally filled while prepping.If you plan to wallpaper your ceiling (always an underrated idea that often brings fabulous results), the room needs to be completely empty, as you need all the space to move around. If this is your plan, remember to start with the ceiling first in your wallpapering project. Of course, all ceiling and wall lamps should be removed. Do make sure that you switched off the electricity mains. If unsure, do call an electrician, you don't want to play around with safety.
Cover All Floors
For all the technological evolution, one thing wallpapering still needs is plenty of glue. Since it makes little sense to sport wonderfully decorated walls matched with stained floors, it is necessary to cover it in its entirety. Remember, you are going to play with a few tools, and you will be over a ladder. Things can fall, metal ladders can scrape hardwood and the odd soaked wallpaper sheet can slip off your hands and follow Newton's laws downward. It's always a good idea to cover everything with something robust that won't rip apart after five minutes.
Make Sure You Have All The Required Wallpapering Equipment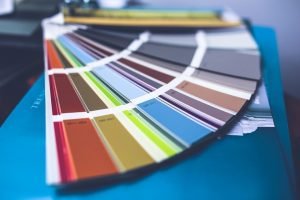 Wallpapering can be a lot of fun, but you know what is not fun at all? Being in the middle of your project and realising you are missing a tool. Nothing takes the shine out of your day than leaving everything half done, jump in the car and drive to the DIY store, risking to ruin the entire project as your half-done walls dry up while you queue to pay. Below is a list of the basic tools you should have available:
Step ladder
Cutter knife
Tape Measurer
A couple of sharpened pencils
Plumb line
Pasting brush
Paste roller
Paste bucket
Sponge
Seam roller
Pressure roller
Wallpapering brush
Wallpaper paste
Wallpaper scissors
Wallpapering spatula
It goes without saying that you also need enough wallpaper (but that you know already). If you have a trestle table that is great help. Place it in the middle of the room, so you have sufficient space to move around and work without any obstacles getting in the way.Happy wallpapering!