Custom design dress socks can make a huge difference with your customers! So why not design your own socks and thus make a clear fashion statement? This is your chance to show that your look is not only partially, but completely unique. The socks can also be personalized as gifts for employees, customers, and partners. They are available in different sizes and can be worn by women, men, and children. Such socks do not only protect and keep your feet warm, they also provide a good surface to showcase your designs.
Personalized socks with your logo are the perfect personal advertising tool. The product will fully match the style of your company, strengthen the loyalty of long-term customers and employees, and also bring in new customers. So, what are the major steps for making such socks? Let's consider the most important ones.
Find a Manufacturer
Nowadays, many custom dress socks companies allow realizing even the most fantastic idea of the client. But how to choose the best among them?
The main thing is to opt for a reliable and trustworthy manufacturer. This choice will not only guarantee the security of cooperation in socks' production, but it will influence the general appearance of your products and their quality. Therefore, you need to look for good reviews from other customers, as well as the conditions the manufacturer offers. For example, what is the minimum order quantity, if free shipping is provided, how the customer support operates, and whether the customers are 100% satisfied with the collaboration.
Also, a lot depends on the ways you want to apply a logo on a custom pair of dress socks that will remain whole and bright even after three hundred washes. The manufacturers offer such types:
Embroidery is the most persistent and long-term method. It is ideal for a small number of products due to the high labor intensity of the process. It differs in presentability and originality;

Screen printing is a versatile, practical, and one of the most popular printing methods. It's suitable for large print runs;

Thermal transfer is a transfer of an advertising image previously made on a special film, using a hot press. It has high wear resistance and clarity.

Sublimation printing is the creation of a pattern with paint or ink, when, under the influence of high temperatures, they change from a liquid or solid state to a gaseous state and penetrate deeply into the structure of the material. 

Jacquard knitting consists of weaving the motif in the fabric of the socks. That makes the design move as the model moves. It's popular because of the possibility of reproducing motifs that do not involve bright colors.

The 360 print is similar to sublimation, only the sock is stretched around to eliminate the white lines. It is perfect if you are looking for a photo-realistic effect or with a repeated.
So, choose the method you want to use and look for the custom dress socks company that offers it.
Customize your Dress Socks
Socks are the best men accessories since they provide excellent comfort when wearing shoes. As soon as you have chosen the manufacturer, determine the number of socks you wish to order, then begin creating the specs, considering the production method, cuff size, sizes offered, and materials used for custom logo dress socks production. 
Design your Dress Socks
You can design your socks yourself with your own logo, coat of arms, text, or name, and people will perceive these motifs subconsciously. Just think of football or sports in general. Tennis socks or sports socks are simply part of the jersey. So why not just design something yourself and use it as advertising? Opt for socks that you can customize according to your wishes. Take a look at the different models that other customers have commissioned and just let yourself be inspired.
As soon as your design is ready, upload it or ask for help with the creation of some unique design from the manufacturer. They will use your ideas and sketches to offer you something really gorgeous.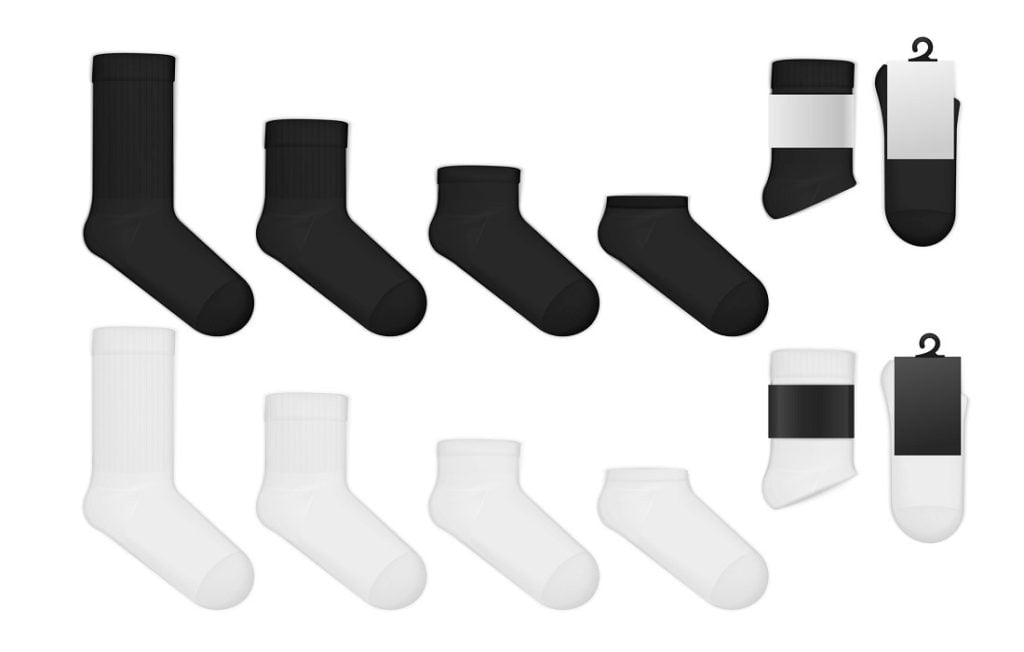 Approve a Prototype
The procedure for approving socks for individual design is the following:
Your idea is implemented in a template;

After confirming the template, a layout is created;

After confirming the layout, the circulation to production is sent.
If you want to improve something, the changes will be added to the design. You can do this any quantity of times until you are satisfied with the result.
By working with our company, you ensure constant access to high-quality custom socks. For the production, we use raw materials of the highest quality from proven suppliers, special yarns with antibacterial and antifungal properties. We also take into account the different expectations of different clients and create models with a specific design. Each of our socks has been refined in terms of quality, safety, protection, comfort, and care.
Have you already created a unique design for your custom men's dress socks? Share it with our readers and maybe, they will follow your example.