Motorcycling is a skill that you'll improve over time with practice. The more experience in the saddle you get, the more familiar you'll become with certain kinds of cues from the world around you, and how to react to them. You'll also get to know your bike, too.
Of course, the relationship between improvement as a motorcyclist and time spent actually biking isn't always linear. You might conceivably spend thousands of hours on your bike without really improving at all. This is because, as any musician will tell you, there's a big difference between practice and performance. To really improve at something, biking included, you'll need to make a conscious and deliberate effort to get better, and to try to analyze where you're going wrong and how to put it right.
In many cases, it's possible to become a better rider in a very short space of time, just by incorporating a few key steps into your riding. Let's examine a few of the more effective.
Get Lessons
You've gotten lessons before – sufficient to get you on the road. But that's really the bare minimum for riding skills. To really improve, you'll need to find a track and a competent instructor. An expert teacher will be able to identify your weaknesses in a way that you never could and help you to address them. If you want to take your own bike to the track, then in most cases you'll need to look for specialized insurance.
Wear the Right Gear
If you're sweating, shivering, or otherwise uncomfortable, then your performance on the bike is going to suffer. What's more, you probably won't have as much fun. Consequently, the investment in appropriate gear for all conditions is almost always a sound one.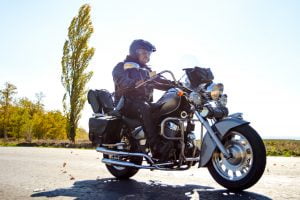 Reduce Speed Before the Corner
To take a sharp corner safely and efficiently, you'll need to slow down. Do this before changing direction and you'll be able to accelerate out of it. This means greater control and adherence to your racing line.
Create Space
When it comes to collisions, space is a critical risk factor. You need to create as much space as possible around you – so that you, and other motorists, can react in time when something unexpected happens. Don't be afraid to go that little bit faster to alleviate congestion around you – you'll make things safer by doing so.
Control Your Speed
Another obvious risk factor is the speed in general. The faster you're going, the longer it'll take you to stop – and the relationship between the two isn't quite one-to-one, meaning that small differences in speed can lead to very large differences in braking distance. This applies especially to bigger bikes whose mass needs that much more energy to slow down.