Virtual reality is an exciting technology that promises to change the way we play games, learn, work, and consume other forms of entertainment. Companies like Facebook, Sony, and Google have been investing billions to improve their VR products and encourage us to leap into this new dimension.
As with all new technologies, it can be a bit confusing about where to start. Many people who are looking to make their first tentative steps into the world of VR will be filled with many questions about what hardware they need, where to find VR software, and how to get started.
What Hardware Do You Need for Virtual Reality?
Of course, if you want to play virtual reality games or watch VR movies, then you're going to need a headset. Not all VR headsets are created equal though. Some work by attaching your smartphone to the front, some work on their own, and some plug into your computer and one will connect to your PlayStation 4 or 5.
It's therefore important to know which one is right for you and be sure you have the right hardware to support it.
Smartphone VR Headsets
These were some of the first types of VR hardware you could buy, but manufacturers are beginning to move away from this format in favour of standalone options. You can still buy the Samsung Gear VR for half the price of the Quest 2, which is a good option for VR beginners.
Computer VR Headsets
For the best virtual reality experience, you're going to need one that plugs into a computer. This is because your PC's graphics card and RAM will do much of the heavy lifting, otherwise the headset would be so heavy you'd probably fall over whenever you tried to use it.
The Oculus Rift is the leader in this area, with a sleek and lightweight headset that has built-in surround sound. To use it, you'll need to install the Oculus VR software on your computer. This will give you access to its library of VR content and allow you to connect the headset.
You will, however, need a reasonably powerful gaming computer to go along with your headset if you want to play games as it will need to render 360-degree imagery on the fly. Most VR games currently available require at least 4-8 GB of memory and an Intel Core-i5-4590 processor. You'll also need a decent graphics card too: for example, games like Hyper Dash recommend an NVIDIA GeForce GTX 980 or better whereas, PokerStars VR requires the NVIDIA GTX 970 as a minimum. Therefore, your cheap $300 laptop isn't going to cut it.
Self-contained VR Headsets
Self-contained VR headsets like the Oculus Quest 2 are becoming a popular entry-level device since they provide a good balance between price and features. The Quest 2 has a powerful Snapdragon 865 processor inside, making it great for playing any games and other VR applications without needing to be plugged in.
However, you can also connect it to a computer, giving you the best of both worlds.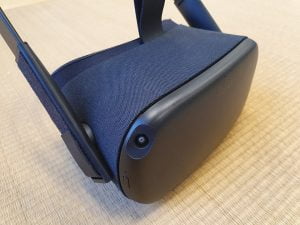 PlayStation VR
If you own a PlayStation 4 or 5, then the only VR headset you can use to take advantage of the virtual reality features on the consoles is the official PSVR. It's one of the easiest to get started with since it's pretty much plug-and-play.
Where to Get Virtual Reality Content
Once you've purchased your VR headset, you'll want to start downloading VR content. Thankfully, this is almost as simple as installing an app on your smartphone or tablet.
Most VR manufacturers have their own ecosystems that you can use to find content. For example, Sony has the PlayStation Store and Oculus has the Experiences store.
Alternatively, you can also find VR games through Valve's Steam, YouTube VR, and Facebook VR. They sometimes need to be accessed through the VR headset itself, while others can be used from a smartphone or computer as well.
VR Accessories
Once you've dipped your toe into the world of virtual reality, you may want to buy some accessories to help you get more from it. You can find these on the websites of the manufacturers, as well as on third-party stores like Amazon.
The types of add-ons that you can buy include battery packs that are worn on your back during extended gaming sessions, foam pads to make the headset more comfortable, and covers for the hand controllers to improve your grip and personalise them a little.