Excellent standards of hygiene are a key priority for restaurants in order to keep customers safe and satisfied — as many as 75% of customers say they stay away from restaurants that have low ratings for cleanliness. Although it may not be the first place you think accumulates dirt in your restaurant, the ceilings are in fact a hot spot for germs and bacteria. As such, restaurant ceiling tiles should be cleaned regularly — at least once a year — to keep your premises looking clean, fresh, and welcoming to both customers and employees.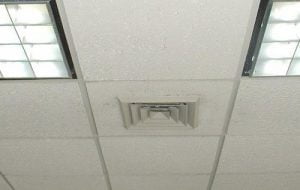 The Importance of Keeping Restaurant Ceiling Tiles Clean
Maintaining a clean restaurant ceiling
is essential for impressing and keeping patrons. Restaurant ceiling tiles are typically made from absorbent materials that soak up grease, oil, and smells over time. As a result, the ceiling can start to look dirty, discolored, and unappealing to both customers and staff. Additionally, restaurants need to maintain strict hygiene standards in order to serve customers food safe enough to eat. Dirty kitchens risk spreading harmful germs and bacteria. Although ceilings aren't a specific food preparation area, they can still harbor unwanted germs and bacteria, including airborne variants that risk contaminating food. In extreme cases, dirty ceilings can even create unsafe air quality inside the restaurant and lead to failed health inspections.
Step One: Cover All Equipment and Surfaces
Before you begin the cleaning process, it's important to cover all surfaces underneath the ceiling you intend to clean. Covering these areas ensures any falling debris and dirt is immediately caught, so you have minimal clean-up to do afterward. Cover all your floors, appliances, and countertops with either drop cloths or tarps (however, any old sheet will do the job well enough). Protective glasses and gloves are also essential to safeguard both the eyes and skin while you clean.
Step Two: Remove and Dust Tiles
For drop ceilings or suspended ceiling tiles, all tiles need to be removed from the ceiling grid. Then use a vacuum cleaner to get rid of any dust from the corners, vents, and light fixtures (use a dusting attachment for best results). If your tiles are badly coated with dirt, using a feather duster along with the vacuum may be necessary to get them looking clean again. Never use cheap disposable dust cloths on the ceiling tiles, as they leave behind microfibers that end up attracting dirt.
Step Three: Wash the Tiles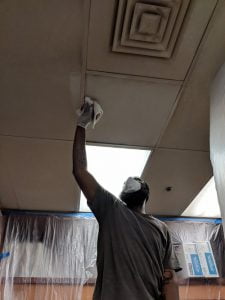 After you've removed and dusted your tiles, you're now ready to wash them. You'll first need to create a mild cleaning solution made up of one part dishwashing liquid and 10 parts water. Use a sweeper to wash the tiles with the solution; make sure you wring out the sweeper often and get the tiles only slightly damp. Over-saturating them may result in water damage and warping, as well as creating drips and unnecessary mess. After you've washed the tiles, you can dry them with a soft, lint-free cloth. Your tiles will then be clean and ready to place back into the ceiling grid.
How to Wash Permanent Ceiling Tiles
Restaurants with permanent ceiling tiles will need to use a slightly different cleaning method. If this is the case for your restaurant, start by dusting the tiles with a static duster to get rid of any loose debris. You can then go over harder-to-reach nooks and crannies with a vacuum cleaner. Follow this up with a sweeper made slightly damp with your mild cleaning solution. Again, it's important not to get the tiles overly wet. Finally, dry the tiles with a gentle lint-free cloth.
The Benefits of Hiring a Commercial Cleaning Service
While it's possible to clean your own restaurant ceiling, it's certainly time-consuming and hard work. Naturally, you may be tempted to simply paint over the ceiling tiles, or even replace them altogether to deal with any dirt issues. Instead, hiring a commercial cleaning company will provide your ceilings with an efficient and thorough deep clean and in a fast time frame that best suits your schedule. That means a professional company will work quickly to get the job done to high standards with minimal disruption to your business. They'll also use best practices to provide a thorough clean depending on your individual needs (whether your restaurant has a drop ceiling, suspended tiles, or permanent tiles, for example) and cleaning challenges.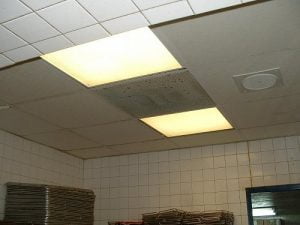 Restaurants need to maintain excellent standards of cleanliness and hygiene to impress and keep customers and stay in business. In addition to performing routine cleaning duties every day, restaurant owners need to work to keep the ceilings clean and free from dirt and bacteria. A deep clean of the ceilings should be performed at least once a year for the best results.