Cruising around your local golf course in a club cart is the most fun way to play a casual game of golf with your friends. But, often, the hired golf carts are all taken, out of service, or reserved.
And what if you want to use a golf cart for non-golf purposes like hunting or getting around the neighborhood. Golf carts make great vehicles for plenty of other activities too. 
In any case, owning your own golf cart is the best option.
The only problem is that golf carts can be pretty expensive. But, don't worry. To save as much money as possible, you just have to follow this guide on choosing the best golf cart on a budget.
Be Prepared to Buy Used
Like cars or any other vehicle, second-hand golf carts are significantly cheaper than new ones. Similarly, you run the risk of buying a lemon. So, you should prepare to know what to look for and how high your expectations should be.
   1. Check for Any Obvious Signs of Mistreatment on the Body
While this may seem simple, people often get excited about making a vehicle purchase and ignore warning signs of consistent mistreatment. Sure, it's fine to have a few dings and scratches, but an undercarriage or roof covered in scuffs is a good sign the cart has been taken off-road into areas that don't suit it.
Chances are, if the previous owner hasn't taken care of the shell of the cart, they likely haven't taken care of the running components either.
   2. Check the Service History
Gas golf carts don't need an oil change at regular intervals like a car or motorbike, but they will need occasional oil changes and other services. Many golf cart owners won't keep hold of their receipts for services. But, at the very least, you should ask the seller for a verbal history of the cart's services.
   3. See Where the Cart Spent Most of Its Time
While it's fine to have spent countless hours on golf courses and driving around other suitable areas, golf carts should be stored out of the elements when not in use. Golf carts contain many plastic parts, and persistent exposure to sunlight and rain can cause them to become brittle. 
Seat covers, dash components, and rainproofing can also suffer when golf carts aren't stored properly.
   4. Don't Worry Too Much About the Age
Golf carts generally last a very long time. You could safely assume that a well-maintained golf cart from as far back as the '80s will still do a fine job ripping around the course. However, if you want the bells and whistles associated with a newer golf cart, you'd obviously be best off looking at newer models. Alternatively, you could add aftermarket accessories at a later date.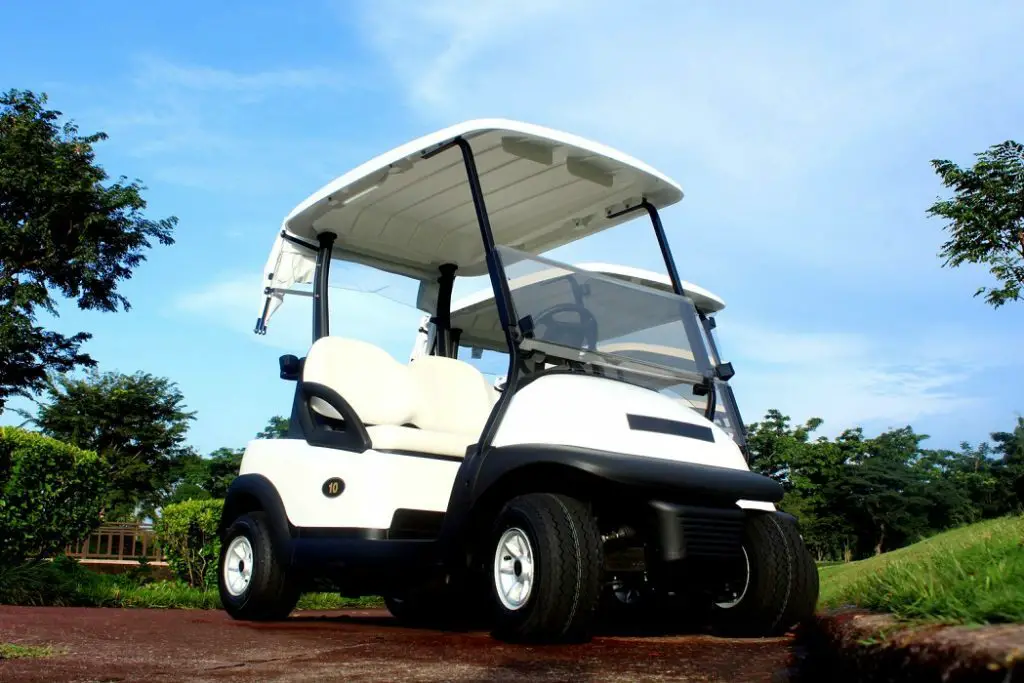 Shopping for a New Cart
Sometimes it's difficult to find a decent second-hand cart. There's also nothing better than the feeling of buying something brand new. In either case, if you'd rather get a new cart, there are a few things to keep in mind:
   1. Read the Reviews
The joy of the internet age is that you don't have to rely on a salesman's word anymore to find the best affordable golf carts today. Visit the dealer and get their opinion, then you can see what real-life users think of the cart you're interested in. There's no point saving money on a budget-friendly cart to then spend a fortune on repairs.
   2. Check for Better Deals
The local dealership may also not have the best price. You can sometimes find wild sales in neighboring cities or states that include shipping right to your door. Make sure you don't ignore the potentially high shipping charges while comparing though.
   3. Scour the Warranty
The warranty needs to cover the use of your cart. For example, some golf car warranties only provide cover for faults that happen on a golf course. This is completely useless if you're going to use the cart for getting around town.
You'll also need to check what parts of the cart are covered by the warranty. Engines and other moving parts not covered can be a huge drawback as they are usually the most expensive to fix.
The length of the warranty should also impact your decision. The longer, the better.
Battery vs Gas Powered Golf Carts
Regarding budget options, gas-powered carts are often cheaper, but they also come with extra running costs. 
An electric cart battery can last for up to 5 years and therefore doesn't require any additional spending for that period.
On the other hand, gas-powered carts are usually more powerful and faster. A gas motor is a smart choice if you ever need to tow anything behind your golf cart.
Buying the Best Cart for the Money
The main thing you need to keep in mind while shopping for a golf cart is to do your diligence beforehand. This is true whether you're buying new or second-hand. Once you've read our guide above, you should be able to do that with ease.