It can be complicated attempting to find gluten-free food while traveling, whether you're flying, driving, or just hanging out in your hotel room. A lot of businesses simply do not offer a gluten-free selection or have such a limited selection that you wind up not eating there. 
However, that doesn't mean that you have to go hungry. This guide on how to choose gluten-free food when traveling will help make your trip heavenly. 
Choose An Airline That Offers Gluten-Free Meals
Years ago, it was difficult to find gluten-free food on an airplane, if not impossible. Today, some airlines are still behind the curve and do not offer gluten-free options. Others, such as United Airlines, do offer special meals for those with dietary restrictions. 
Guests need to put in a request for them when booking the flight to make sure that they have a special meal available in-flight. 
Packing Snacks For A Flight
Those that are flying can do the same thing. Most airplanes only allow passengers one bag that is not stored overhead, so you may have to put your purse overhead or use a large purse as a snack bag. 
Some great dry snacks that you can pack include: 
Gluten-free chocolate chip cookies

Homemade trail mix

Gluten-free snack cakes

Pre-packaged gluten-free snacks, such as fruit snacks or dehydrated fruit
It's important to note that liquids and gels have to follow TSA guidelines. This includes any liquid item, such as salad dressing. Liquids have to be in a sealed container and then placed into a quart-sized Ziploc bag. Every passenger is only allowed one Ziploc bag. 
The liquid guidelines apply to all liquids, including cosmetics, items like shampoo, etc. It may be easier to stick with dry goods and pre-made gluten-free foods for the flight. 
You can take your own gluten-free homemade bread on a plane or even leftover Chinese because it isn't a liquid! 
Pack A Cooler For Road Trips
Packing snacks to take along the road is much easier than figuring out what to put in a carry-on. Pick up a cooler for cold items, and a separate bag for goods that don't need to be refrigerated. 
Some great ideas for ready-to-eat meals include: 
Homemade baked goods

Progresso ready-to-eat gluten-free soups 

Trail mix

Pre-sliced fruits, vegetables, and cheese

Almond butter and gluten-free crackers

Tuna spread and gluten-free crackers
Make sure to pack disposable plates and silverware to eat the meals that you've planned for the trip. Always pack extra food in case you wind up eating more than planned. It's always better to have too much instead of not enough. 
Research Restaurants
Eating out while traveling or on vacation is something that everyone enjoys, but it can be a pain for travelers that don't plan ahead. 
Contact restaurants near the hotel to determine which ones offer gluten-free food. Make sure that the food does not come in contact with gluten, and is safe for individuals with Celiac disease. 
You can also ask to speak with the staff to make sure that food is safe for people that can't have gluten. 
Pack Gluten-Free Necessities
Eating while traveling should include packing a few of your favorite things. If a restaurant isn't up to par, you'll still have something to eat that you love. This is especially important for longer trips. 
Make some freshly baked gluten-free bread to take. Any other comfort foods or necessities that can be made in advance should be made ahead of time, too.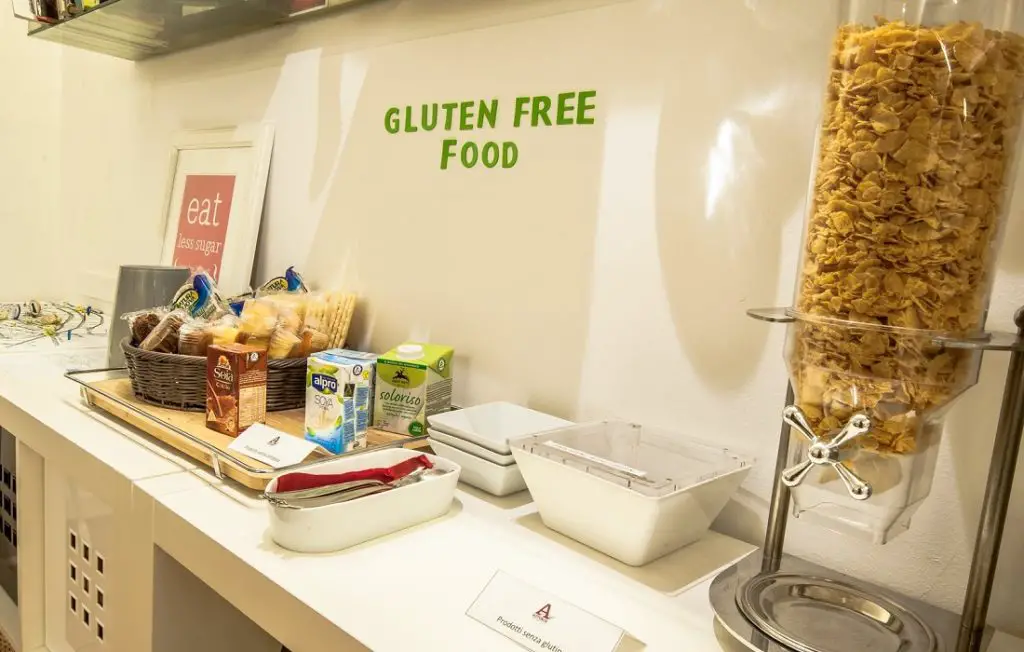 Gluten-Free Gas Station Food
Unfortunately, you may find yourself on the road with zero gluten-free snacks and not knowing whether restaurants nearby are gluten-free. Fortunately, you can find some gluten-free snacks at the local gas station. 
Protein drinks are always a great option if you need something to snack on, but don't want to take a chance on gluten-free food. Make sure to check the label to determine whether they are processed in a facility with gluten. 
Potato chips are naturally gluten-free. They are made from potatoes, and all fruits and vegetables are gluten-free. However, most additives do contain gluten, so simply read the label as you wander down the snack aisle. 
Cheese balls, trail mix, nuts, and seeds can usually be found at gas stations and are typically gluten-free. 
Avoid any snacks that have bread, such as snack cakes. These are usually packed full of gluten. 
Living a gluten-free lifestyle doesn't have to be a pain. Follow these tips to enjoy your trip without going hungry!