In the world of technology, there is nothing more important than data. With so much information being processed by everyone, from phone companies to social media sites, it can be difficult to keep track.
AT&T offers a variety of wireless services, including the most popular smartphones in America. The best way to keep track of your data usage is by checking online or on your phone.
This article will teach you everything you need to know about checking your data usage with AT&T in a few simple steps.
How To Check Data On AT&T? – AT&T Makes It Possible To Monitor Your Data Usage
It's unpleasant to reach your data cap. If you use AT&T, several methods keep track of your current data usage. You may get a data usage information report by texting a particular number, visiting the AT&T website, or downloading the myAT&T app. AT&T will send you a text message when you approach your data limit.
Step 1: Check Your Data Usage
Dial *3282#: The SMS message might take a few seconds to arrive. This is most easily accomplished from the phone you wish to monitor your data usage.
1. Check Data Usage In Detail At myAT&T Website
The myAT&T website will provide you with a thorough report on your data usage. You can register for an account if you haven't done so yet.
Follow these simple steps to get started:
If you don't already have one, create a new account at att.com/myatt and then click "Register today." You'll need to provide your wireless phone number and billing zip code, as well as choose a username and password.
After logging in, click "Billing, Usage, and Payments" to see a complete report of your data usage.
2. For Detail Reports, Download myAT&T App
If you want more frequent updates than the website provides, you can also download the myAT&T app to your smartphone. This will give you real-time updates on your data usage.
Follow these simple steps to get started:
Download the myAT&T app from the App Store or Google Play.
Open the app and sign in with your username and password.
Under "Usage" on the main menu, you'll see a graph of your current data usage. Tapping "Details" will give you more information, including which apps use the most data.
3. See Your Automatic Usage Data Alerts
If you want to receive alerts when you reach certain data usage thresholds, just go back to "current billing cycle, Usage, and Payments" under "Account Management."
You'll find the option to set up notifications the next time you visit your account.
If you have an AT&T unlimited plan and use more data than your plan allows, the carrier will send you automated text messages informing you of this fact once you've reached 75%, 90%, and 100% of your data limit. These notifications will be sent to every phone on which the myAT&T app is installed unless they are disabled.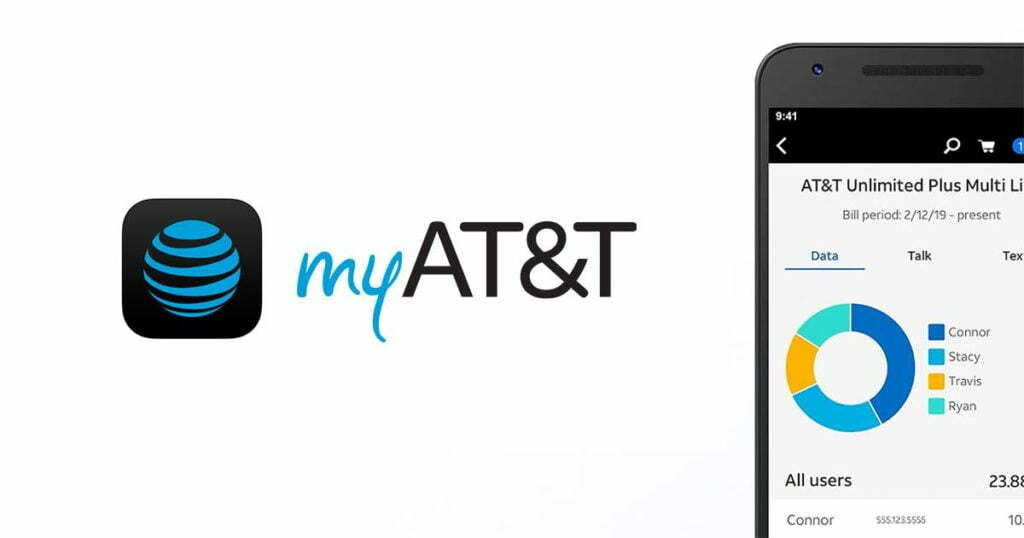 Step 2: Manage Your Data Usage
Connect To Wi-Fi Anywhere Anytime
One way to conserve your data is to connect to a Wi-Fi network. Almost any public place offers free Wi-Fi, so you can save your data for when you really need it. This can substantially cut down on your data usage while you're out and about.
Turning Off Cellular Data
If you're not connected to a Wi-Fi network, you should turn your cellular data off. Your phone will only use data when it has access to the internet, so you can just wait until you get home if this is an issue.
Limit Your Cellular Data Use
If you still want to use data when you're connected to your home Wi-Fi, consider switching your phone over to just 2G. This will limit your cellular data usage and save you a lot of money. It's also good for conserving battery power.
Avoid Unnecessary Usage Of Data On Extra Apps
Many apps are constantly using cellular data in the background. You can easily see which ones are doing this by looking at your phone's battery usage screen.
You'll be able to spot apps using more data than they should and then limit or stop their access to mobile data.
Look Out For Apps That Are Data Hungry
Some apps are just data hogs. You'll need to be especially vigilant about these apps and make sure you're not using too much data.
You can usually find this information by looking at the app's settings or website. If you see that an app uses more than 1GB of data a month, it might be time to find a new app.
Frequently Asked Questions
What Happens When I Run Out of Data AT&T?
If you go over your data allowance in one bill period, you'll be upgraded to another 50GB of data for the following month. They'll charge you $10 per 50GB up to a maximum monthly charge of $100 for AT&T internet.
How Do I Know if My AT&T Is Throttling My Data?
If you think your data speed is slow, it might be because AT&T is throttling your data. Similarly, if the results of your speed test are considerably higher than those received while torrenting, downloading, or streaming, then those activities may be rate-limited
Is AT&T Really Unlimited Data?
There are now two plans that truly promise "unlimited." They are, however, among the most costly data subscriptions available. When users use their smartphones as hotspots on AT&T's Unlimited Elite plan, they will be given 40 GB more per month than before.
What's the Difference Between AT&T and Verizon?
AT&T is best for those who want unlimited mobile data, while Verizon is better for people who wish for more reliable service with fewer restrictions. AT&T has more mobile customers, while Verizon has more spectrum and is better at building out its network to reach rural areas.
How Many People Use AT&T?
AT&T has roughly 77 million postpaid and 18 million prepaid customers as of 2019. The vast majority of AT&T's mobile customers are postpaid.
Conclusion
You can use data on AT&T by following these steps. If you follow the simple instructions above, you won't have to worry about going over your limits or being hit with expensive overage fees. Using data on AT&T is simple as long as you're careful not to exceed your limit.