Betting is a game of odds. It is one of the oldest and most evergreen thrills that exist. Sometimes you lose, and sometimes you don't—and if you are addicted, you might find yourself being chased across town like John Wick by loan sharks. Well, let's help you avoid that. In this article, we are going to give you the secret to weekly cash-out on NHL hockey.
Hockey—brute men with brute force, skating across the ice slamming and putting—well, how do we wager on all that?
As strange as it is, you already know it is a sport and which team you support. However, no matter the team you support, don't let that get in the way of you making money.
Now let's get you up to speed with our how-to bet and make money on the hockey league.
There are three types of NHL bets: basic bets, advanced bets, and grand salami.
Before we further describe what these categories of bet mean, take a look at this table:
| | | | |
| --- | --- | --- | --- |
| | spread | win | Total |
| Team 1 | +2.5(-110) | +225 | 06.5(-120) |
| Team 2 | -1.5(-110) | -255 | 06.5 (EVEN) |
If you have looked closely at this table, you will notice that an odd(figures) has been placed on each team, and it is clear which team is being backed to win —that is, the one with the "plus" sign is less likely to win and the one with the "minus" sign is more likely to win.
Who determines these things? You might ask—well, it is not the big bearded man in the sky, nor, as long as you are in my head, it is not some Italian(whom I respect) with a suit who determines these things.
The people who do these things are called bookmakers—it seems like the most boring job on earth(that is because it deals with numbers and the reason why we slept through math class).
The bookmakers determine the likeliest team to win a game by analyzing previous stats and observing trends within the two teams. Then they come to a consensus on who is the likeliest to win a game.  There is a variety of bookmakers that provide different odds. However, the differences are marginal.
Generally, you want to bet on the underdog as they are most likely to fetch you more money. But, you can also bet on your favorite. However, those odds aren't significant unless it is against an evenly matched team.
Bookmakers can also be called oddsmakers.
Now here is the down-low on the different kinds of bets that you can commit yourself to.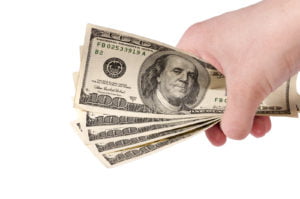 Basic Bets
This is the primary kind of bet for a hockey game(what we in the betting game called "kindergarten bet"-don't ask why). What you do in a critical chance is to pick the team that you think would win a game and place your money on it. This is where you have to be careful which team you place your money on. When you see the negative sign, that means that you support the underdog. However, where you see the positive sign means that you are supporting the favorite.
Now, the table above determine the number of stakes you should put to win a certain amount of money; for example, if the Boston Bruins is team one and you want to bet that they are going to win, you need to bet $275 to get $100, and if you be that the buffalo sabers team two would win then you have to bet $225 to get $100
While you can bet on the money line, you can also follow the lead of some bettors who bet on the puck line AKA the spread. That means you are betting on the scoreline of a game. So, if you want to bet that the favorites will win by at least a two-goal margin, you need to bet on the BRUINS-1.5 (5-1.5>3)  to win. But, if the bruins lose the game or win with a lower goal margin, then you lose.
Also, you can stake on the number of goals you think would be scored in a game without caring for who wins or loses a game. To do this wager, and you want to bet that under seven goals are going to be scored in a game, you can just bet on the game for under 6.5. This means that after counting the scoreline at the end of the game, it should not be above six goals. That means that a 3-4 scoreline does not work as it adds up to seven, and you have waged for under 6.5, then you lose. However, when your wager is over 6.5, then you win as over 6.5 means a scoreline above 7.
Advanced Bet
The advanced bet offers just a little more. Here you can bet on props where you wager on a player in the game. Here the player's stats will be analyzed and provided with odds for him to accomplish things in the future, and if you like, you can add a bet. For example, you can bet that a player is going to score more than one goal. That means that when you are waging for that payer, you should pick an over 1.5, which means that If the player scores two goals or more, then your wager stands. However, if he scores only one or less, then you lose.
You can also bet on which team is going to score first, how many goals are going to be scored in the halves, or if the game will get to overtime.
The Grand Salami
A lot of fans love these kinds of wagers, where people choose to bet on a combination of teams over the weekend. It is very popular as the payout is substantially larger than most other forms. It also increases the thrill behind every game as they have something to root for. You basically are not betting on just one team. You are betting on a host of teams. However, based on the agreement with the bookmaker, you can cash out before or after all the games are done. Nevertheless, this sort of betting is usually fun.
"Put your money where your mouth is," some would say.