Writing a letter or an application is an art which, if not done properly, can create a mess for you to clean up later. Writing an application for school, college or office needs a similar nature and structure. The only thing that differs is the tone of the writing. If you are writing an application in your office, you have to write it in a professional manner like you do while you write a business letter. But, if you are writing a simple sick leave application for your school, then you do not have to be very careful in your choice of words.
So, do you want to learn How To Write An Application on – basic, amateur, and professional level?
In this article, I am going to talk about all three types of applications. You can write the applications for any case and situation if you know these simple tricks and practice on the same.
I will start with a simple application letter, when you start writing an application letter, you must know the following things:
Who you are writing to, what is his/her role in the company in which they work, and the name and address of the company they work in. If you can add the contact details of the recipient, that would be a plus point.
What you are seeking, your reason for writing the application – like if you are writing a leave application because you are sick, then your reason is being sick.
Know the correct tense you have to write the application in. If your reason has already completed, then you must write the application in the past tense, and if you want to apply for something for the future, then write in the simple future tense.
Know the right designations. If you are writing a job application letter and you don't know who the person in charge is, then it won't make much sense.
How To Write A Simple Application Letter For Leave
While writing a leave application as a kid, you always start with "Respect Sir/Mam," and start blabbering about how you are sick or have urgent work and home so you will not be able to attend the class. It is just a template application format that you use in almost all the applications that you write for school.
But, this won't work for those who are in college or writing a leave application for their office. The applications need to be better and more professional as you grow up. You need to state the facts and dates properly so that no conflict arises later and your leave could be sanctioned smoothly.
So, what makes an application for leave a good one?
Here are a few pointers that you must take care of while writing the application:
Be sure to start with a statement that clearly states that you are applying for leave along with the dates on which you would be absent. Mention the start date and end date clearly to avoid any misunderstanding. Mentioning the reason for your application in the first line is necessary to make sure that your request will grab the recipient's attention. You can start with "I am writing this letter to inform you that I am planning to take a leave in –Date– to –Date– due to my post-graduate exams". You can skip the reason if it is more personal.
Now make sure you don't leave any chance for ambiguity, you must be clear on what you have to say. You can be as clear as you want, you can write "the start date of my leave  —date— and the end date of my leave —date–" or "from –date– to –date–"
You can also add the number of days you have to take the leaves for. "I will be taking a leave for 16 days from 15th June 2019 to 30th June 2019 due to my post-graduate exams"
Next comes the responsibility part. If you are in office, and you want to take a leave for a few days, then you need to assign your duties to someone else or state it clearly in your application that you will be working from home. If you succeed in assigning your tasks to someone, then you must mention in the application who will be handling the work, and how they are going to handle it.
In the ending paragraph – the concluding para – you ask the person you addressed the application to, to grant you the permission to leave, and thank them for understanding and giving their time.
How To Write An Application To The Principal
If you are a student and want to Write An Application To The Principal Of Your School, then you need to make sure you write the actual reason for your absence. And you should make sure you don't take leave during your exams.
Check out this Leave Application Format for school.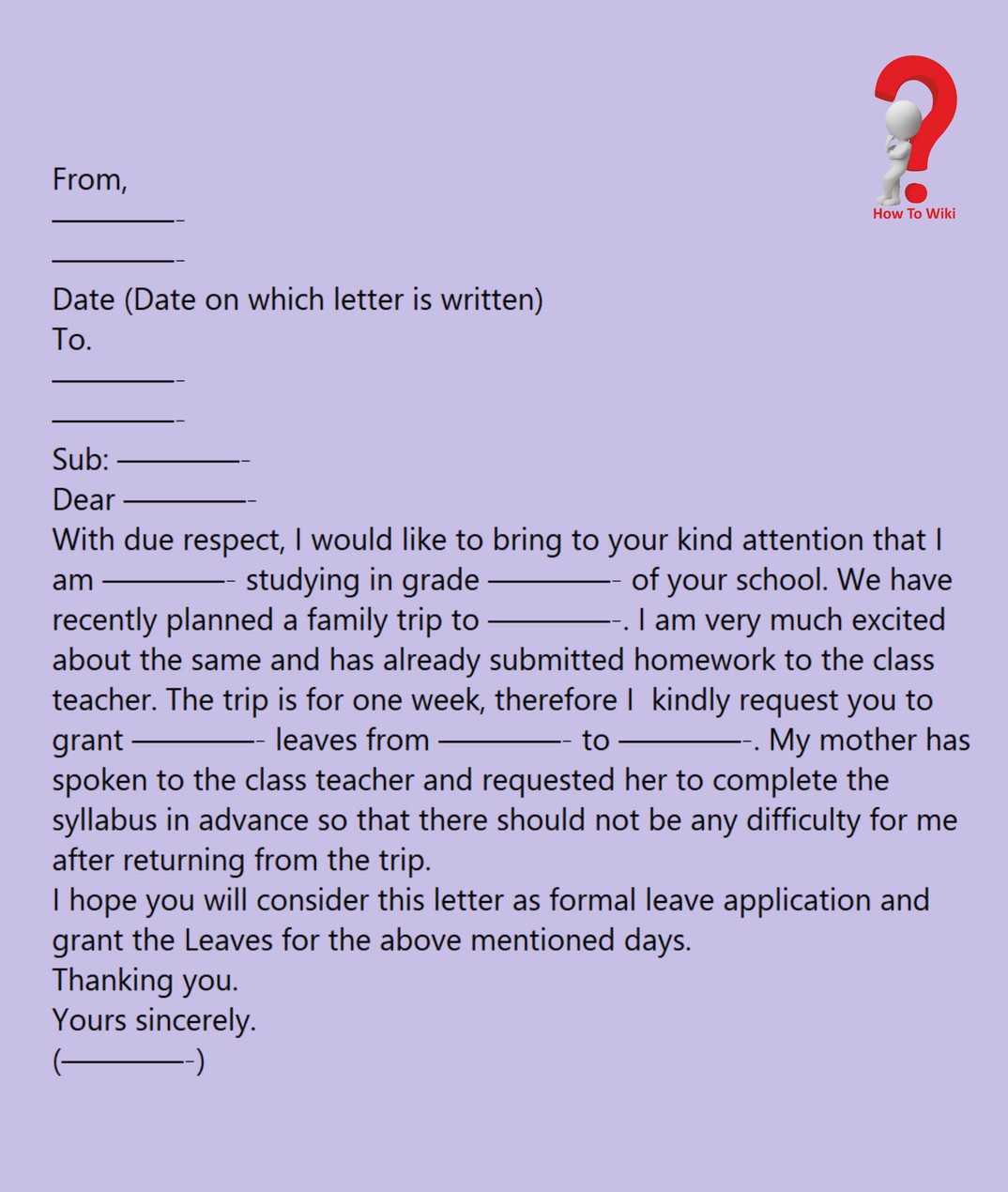 To make sure that you have understood the format, take a look at this application sample:
This application has been written by a father on behalf of his daughter, as she is too young to write a letter.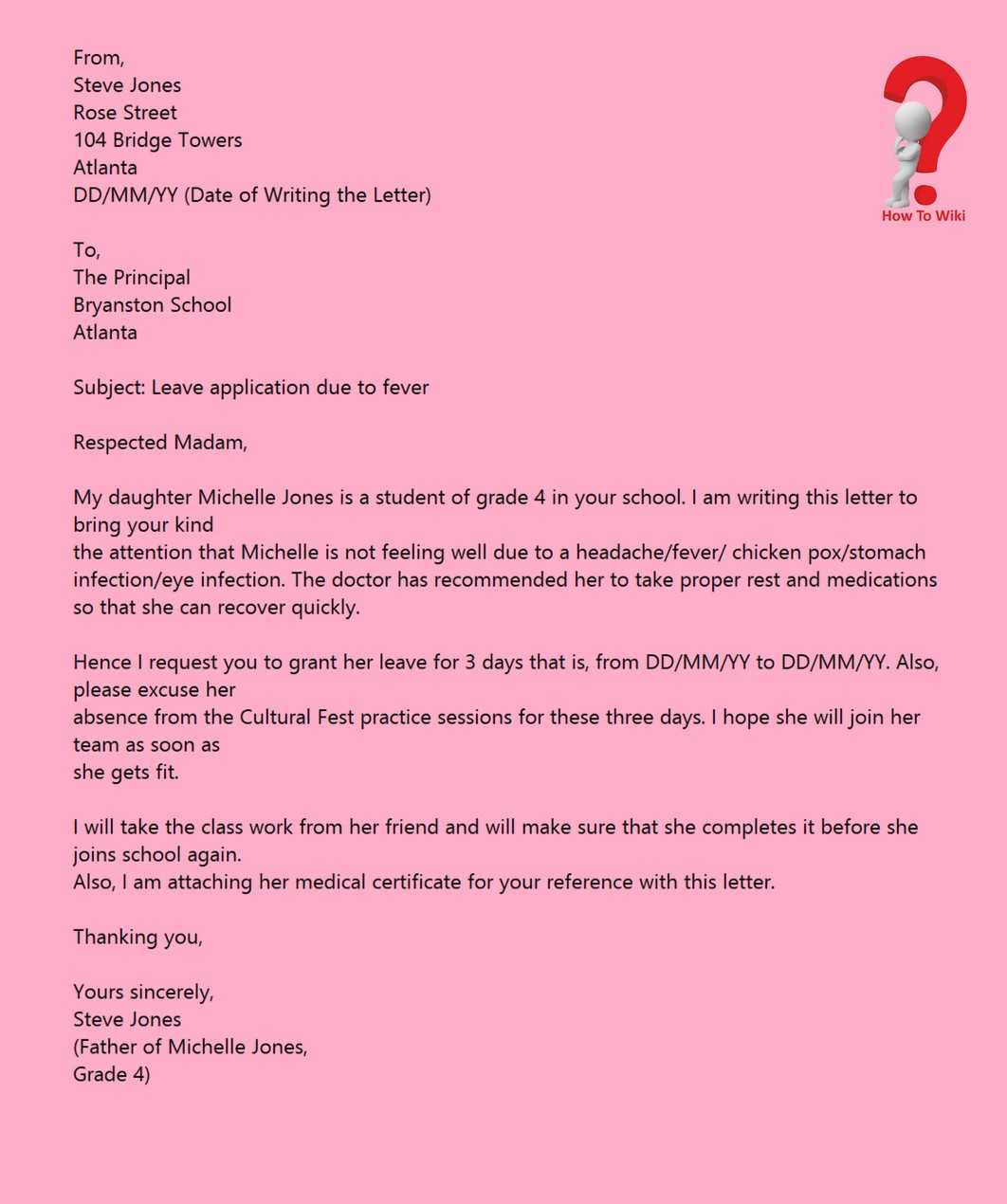 How To Write Leave Application Letter For Office
Either you write an application for your exams or writing the leave application for office for personal reason, the application must be informative and as far from ambiguity as possible. Take a look at the following examples to know how the office emails/applications work.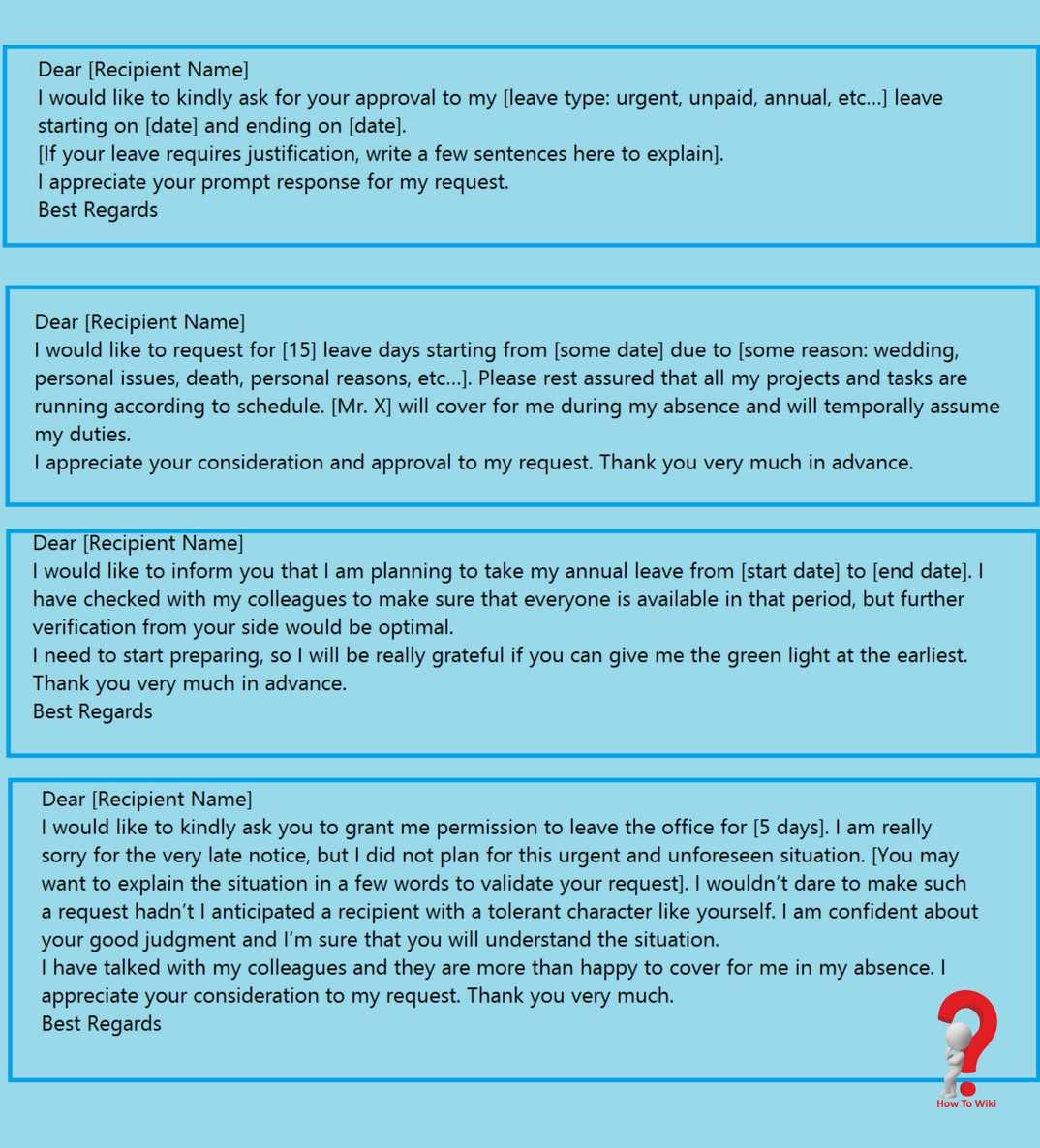 Conclusion
Whether you write an application for school, University, or Office, you must make sure to state the dates and reason carefully. Be clear of what you are writing for, and be sure to let them know that you have taken care of your responsibilities.
Do you think it is necessary to write the reason for your leaves in the applications? I think, not! Write your thoughts in the comments!